Be Still, My Rusty Nails
The painters arrived with much banging and knocking at 9 am, and have been hard at work doing mysterious things involving stinky chemicals all day. Here's a photo I took of them doing the rust fixing: applying a sort of paint/chemical thing that keeps the rusty nails from continuing to rust and soiling the paint job: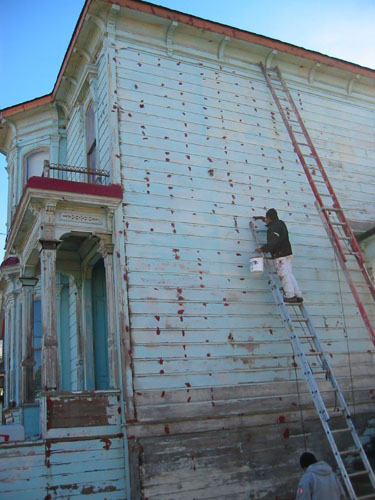 Other house stuff: Noel finished installing the new back light, which replaces the scarily wired floodlights which pointed right into our neighbors' yards and windows. We chose this cheap fixture from Lowe's, which seems to fit in fairly well with the utilitarian nature of the back of a Victorian house.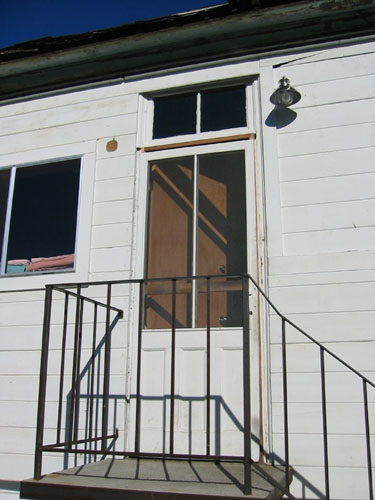 Also, I finally finished painting the house numbers. Short version of the story: we decided to buy a new mailbox to replace the crappy old one that sits out front. We also wanted to make house numbers that were visible from the street -- we had two sets of numbers nailed to the house but they were invisible because they were placed on the unlit side of the front columns and painted the same colour as the house (brilliant). So we bought a new white mailbox, and I pried the old house numbers off and assembled one set that was usable. I stripped the paint off by soaking them overnight in paint remover, then sanded them, primed them, and painted them with gloss black paint. They look very slick, if I may say so myself. Now I have to figure out how to attach them to the mailbox.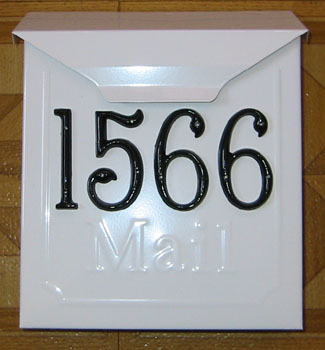 posted by ayse on 01/05/04