Subpanel Move
NOTE: As of September 23, 2009, this post has been edited in
accordance with a court-mediated settlement. The names of the
contractor and his excavation subcontractor have been replaced with
pseudonyms.
We're really hoping that the money goes through for the basement. In anticipation of a "yes" from the broker, we're having the electrical subpanel moved for Contractor A's (that's the Contractor A who claimed this work was done by a subcontractor, but was never able to produce the name of the licensed contractor who actually performed the work; the name he gave us was bogus) convenience in digging. Various digging machines will need to get under the house soon; the easiest corner for access is the one near the panel. Here's the panel in its old location, near the back stairs: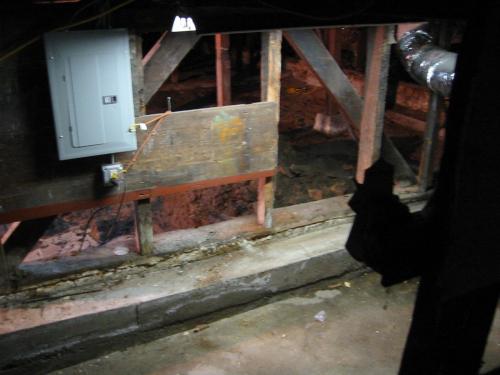 The new location is along the back wall of the proposed basement -- that is, the center support wall of the house that is under the two-story section. Here it is: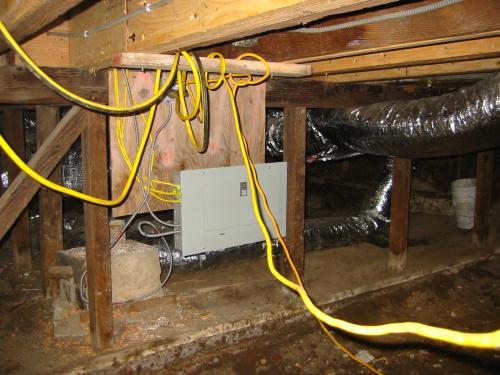 Yes, it's mounted sideways! There's some beefy two-inch conduit that carries the conductors from the main panel. Rerouting that conduit is time consuming and expensive. The idea here was to place the conduit where it will need to be after the basement is dug and make the panel fit in whatever way possible. After the digging, the panel will be rotated in place 90 degrees and then be at both the correct height and orientation. That's good planning on the part of the electrician.
They also cleaned up some of the old two-wire BX runs that were serving the back of the house when they moved the panel. The computers in the office finally are on their own circuits, as is the fridge, coffee maker, and microwave -- all of which have given us peace of mind. It's better than the single 20A circuit which used to serve all of that...
posted by noel on 02/09/05