A Beautiful Day
NOTE: As of September 23, 2009, this post has been edited in
accordance with a court-mediated settlement. The names of the
contractor and his excavation subcontractor have been replaced with
pseudonyms.
I spent the morning meeting with a soils engineer about the "extreme conditions" (our structural engineer's words) under the future foundation. We're meeting again tomorrow with the structural engineer to agree on a new plan of attack for the foundation, a structural slab rather than perimeter footings. This will spread the load and ensure that if the soil under one part of the foundation liquefies, the foundation will not sag and crack or break.
What's the backstory on this? On March 10, our structural engineer visited the excavation and was shocked at the conditions. He and Contractor A (the one who claimed later that by this point he had told us there was an issue with the soil under the house a couple of weeks earlier) talked about the situation, and Contractor A later called us to tell us that he and the engineer had agreed that there was no need to bring in a geotechnical (soils) engineer. After hanging up the phone we argued back and forth about this between ourselves for a few minutes before calling Ralph to hear it from the horse's mouth. Ralph told us that he absolutely recommended, in the strongest terms possible, that we hire a geotechnical engineer and that he could not in good conscience allow us to continue construction without that consultation. He was also surprised to hear that Contractor A (who had, let's face it, lied to us plenty of times already so it should not have been a big surprise) had told us the slab in the foundation design was not structural, because it was.
So we called Alan Kropp and Associates and they were able to send an engineer out for a quick consultation today. A good thing, too: the engineer told me that a traditional foundation on this type of soil would be a disaster.
After the geotechnical engineer left I took some photos of the progress so far.
The plastic sheets protect the dirt from being washed into the basement and forming a greater muddy mess.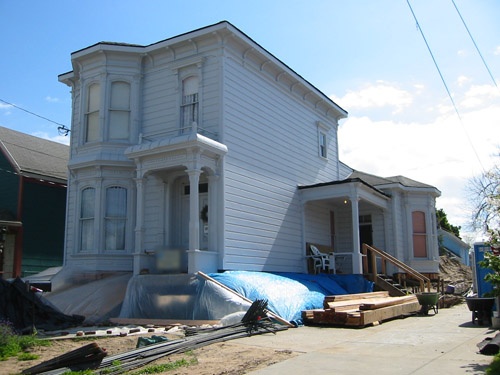 Today the guys are digging out an inch of the gravel they put in because the structural slab will be thicker. That gravel conceals damage done to the soil by the contractor -- it was Contractor A's feeble attempt to hide the mess he made, and if it had worked we would have ended up with a severely damaged house.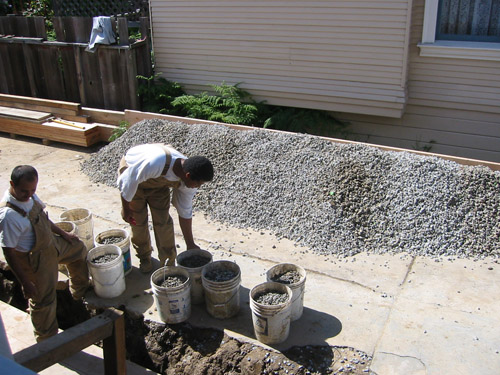 You can see that the basement is dug out to a real room -- the walls are the first wall of the formwork, and the floor is geotextile fabric with gravel, basically keeping the working space free of mud so it's not a huge nasty mess. Much better working conditions than there have been.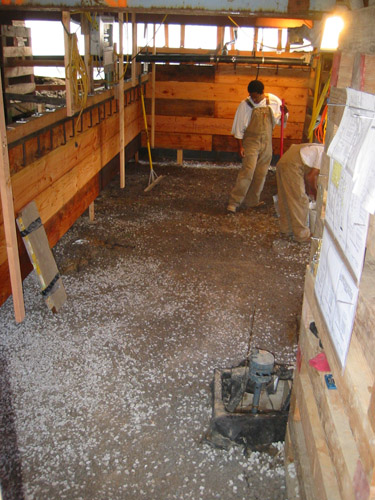 The work office is a jumble of stuff, but still pretty tidy. That's because Contractor A was throwing his trash into our yard.

The first part of the formwork is done, and tomorrow they will be doing some rebar work. We still are waiting on tomorrow's conference to discuss the change to the foundation, but I doubt that will be a problem.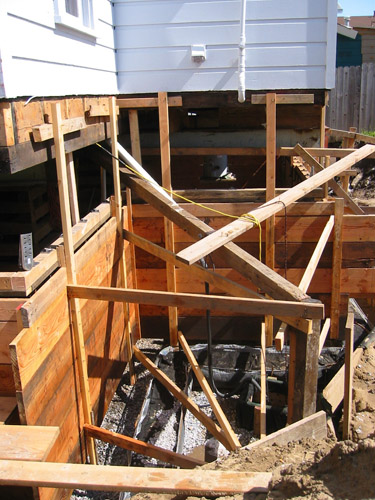 Have we mentioned the huge pile of dirt in the back yard?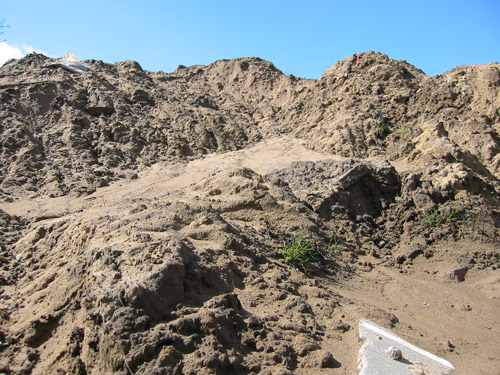 I climbed up and looked down. John went mountain biking on it last week.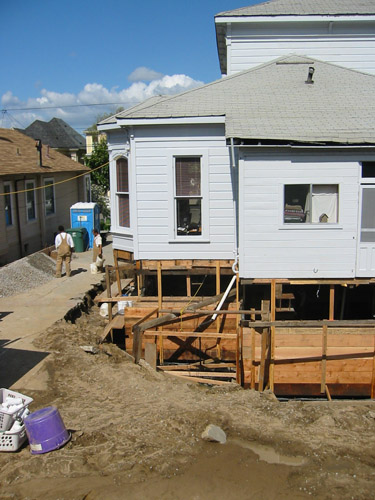 All this stuff came off our house or out of our basement. Or it's material or equipment for the job. Some of the pieces of siding from the house were buried under the pile of dirt, because Contractor A cares a lot about quality and craftsmanship, and he was dedicated to making a huge effing mess of our house that we'd have to pay through the nose to clean up.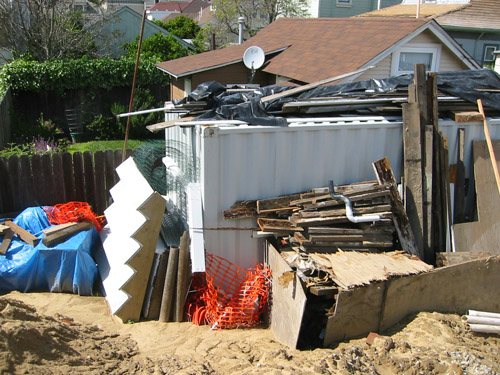 The view to the back is not so great, but I can see pretty far from up there.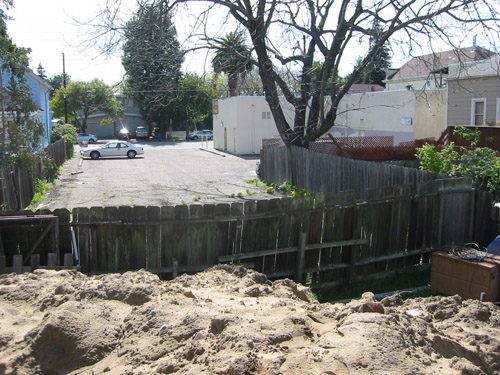 The front yard is also taken over by a pile of dirt and bricks. Every now and then some bricks disappear, but we have plenty.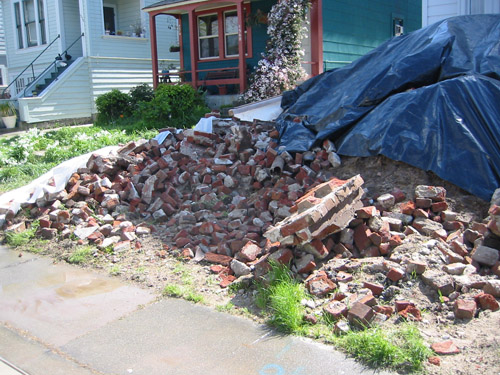 The whole house is draped in plastic, held in place by bricks. We have lots of bricks.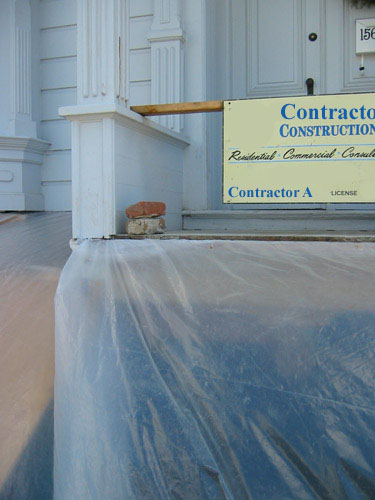 It's really starting to look like a basement.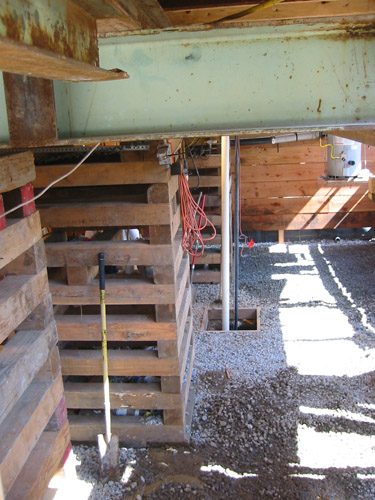 My magnolia Jon-Jon is putting out leaves. I can't wait to get him back in the ground.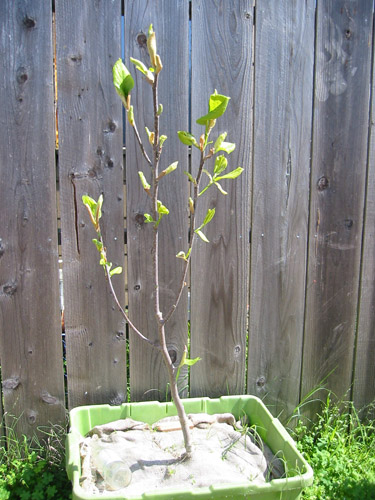 And the rose is budding. Lots of little baby roses should appear soon. Funny how gardens just keep going on their own. Even when you feel like your life is ending, and when you face financial ruin, there are roses. Smell them, readers, because they're a lot nicer to smell than what your contractor is shoveling at you.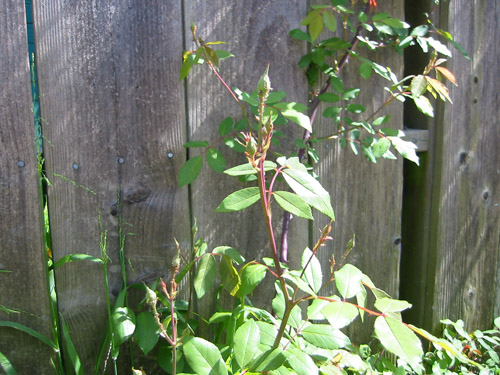 posted by ayse on 03/24/05