Rain, Rain, Rain
Our contractor swore up and down that we weren't going to have any more rain this season. Yeah, right. We looked at the National Weather Service web site and they said we were in for quite a bit more.
This last weekend, we had as much rain as we've ever had -- our usual leaks in the attic space even made a special guest appearance. We still don't understand why he removed the tarps from the front of the house, since the rain is destroying that nice undisturbed soil.
On the side of the house, the tarps which are protecting the neighbor's house are starting to collect water: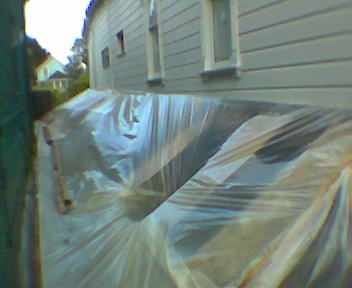 Not good. We've still got a big pile of dirt and bricks in the front yard, though both are slowly dwindling; people have been slowly taking the stuff away: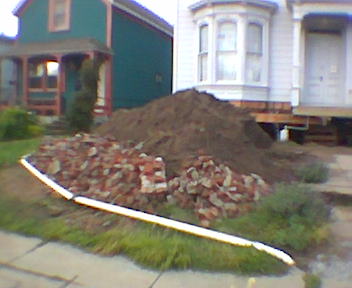 It's a slow process.
No contractor today...
posted by noel on 05/09/05