Brief Hiatus Ended
We went on a week's vacation in England because we knew the work would be sort of unphotogenic this week. Ha ha, just kidding: we planned this trip ages ago and it just worked out that way.
So instead of getting this in dribs and drabs, you get it all at once.
For one thing, the container is FINALLY GONE. As is most of the pile, disappeared into engineered backfill. Sand compacts delightfully, which means less stuff we have to pay to haul away later.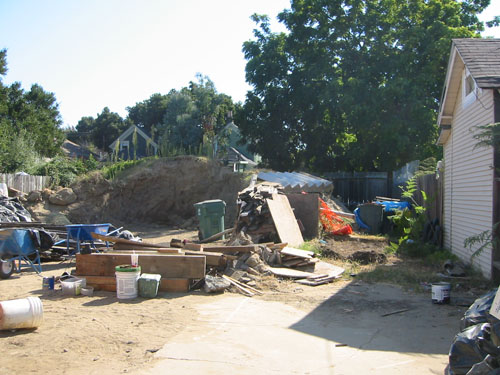 Most of the front pile is also gone, and the rest is slated to go in the holes left by the shoring when that leaves sometime soon.
The formwork for the cantilevered foundations under the dining room bay window is pretty much done -- that pour is waiting on a couple of factors, including our meeting with the carpenter to discuss the front steps, and the removal of the shoring. Then there will only be one pour left until all the concrete is DONE.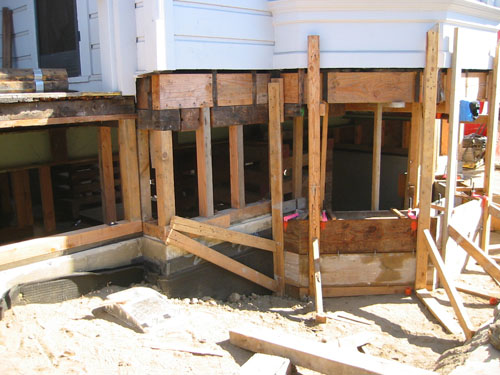 Look: walls dividing the basement into two rooms (they're shear walls to keep the house from wobbling around in an earthquake, so we can't just leave the space open).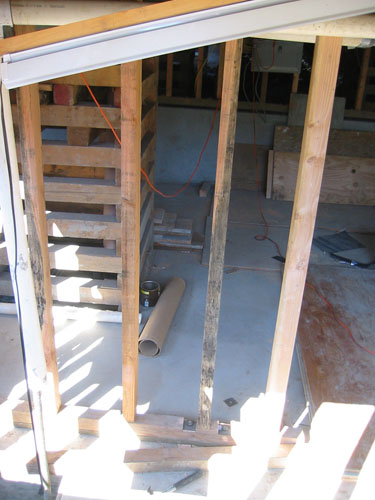 The last week has largely been occupied by framing the shear walls that connect the house to the foundation. This has made a huge difference on the feel of the house: when people walk around the whole house does not sway wildly any more. This is nice.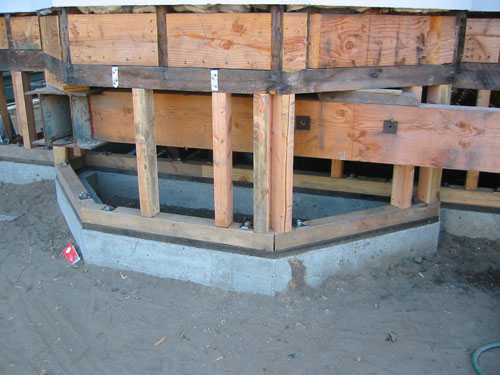 Somehow, I keep forgetting we have this hose bibb in the alley.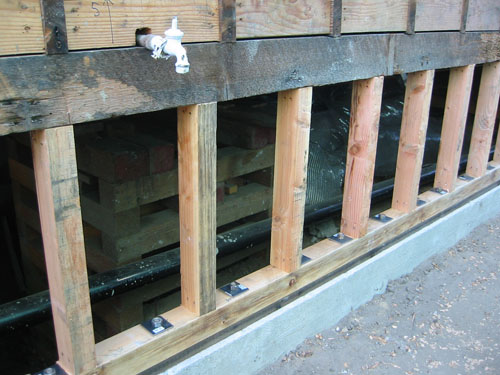 All these walls will be toughened up with plywood and one of the more intricate nailing patterns our engineer could come up with, to stiffen the structure. The more of this that gets built, the more solid the house will feel. The guys still have to backfill under here, which should absorb some more of the pile. They also have to attach a detail to the top of the waterproofing layer to secure it to the building and protect it from harm.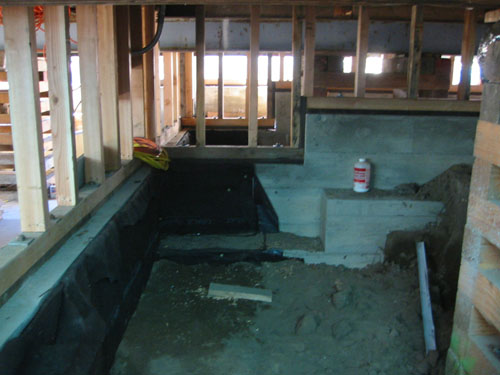 The foreman told us today that the house is about 80 percent supported by the walls they have constructed. They will be hanging plywood like mad to secure it enough to remove the shoring (which needs to come out so that the concrete work and framing can be finalized), and then they can go back and do the final insane nailing pattern later.
posted by ayse on 09/13/05