And at Night, the Ice Weasels Come
Yesterday we spent the day loading up our Christmas Dumpster with the piles of trash left over from the foundation work, especially the pile of wood from the driveway.
If you recall, in November we piled up all the wood from the foundation project in a huge stack in the driveway, as you can see here:
Yesterday, with skies heavy with clouds and forecasts of torrential downpours echoing in our ears, we hauled all of that plus a bunch of other junk from the site out into the street. It was cold and miserable, but we were working hard enough for it not to matter, and we really just wanted to get all that stuff out of the driveway. Most of the pieces could be moved by one person, but some really did need two.
One of the big wins for me was getting rid of the old fences that had been propped up in the back of the yard. Most of you will look at this picture and not see what changed, but to me, those fences were a real eyesore (I mean, even more than our rear neighbor's collapsing fence).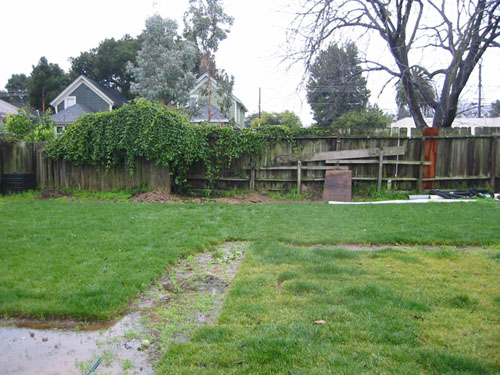 The recent heavy rain here in the Bay Area really messed up the orange contractor's fence across the front, so we just took it down and threw it away, too. The front yard is slowly turning back into a yard.
Of course, we still need to get rid of this giant pile of bricks. We did dump the old steel sewer pipes into the dumpster; they were heavy enough that I hadn't been able to lift them myself while working out there in December.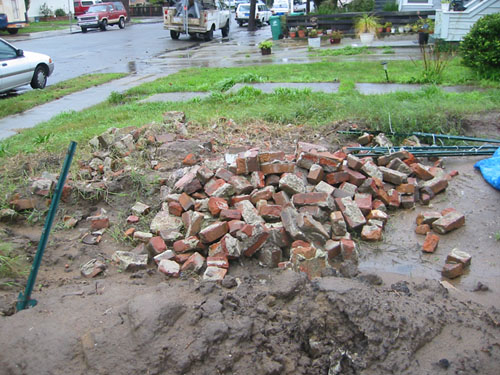 Anyway, despite the fact that it began raining an hour into our work, in about three hours the two of us managed to make some really decent progress. Some pieces of wood wouldn't fit into the dumpster because they were too long, but one of our neighbors promised to come take them off our hands (if he doesn't, we will cut them up and toss them). But everything else got in there, and by the time the sun began to go down and it began to rain in earnest, we had cleared the driveway enough to park two cars.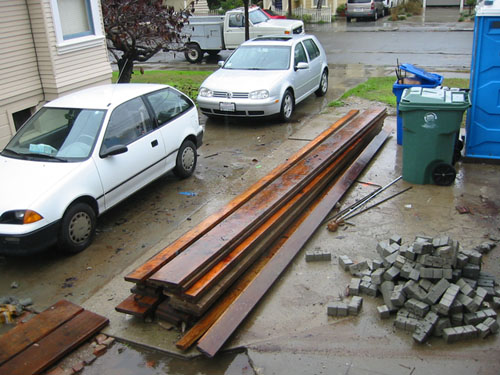 And we had filled the dumpster. Boy does that feel good!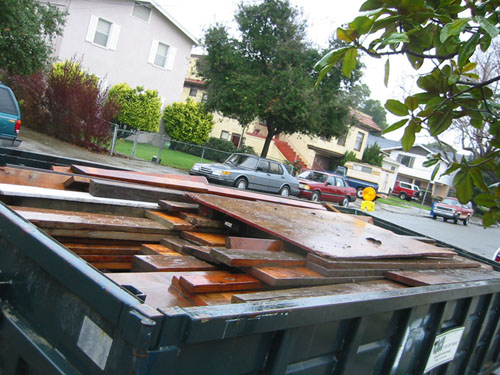 Technorati Tags: bricks, dumpster, landscaping
posted by ayse on 01/02/06