More New Plants
Today I made the trip up to Richmond to visit Annie's Annuals, which is a great source for unusual plants, but not just that: unusual plants that haven't been forced to look nursery-perfect and bloom early, so they will root in nicely and grow strong and healthy in your yard.
As soon as I got home my purchases were carefully inspected for disease or weapons of mass destruction. Fortunately, they were clean.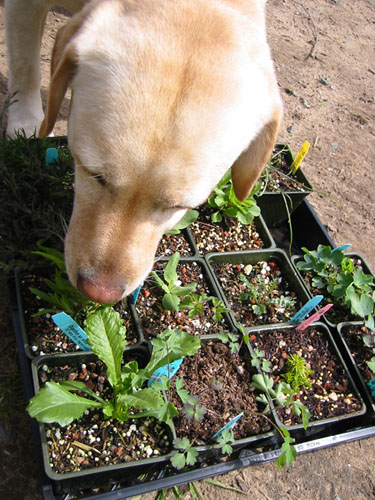 The dogs helped me with planting by carefully holding down the calla lily bed to make sure it didn't blow away while I was planting the columbines.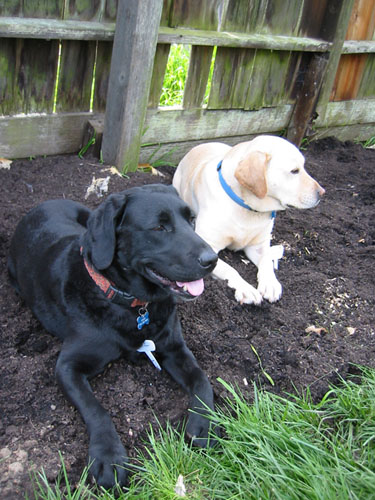 I got several varieties of dianthus which I planted near the apple trees. Carnations are one of my favourite flowers, with their funny spicy scent and their curly leaves. They are also, in theory, the "birth month flower" for January, whatever that means. Anyway, I like them.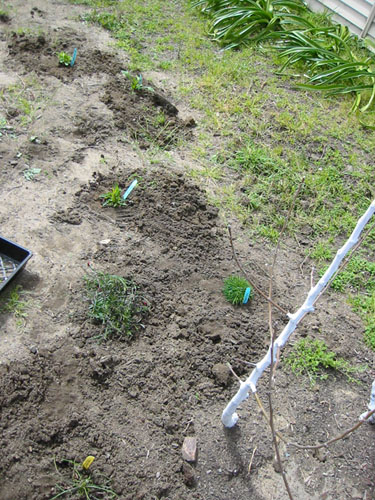 I planted a bunch of rockets between the sweet cherries and the Constance Spry rose in the back. They're a fun, nicely scented flower that fills in and makes a nice fluffy flower bed. Don't know if I'll keep them there forever, but for now it seemed like a place that could use some filling. They self-seed, so I guess if I hate them I better be ready for a fight.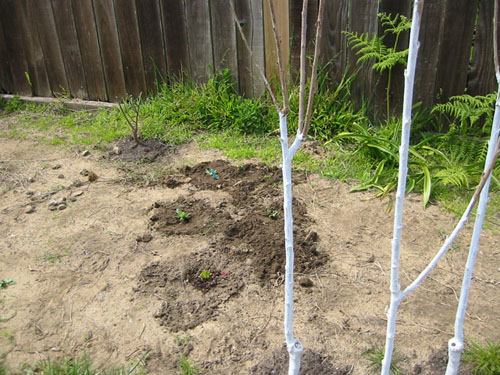 I also planted some columbines. Four different varieties, none I've ever planted before. I was not aware that they grew so well here, but apparently they do, and if they grow at Annie's in Richmond, they for darn tootin they will grow here.
Still awaiting planting are a bunch of varieties of California poppy, some lupines, and a large native thistle. Those will go in the front beds along the sidewalk, but the grass is thick there and I need somebody with upper body strength to help me clear the bed.
Technorati Tags: gardening, landscaping, plants, springtime
posted by ayse on 03/23/06