Water Test Results
The test results came from the lab this week, and our water sailed through with almost-perfect scores! The only high readings were for hardness (easily explained by the new concrete foundation it is running through) and turbidity (lots of sand). Those are totally manageable with the combination of ignoring the problem (water hardness is not a major issue for watering, as long as you account for the extra salinity) and filtering (which I was planning to do anyway).
Yay for no PCBs or MTBE, both of which we had good reason to worry about, given our location a mile from a closed military base and two blocks from an oil storage facility.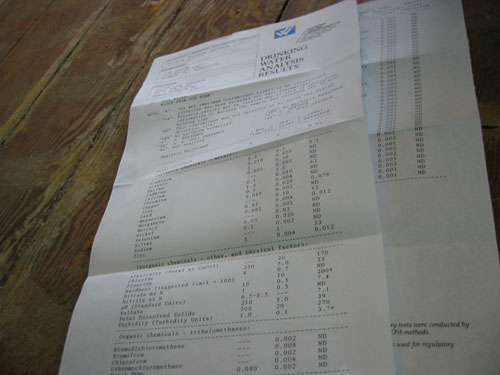 This afternoon I ordered system parts and pieces, including valves, microsprinklers, a filter, misters, blahbity blah. Tomorrow I will buy sprinkler heads and pieces for the manifold and piping. And maybe a special trenching shovel, which I have been coveting without reason for months. (Renting a trenching machine is total overkill for our soft sandy soil and the amount of digging we have to do.)
Technorati Tags: irrigation, landscaping, water quality
posted by ayse on 06/03/06
Note: We're getting pummeled with spam comments, so I've turned off the ability to use any HTML or include any links for the time being. Email with any issues.