First of the Fall Plants
Today my first set of fall plants arrived. This shipment was from Forest Farm, up in Oregon. The packing was excellent, by the way, and the plants look healthy and happy.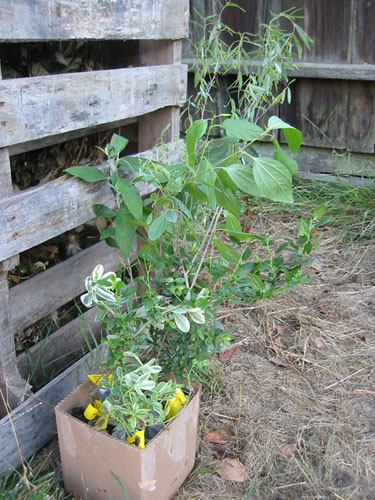 It's all shrubs:
Buddleia davidii 'Royal Red,' which is a nice pink-purple colour in bloom (Forest Farm appears to have sold out of them). A butterfly plant, mostly, and intended to hide some of the ugly fence around the West side of the garden.
Ceanothus pallidus 'Marie Simon,' which is pink. Ceanothus are native to the West Coast and while I find them poor subtitutes for lilacs (they are often called "Western Lilacs" or the like), they are very nice in bloom in the spring, and make good shrubbery the rest of the year.
Ceanothus thyrsiflorus 'Snow Flurry,' which is, obviously, white (Forest Farm seems to be out of this, too). We saw one in bloom in Santa Barbara this year and it was lovely.
Hebe 'Autumn Glory,' a purple-flowered hebe. Hebe blooms in summer here, so I'm hoping that by placing these by the ceanothus, I can make an area that has blooms most of the warm months. Also, butterflies like them.
Hebe speciosa 'Variegata,' a variegated hebe. Because I do like the variegated shrubs, and hebe has such nice foliage that the variegations look really nice. Also, reddish flowers.
Salix purpurea 'Nana,' which is likely causing people who have heard me rant about willows and how much I hate them look up in shock. But this is a dwarf willow, and purple, and I plan to grow it in a pot. I can use the trimmings to make willow water for propagation. Apparently these guys take well to coppicing.

Technorati Tags: autumn, native plants, plants, shrubs, trees
posted by ayse on 09/07/06