Catching the Rain
It's been raining for four days, so this morning I got up wondering if the catchment basin would be full yet. And look!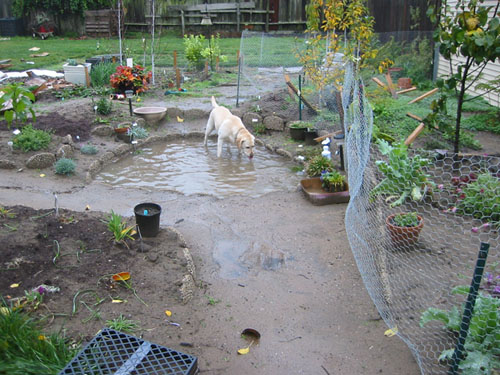 I'd have to say that that is working like a charm. The dianthus may have a differing opinion ("Hey! Too much water!"), but at least all the water is in one place away from the house. (edited to add: all the water drained away in four hours!)
And as you can tell, the dogs approve. Please excuse the incredible mess back there; the wind has been blowing stuff all over the garden and it's been raining, so nobody wants to go out and clean it up (read: I don't want to go out and clean it up). Also, as you can see I got only partway through removing the first anti-dog fence before it started pouring on me, so there's a big mess behind the new anti-dog fence.
Also functioning well is the built-up path, which is shedding water nicely. It's still a bit soft, but at least walking to the back yard no longer involves wading through two inches of water.
Where we do have some water accumulation next to the house is under the side stairs, which is perfectly fine by me, because nobody needs to walk there and it's directly next to the crawlspace portion of the foundation, rather than the basement. I'm not sure how much that salvia appreciates being submerged, but it'll get over it, I am sure.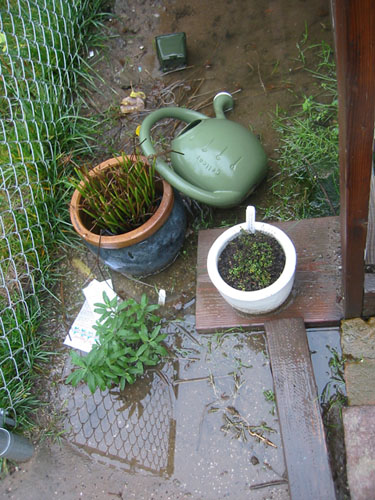 (You can also see the extent to which stuff is getting blown around in this rain. That's a pizza flier from our neighbor's door, and those plastic pots were in the back.)
Technorati Tags: flooding, rain
posted by ayse on 12/12/06