January in California
Somewhere along the line, I'm going to get used to what seasons are like in this state. Maybe I need a few more decades of living here or something.
We spent most of December traveling, so I haven't been out in the garden. The brugmansias may or may not have survived the many hard frosts we got; the jury is out. But what did happen was that the fruit trees (apart from the citrus, which are evergreen) all finally shed their leaves and began setting out buds for the spring. I guess this means it's time for me to do some winter pruning, although they're all so small I may forgo it this year.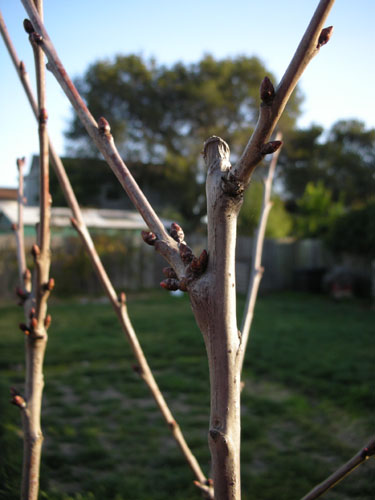 What I have been doing over the last month or so is making a huge mess in the garden. We've got our little shed (now secured to the foundation following a highly amusing "high wind event" in late December) and Noel's been following behind me stowing my garden tools in there as I leave them around the garden. But what I really need to clean up are the bits of fence and plant supports and so forth that litter the pathways.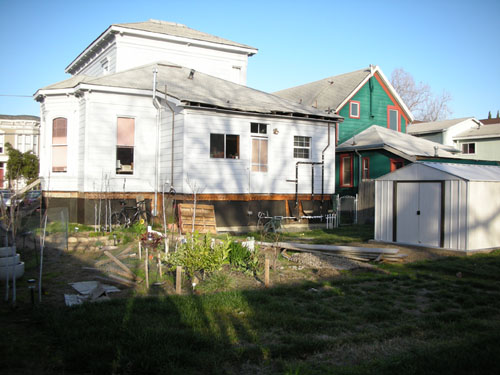 Here's my one herculean task for this winter: I decided the rose hedge is just too tight (roses get diseased and nasty when they don't have enough air circulation), so I'm going to dig them all up and spread them out, making the hedge longer on both sides (bringing the curve back toward the house more, I guess). As you can see, my many efforts at killing the Bermuda grass have paid off on one side of the yard: it's been dead dead dead for more than a month now and all that's growing are some weeds on the edges.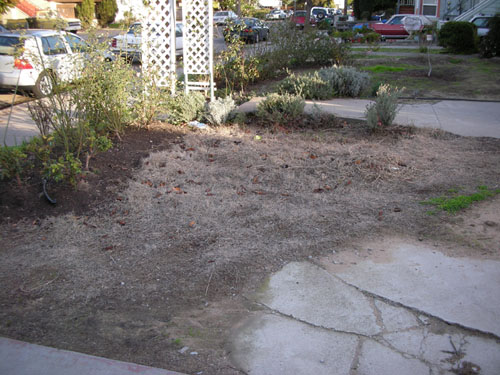 Here's the other side, where I've got the biggest congestion problem. This is going to be a matter of heavily pruning the bushes, then digging them up, amending the soil in the larger arc, and replanting them. It's one of those all-weekend kind of jobs, so maybe I'll do it over the next long weekend. I also want to wipe out those baby weeds you see there.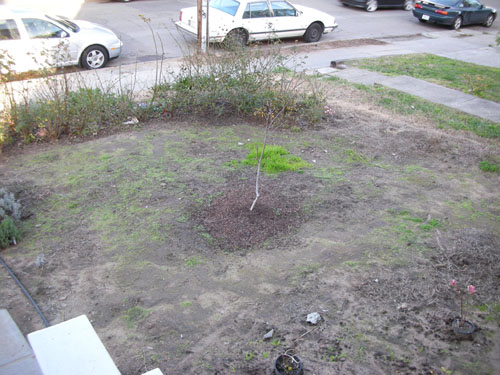 I am somewhat bemused by this: my sweet peas are continuing to thrive and bloom, well past when I thought they would give up the ghost. Now that the weather is different, they're unbothered by aphids, powdery mildew, or a certain neighborhood feline trying to climb up them, and they seem quite happy.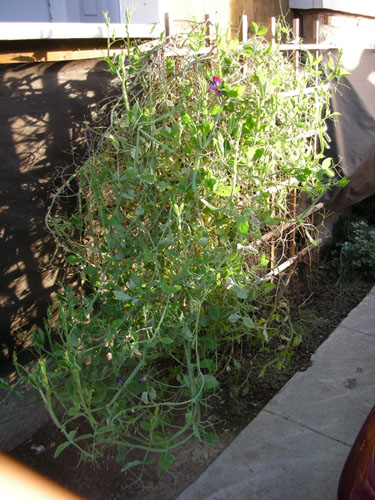 This weekend I did some seed-sowing out in the garden: seven varieties of poppies, more Nigella, a bunch of columbine. I used my patented lazy method: grab handfuls of seeds and pitch them around the garden and see what comes up. With the dogs barred from the side bed, I might actually get a nice lush bed full of poppies this year.

Technorati Tags: gardening, landscaping, roses
posted by ayse on 01/08/07