Seedlings Aplenty
While I'm off at school, I take advantage of one of the features of my apartment there, which is to say my warm, skylit bathroom. It's ideal for seed starting, and I have a couple of trays of seedlings going in preparation for my quarter break in a few weeks. And because I don't share with anybody, I can cover every surface in the bathroom with trays of seedlings without any eye-rolling or sarcastic comments.
This smaller tray has nine kinds of tomatoes (three cherry, six assorted heirloom), some gourds, some roses, and ten basil plants. I started it two weeks ago and things are going along quite nicely; I expect the tomatoes will be ready to be planted out by the end of my break.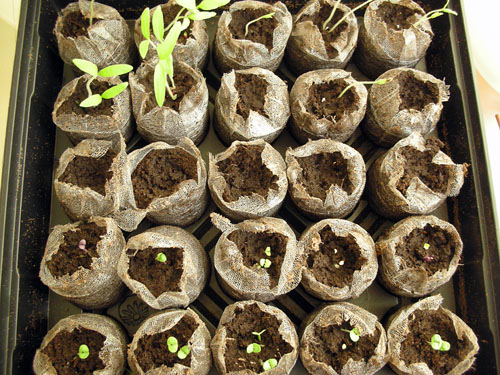 I mostly get my seeds from Renee's Garden. I find they grow well in Alameda, and I like the varieties they offer. I also buy seeds from catalogs, like Stokes and Thompson and Morgan. This fall I saved a lot of seeds from my own plants, and I'm expecting to do so going forward.
This tray is largely flowers. Cerinthe, as you can see on the label, some smaller bedding plants, some hyacinth beans to grow along the compost bins, and a few native shrubs and trees I'm starting from wild-collected seed. I only started this tray last week, so it's had less time to get going. Most of these are seeds I bought, but the wild-collected ones I gathered myself from trees and shrubs on campus.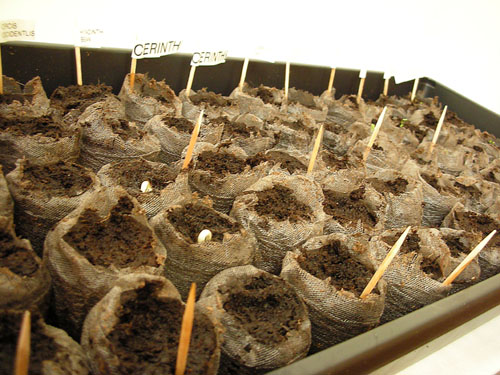 I'm going to be spending my summer at school, in a push to finish early, so in the next week I'm going to be starting some plants for a garden down here, too. A couple of tomatoes, some hot peppers, things that like the heat. San Luis Obispo is hot during the summer, the soil is heavy volcanic clay that is intensely alkaline. It will be a real difference from gardening at home in my nice light sand.

Technorati Tags: gardening, herbs, propagation, seeds, vegetables
posted by ayse on 03/05/07