Take a Trip Outdoors
The incessant rain of January (in which almost all of our normal annual rainfall came down in a matter of weeks) has let up slightly and the last few days we have had the most amazingly nice, sunny days out. Sure, the air temperature has been something like 57F, but in the sun you can be quite warm and comfortable.
Unfortunately, this gave me the chance to see how bad the garden had gotten after a couple of months with no maintenance whatsoever. Yikes. And just as I was getting ready to sort seeds for the spring garden.
This afternoon we spent some time doing cleanup. I removed all the hips from the roses (so much for making rose hip jam this year, or even drying them for tea), trimmed some of the longer branches back to restrict size, removed all the suckers from several of the roses I'd missed on my last sucker-hunt, pruned a bit more off the climber on the trellis, then pinned a few more branches down to the trellis for a tidier look.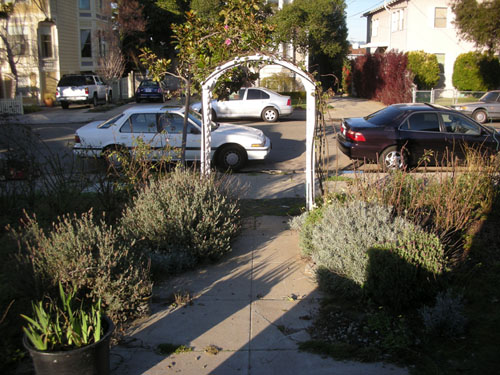 Funny how from this position it almost looks like the street tree (a magnolia) is growing over our trellis. Anyway, the roses finally decided it might be a nice idea to take a bit of a dormancy period, so they're mostly leafless at this point.
In a month or so I will be pruning those lavender bushes back to nubbins.
But here is the real horror story, and it's all my fault as I let the Fern Walk go all last summer with hardly any weeding. This is after I spent more than an hour weeding. I guess I still have a bit of work to do, huh?
That's one of the perils of making a garden with very fertile soil and then watering it a lot. You end up with lots of things growing.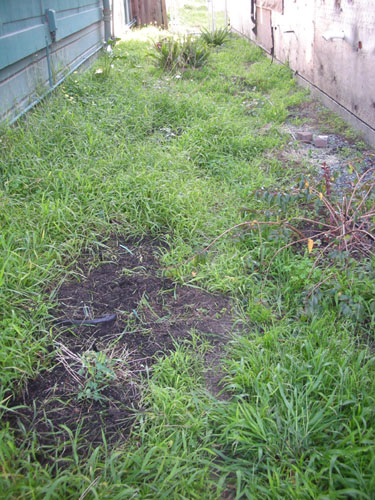 After weeding, I found the hellebores (yes, they were buried under the weeds). They're blooming this year, and I can definitely see the appeal. Not only are they a plant that will deal with the double-whammy of dry shade, but they are really pretty. This is Helleborus lividus 'Pink Marble' from Annie's Annuals.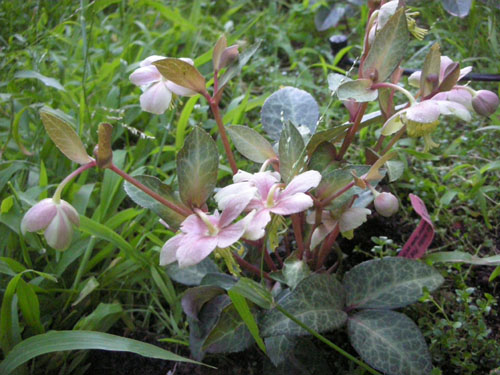 You can see that it has blooms a bit over an inch wide, and that interesting yellowy colour inside the blossom.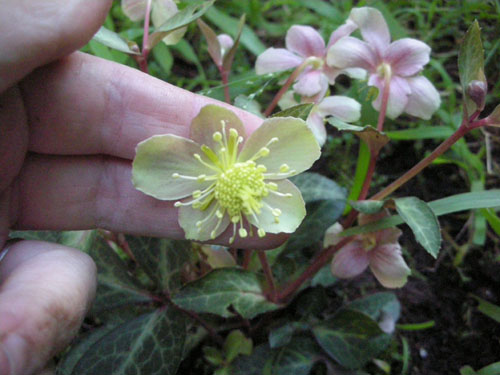 In comparison, here is a slightly more generic Helleborus 'Heavily Spotted Parent,' also from Annie's.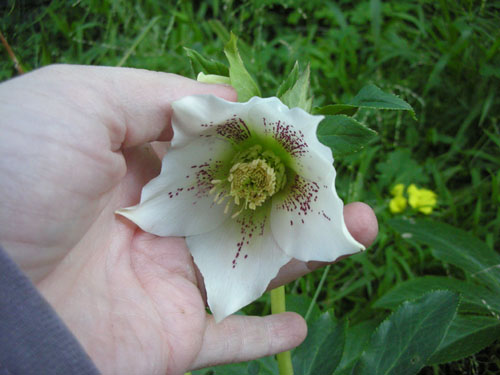 The blooms are closer to two and a half inches across and more cupped. The foliage for the Heavily Spotted Parent hellebore is quite a bit larger, so I actually found that one without searching first for the colour of the tag then the foliage.
Other plants revealed in weeding today: the heucheras, who had largely disappeared under a shading of oxalis. They're looking pretty happy, and though I'm sure they will appreciate the reduced root competition and shading, they were larger under the oxalis than they were last summer, so it's all good, right?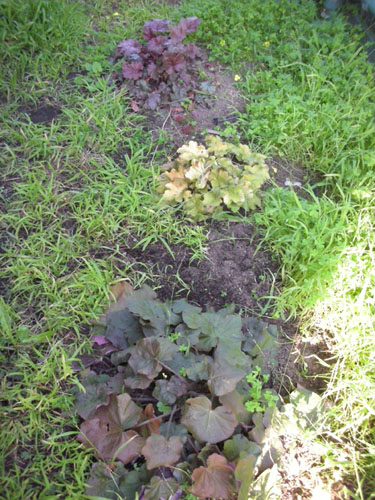 Actually, the biggest problem with the overgrown weeds was not overcrowding -- there seems to be plenty of nutrition and water for everybody. Instead it seems to be that the wet, shady environment attracted lots of snails, who seem to have eaten half my more delicate plants, like this tree dahlia.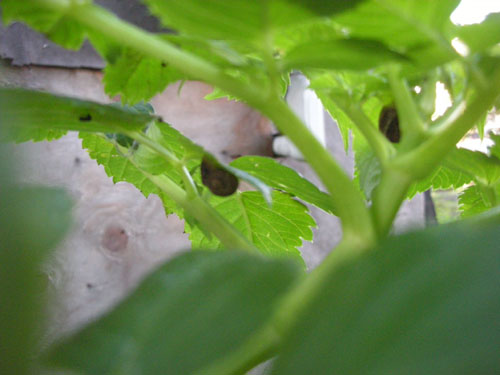 After a few hours of pulling weeds and trimming roses, I had filled the compost bin to the top (it was about a third full when I started). And this is our expanded compost bin, too, with four levels instead of just three.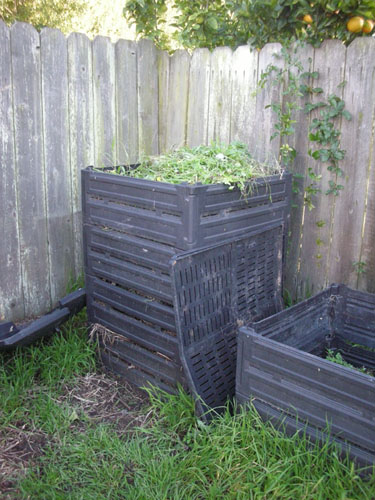 So for all of you in the middle of a snowstorm right now, just consider that the benefit of a partial-year gardening season is that you don't have to spend entire weekends weeding in the middle of the winter.

Technorati Tags: flowers, gardening, pruning, roses, springtime, weeds
posted by ayse on 02/10/08
4 Comments
Note: We're getting pummeled with spam comments, so I've turned off the ability to use any HTML or include any links for the time being. Email with any issues.