Garden Report: May 7
This version of the Garden Report should really be called the Rose Report, because the roses are blooming and nothing else matters. Well, that's not really true, but the roses are blooming and when they go through this first flush of flower it's my favourite time in the garden.
Last week I posted a photo of the Cecile Brunner in the back yard. This week she has, if possible, more blooms. They're not the most elegant of blooms, but the sheer numbers are enough to make the thing impressive.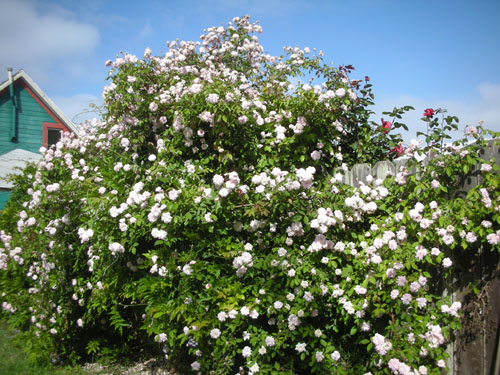 And out front, the roses are starting to go crazy. We did a lot of tying and retying and pruning this winter to get a bunch of good canes across the top of the arbor, and that seems to have been a good move. It filled in nicely and is covered in flowers. One thing you may not know is that roses tend to bud more on horizontal branches, so tying a branch that's growing straight up into a more horizontal position will make it set more buds that year (and more buds = more flowers, obviously). Yes, it really works.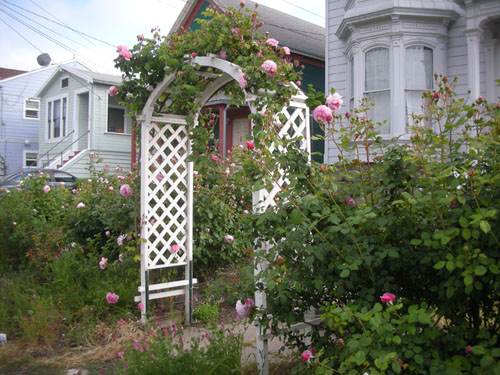 Of course, that doesn't mean there are no flowers on the shrub roses. I've been cutting bouquets of them to take in to work with me. I've been standing out front sniffing them. They're the first thing I see of the house when I'm rounding the corner to come home. Roses, roses, roses!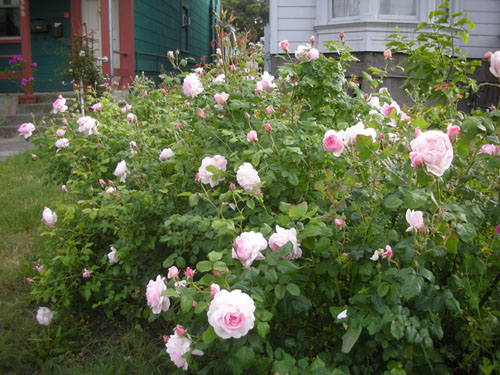 And I hate to say it, but when this rose season is over I may end up taking out a bunch of roses. There are some that are just not thriving, so I may remove them and either replace them with new varieties (this is my vote) or move more crowded roses in their places (this is what common sense tells me to do).
Speaking of pink things in the front (is there anything not pink in the front?), here's the current state of the hydrangea bed. There's what seems to be an odd gap to the left because one hydrangea suffered great trials and torments and nearly died and then got literally eaten to the ground by $%@*! snails and is veeeeery slowly making a comeback. Both the hydrangeas and the impatiens around them like a nice rich soil, so I'll be putting some of that nice new compost around them when I deal with a minor situation.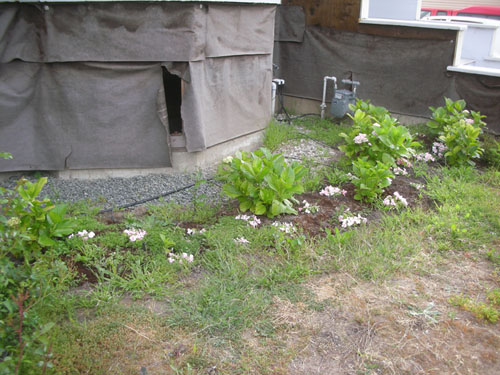 Which is to say, there are a lot of weeds in the hydrangea bed. I have to admit, there is one real drawback to mulching with coffee grounds. It makes the whole place smell like a coffee shop. For those of you who love coffee, no big deal, or even a real inducement to weed there. For me, it's not so great, because I don't care much for coffee and even less for smelling it all around me. I admit that I've done less weeding than I should have out here because of the coffee smell. (After taking this photo, though, I sat down and weeded out around the impatiens out of sheer guilt.)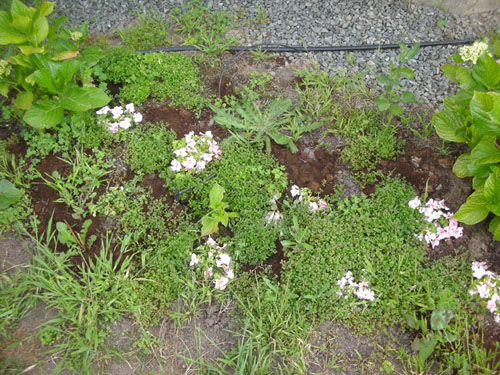 Heading around the corner to the back yard, we have another garden deathmatch. This time it's a clematis growing all over the poor Salvia clevelandii 'Pozo Blue'. I don't know how to make the clematis be a better garden citizen, but it's reached the end of the possible growing range: any further growth and it will get lopped off as we use the gate.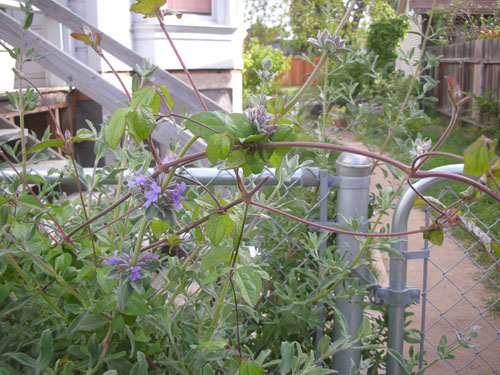 And here's a new and interesting development: the garden under the quince. On the left we have two Campanula incurva, one of which I sort of expected to die this year as they are biennials. But they're both there and happy, and they both really like the fully functional irrigation system. To the right we have a veritable grove of assorted Nigella, which self-sow and come in greater swaths every year. They're one of those flowers I just can't get offended at: they have pretty flowers and then interesting seed pods, and they don't totally invade even though they do pop up everywhere. (In the back on the left there's a foxglove that looks to be blooming this year.)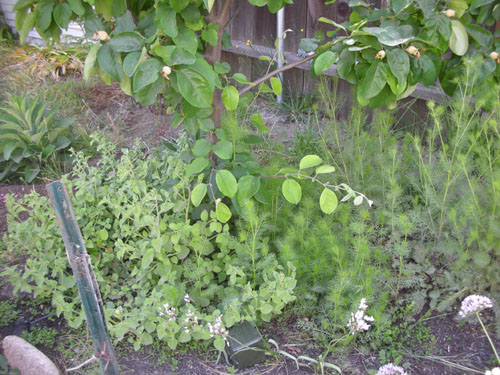 All over the orchard are these guys, who I've identified as Allium unifolium. Those red patches at the base of the flowers are developing bulbils, and when they are ripe you can plant them and the next year they will grow up into a regular bulb and produce more flowers. If nobody ever told you allium are easy to propagate, let me be the first.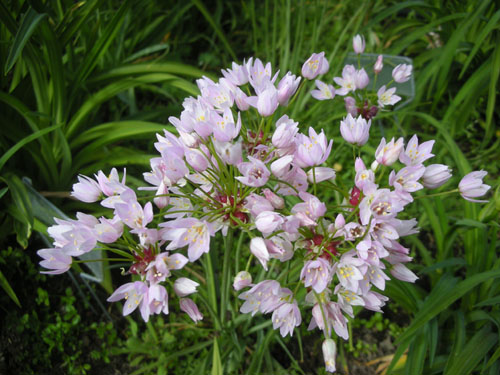 I'm not sure how easy Tulipa are to propagate, but this year I'm going to give it a try. I'm letting the Lady Jane clusianas go to seed. Actually, I mostly just love the look of the seed pods, but also I want to have more of these and if they want to make more of themselves for free, that seems like a decent thing to me. I can see having these all over the orchard instead of in just a tiny patch. So yes, I did decide I like them, even though sometimes they look orangy because of the mixed yellow and red stripes. Last year they went to seed but I didn't do anything with it; this year I'm going to gather it and sow it.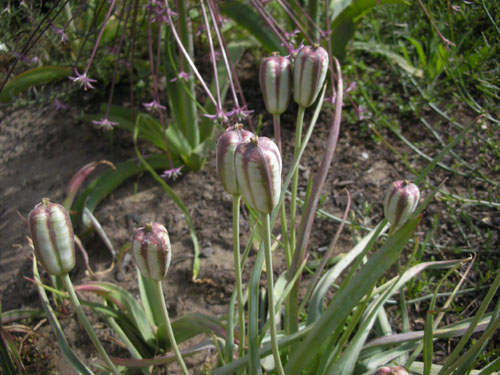 Another plant that keeps on giving is the lupine. I have no idea how this ended up in the back yard (the lupines I planted were all in the front natives garden), but every year it shows up in a different spot and I just let it, because it's pretty and a native, and the little green bees go all insane over it. This year it sowed itself in the path, which is sort of in the way.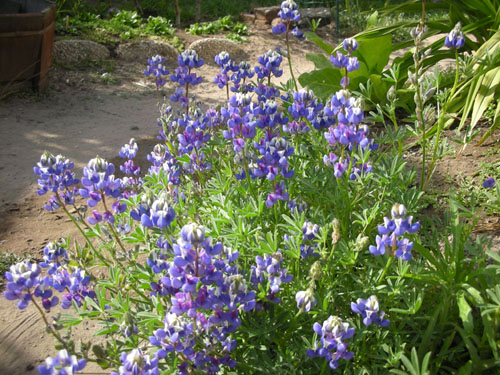 And finally, my minor weakness is dianthus. And this is a great dianthus (Dianthus superbus -- in the background you can somewhat see Dianthus deltoides 'Flashing Lights'). Another plant that looks best in full bloom rather than the spotty half-bloom it has to start out. Dianthus flowers last a really long time on the plant, and decently long in vases if you can bring yourself to cut them off the plant (I rarely can).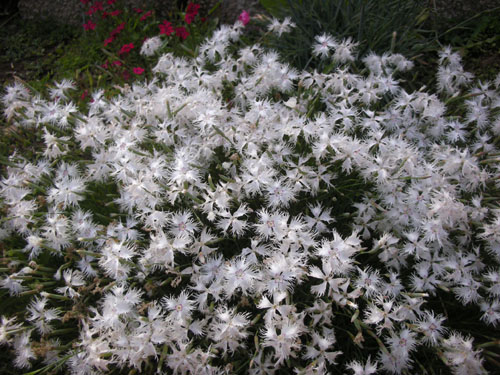 Technorati Tags: dianthus, flowers, gardening, hydrangea, propagation, roses
posted by ayse on 05/07/08