Half a Day of Work
We woke up yesterday tired and aching (my upper back and shoulders were particularly unamused), so we accomplished less than we might have, but more than we really needed to.
First thing, we cleared the Accordion Room and finished stripping the floor. There was an astonishing amount of dust jammed between floorboards, given that the room had been tiled for sixty years. Dust is made up of dirt, dead skin cells, and other organic material, so we have a little catalog of the decomposing DNA of the previous residents of the room in the vacuum cleaner bin now.
Then, without hesitation, we put down a couple of rugs (since we would not, obviously, have time to paint the floor before our houseguest arrived), moved in the bed and some other furniture, and then emptied the crammed hallway back into the room. Much of what we had stored in the hallway was boxes of art supplies, so they just slid under the bed. There were also a ridiculously large number of tripods and silkscreen frames and other bulky-ish items that fit nicely back in a corner.
We hung some curtains in the window for privacy (they really darken the room, so I doubt they will stay, but the room does face the street). And there you have it.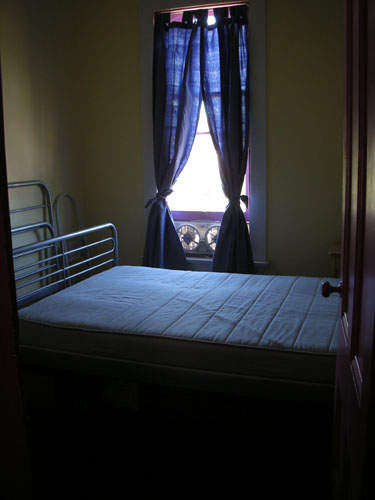 When we'd hauled the piles of tools that had migrated up to the hallway for the Accordion Room project back down to the basement, things were even better (isn't it amazing how much stuff you bring into an area for a project? Even when you think you're being diligent about bringing stuff back to its home as you go?). The hall is nice and clear now, and the bed that had been taking up considerable space in our bedroom is gone. We have an extra bed frame that we stowed in the Accordion Room for now; it's good to have that out of the way, too.
Noel looked at me and asked what else we had to finish that day, and I answered, "Nothing." Aaaaah. It was quite a good feeling.
Nonetheless, we immediately went outside and cut the front window through the plywood wall on the chicken room, then put up siding over it so you can't see it, and marked the side window and put in blocking, then put our last piece of siding up on that side. We have to go buy more siding, you will recall, because we messed up one piece in our first attempt at putting the stuff on, but that was not going to happen with us both tired and our houseguest finally arrived. So we cleaned up the yard, put the tools away, and retired to our local to talk about Russian beer gardens, the trials of getting together a good band, and the graduate school lifestyle.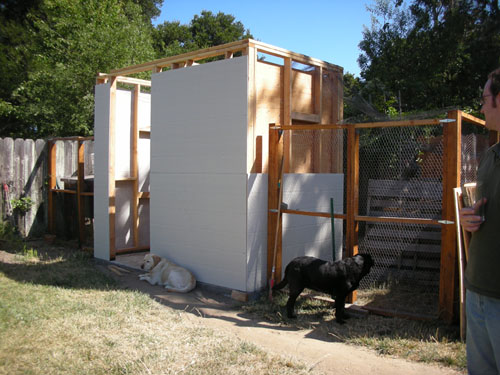 Our next task (after we get more siding and put that last piece up) is to frame out the roof. In the meantime, I need to order plastic for the windows from Tap, and we might need to go in search of a couple of doors. But I woke up this morning even more achy, so some of that is going to have to wait.
Technorati Tags: construction, paint removal, shed
posted by ayse on 06/16/08