Third Time's the Charm
I spent most of the day today making a nest box. I made it three times: first I screwed everything together the wrong way. Then I got it all together properly and realized I'd mis-measured. And the last time, I got it together correctly and the right size, with only one minor mistake that was easily correctable. At least it was cool and slightly overcast, so I wasn't baking out in the sun while working.
(Noel spent his day in the ceiling above the kitchen, and some of his adventures will be chronicled later this week when we've had a chance to figure out what it was that he found, and take decent photos. Yes, it will be good.)
Anyway, back to chicken accessories. The caulk in the feeder was dry this morning, so I poured in the remains of the two sacks of food we have: one chick starter bag and one sack of layer pellets. The girls have been preferring the pellets lately, but they still get the chick starter as well because it has grit in it, and I'm having trouble finding grit in anything close to reasonable sizes. Time to visit our friends in Sebastopol and get more chicken supplies, I guess.
The feeder is sized to comfortably hold a 50lb sack of food, so while it looks remarkably empty, there's quite a bit of food down there.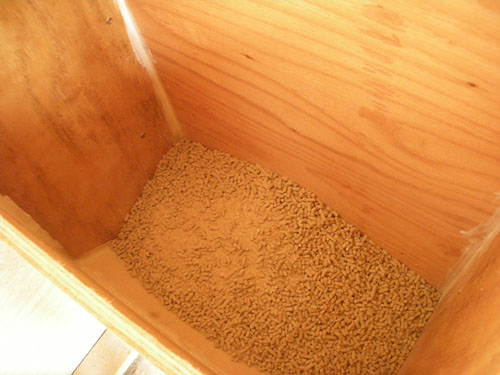 And here is the mythical nest box, installed. We need to get hinges and hook closures for the feeders and the nest box, to keep critters out and food and chickens in, but that can wait a few days.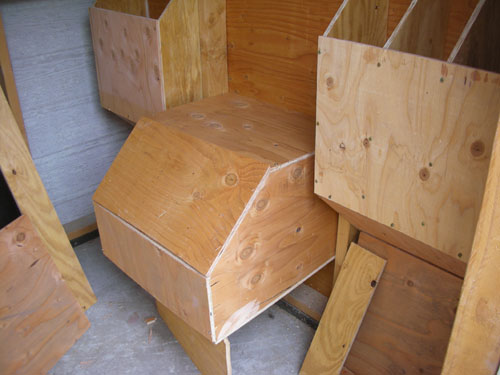 I decided to go with a single-room nest box for the time being: my adventures in nest box construction were sufficiently amusing without adding another piece of wood to attach incorrectly.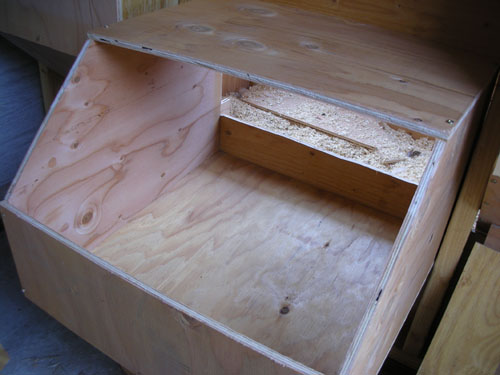 I put some bedding in the box for the girls, and then they came in to check it out. They seemed to approve, but it's hard to tell. I'm going to add some fake eggs to help give them the clue about the purpose of the room.
They do like the feeder, though.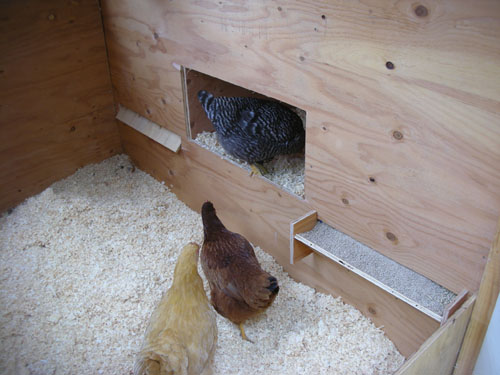 In other chicken-and-garden news, I'm motivating myself to get more weeding done by seeing it as a part of chicken care. Instead of letting them out to make a disaster area of my garden, I bring them wagonloads of weeds to play with and eat. It's a pretty good trade, because the garden looks better both ways you slice it.

Technorati Tags: carpentry, chickens, construction, shed, urban farming
posted by ayse on 07/27/08
1 Comments
Note: We're getting pummeled with spam comments, so I've turned off the ability to use any HTML or include any links for the time being. Email with any issues.