Cleaning the Shed
After our adventures in the front parlour this afternoon, we decided to sort through the sheds and line up all the assorted pieces of trash to either be given away, burnt, or thrown away. Since we got our little fireplace, we've been making ashes for compost with sawed ends of lumber, and that actually used up more of the pile of junk we had than we expected.
We mostly had construction debris either stacked in the chicken shed or in a large trash bin in there, so I hauled it all out and Noel moved the remaining items in the metal shed to make room for them, then he sorted the bin for burnable wood and set that aside.
With everything pulled out and sorted, we spent some time arranging the chicken shed and cleaning it up (it got a nice sweeping out). We finally patched the back of the chickens' nest box with a piece of 2x4. I measured one piece of the box wrong when I made this box, and there had been a small gap at the back of the box that leaked shavings. I had stuffed a piece of feed bag in there but it was really a stop-gap as one of the chickens liked to pull on it while waiting for her egg.
The patch means no more scattered litter on the shed floor, which is a nice change.
Then we installed some shelf brackets (but had no shelves to put on them, so that will have to wait), and took down our piece of pegboard from the basement and cut it up to use here (because otherwise we'd have to wait to borrow a truck to get a piece of pegboard). By that time the sun was going down.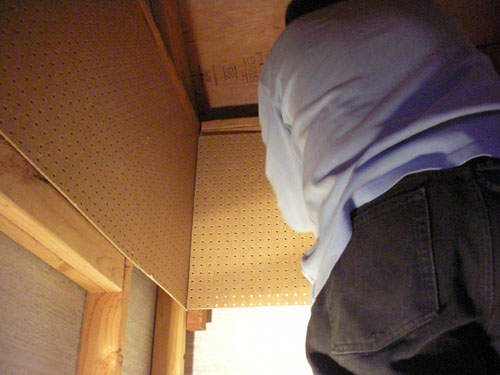 It was pretty dark when we finished up, so I only hung up a few tools. Eventually I will have them across the entire wall; they will hang in front of the two windows. I'd hoped to avoid that, but unless I want to store fewer tools outside (or gasp get rid of a few of them), they have to go across the window. Not that they're blocking a really stellar view, of course; the back window will look at the back fence, and the side will look at the compost pile.
Noel brought out a lamp to install in the shed, which helped quite a bit. I've been wanting a light as I go out every evening to check for eggs with a flashlight. And the lawnmower actually fits perfectly -- not too tight and not too much space(we did design the shed to fit the mower, but things don't always work out as you plan them).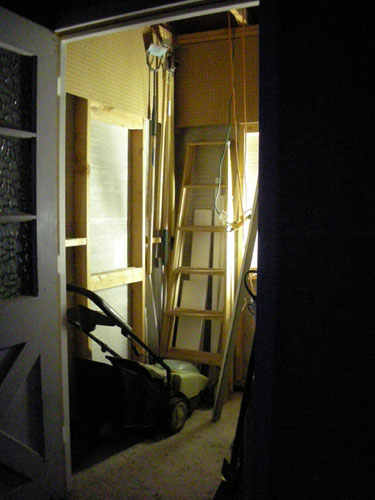 I'm looking forward to having all my tools at ground level (currently I have to climb a ladder to the basement to get a rake), and to having a bunch of shelves to put assorted garden items onto. When we put the windows into the shed it will be really pleasant in the daytime, too.

Technorati Tags: construction, organization, tools
posted by ayse on 01/03/09