Another Start
We have spent the last couple of days moving stuff (including a piano and two large heavy bookcases) out of the hallway and dining room into any other room in preparation for tomorrow's festivities. Before we totally trash the place, I thought I'd give you a quick tour of the site of our work tomorrow.
First we have the hallway. This view is from the base of the stairs by the front door, looking back into the dining room (note Rosie lying on the floor there, totally discombobulated). The ceiling in here is lowered and the walls have multiple layers of wallpaper with a texture and paint over them. Ceiling is coming off and wallpaper is coming down.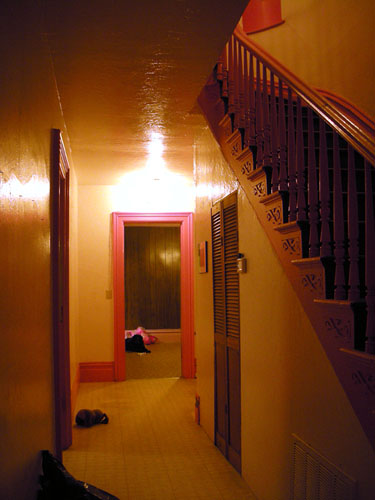 Roughly the same location, looking up into the upstairs hall. The ceiling here is also lowered, and we're also hoping to be able to remove it and return to the old ceiling level.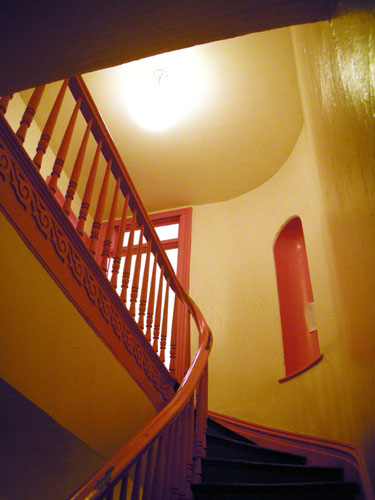 I really just put this one in here to show off all the pink in our hallway. You know, you kind of get used to it after a while. Anyway, same hallway, looking towards the front door from the dining room doorway.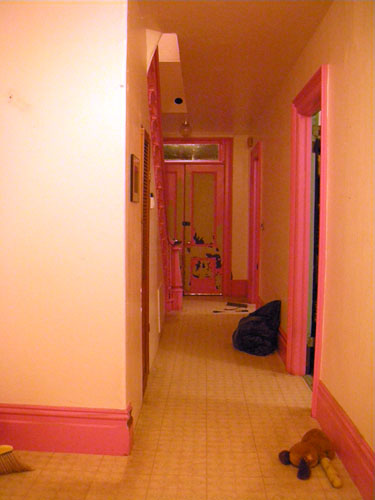 And the dining room itself, from the kitchen doorway. Our last room with fake wood paneling (there's still some in the closet under the stairs, but that doesn't count because it's a closet). I'm actually able to see the day in my future when I can retire my "fake wood panelling" keyword.
The dining room is easily our largest room, and someday we are planning to turn it into our kitchen so we can enjoy the lovely southwest light in there. It's ridiculously oversized for a dining room (over 16 feet in both directions, and mostly squarish), but it actually works nicely as a kitchen with two working areas and a breakfast nook in the bay.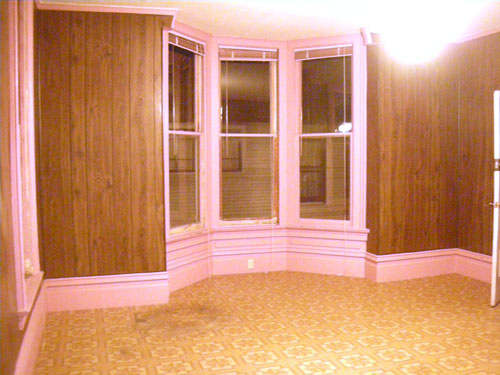 Here's the panorama. This room has a totally ridiculous three doorways, but only one light switch. This means I have pretty much permanent bruises on my shins from making my way through there in the dark.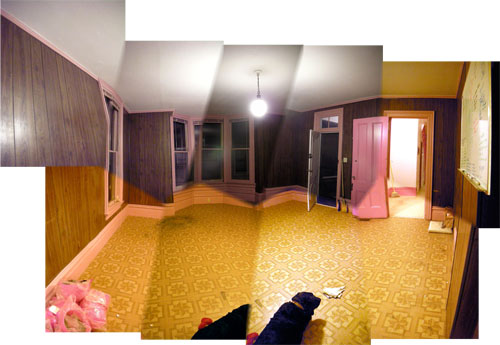 Anyway, after we finished the clearout tonight, while I was putting together some pizza dough for lunch tomorrow, Noel drilled a hole in the dining room ceiling to take a look. This is what he saw: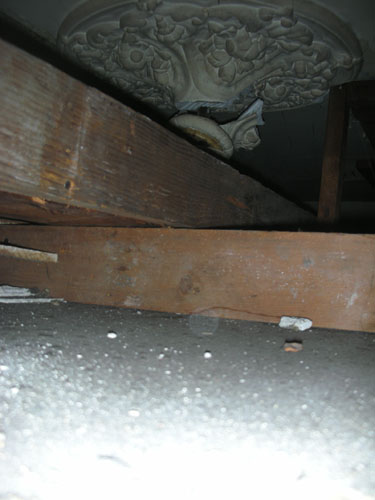 I'm not even sure what to say. At least it looks like we can repair it, if we have some care in taking the broken bits down. But what on earth were they thinking?
Technorati Tags: colour, demolition, fake wood paneling, plaster, renovation horrors, renovations
posted by ayse on 03/27/09