Rain Delay
We planned to actually work on our latest little project this weekend, which is to say the more permanent roof for the chicken yard. But to our utter shock, it rained all day today. (For those of you not in California, imagine waking up to 2 feet of snow at midsummer, and that is about what this weekend has been like, with days of rain, hail, and thunderstorms.)
Yesterday we spent much of the afternoon moving compost piles around (it's that time of year, but also they were kind of in the way). I moved the pallet compost retaining wall to give better access to the corner of the chicken yard, and then Noel dug a hole and we set this fine new post in concrete.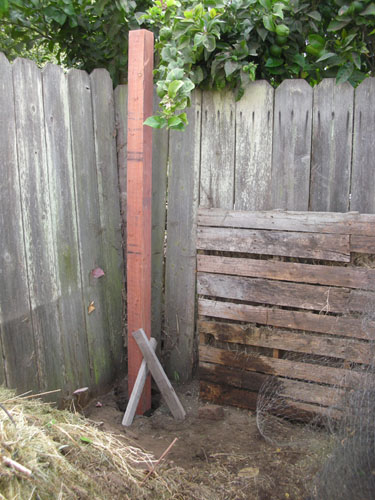 The post is the only thing level in that photo -- the fences are both leaning.
With that done, we made a sort of retaining wall around the post with the lid of a compost bin and then moved the pile you can see looming to the left in the above photo over.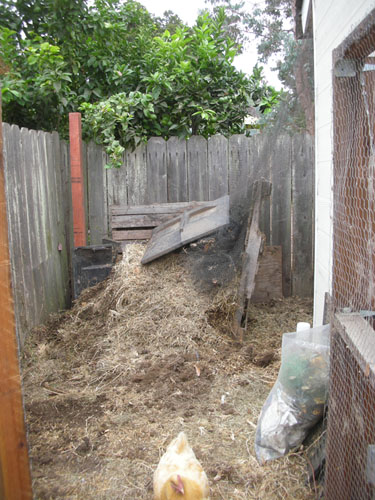 (I don't actually put lids on the bins very often, so I have a lot of them floating around, as you can see.)
(Carole is stalking out of the yard having just spent a furious fifteen minutes knocking compost off the pile.)
This morning we set out to do some work, but the sky looked heavy and ready to rain. It was disconcerting. I dug out the finished compost that had been at the bottom of the pile we moved yesterday and put it around the trees in the orchard. Then we did some measuring and a little planning, and Noel went out to get some necessary hardware. While he was out, it began to spatter. I thought it might peter out and just stay overcast, but as soon as we began to take the saw out to cut wood, it began to rain.
So instead of making a fine new roof for one third of the chicken yard, we spent the rest of the day tidying the basement, which desperately needed it. This is our before picture. All this junk? Sorted and put away. Now we can get to the shelves against the wall without climbing over a huge fastener sorting project (all fasteners are sorted, put into little drawers according to type, and out of the way), a couple boxes of trash (now in the bin awaiting garbage collection), and a ladder.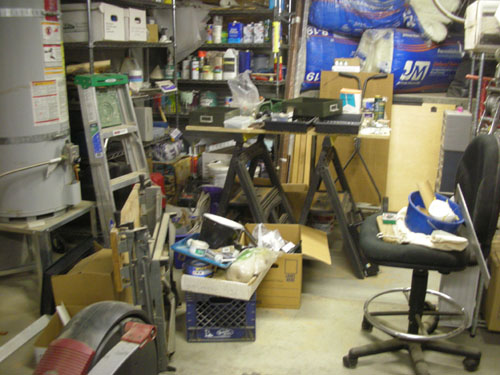 We got a couple of old wobbly cabinets from our neighbors last weekend, and I used them to make a few drawers of stuff sorted out: one drawer full of painting supplies (we located five of those little metal hooks for opening paint cans!), one with twine and spare knobs and hinges (you never know when you're going to need a hinge), and one which is mostly empty full of plaster repair stuff (most of those tools are upstairs, waiting for me to get off my duff and back to work on plaster stabilization).
The weather report unbelievably calls for rain tomorrow, as well. The weather this year is crazy. And since an El Nino is developing in the Pacific, I'm guessing it's just going to get crazier. I guess the chicken yard roof will have to wait until next weekend.

Technorati Tags: compost, construction, organization, rain, shed, weather
posted by ayse on 09/13/09