Formalities
Among other things this week, we bought a truck.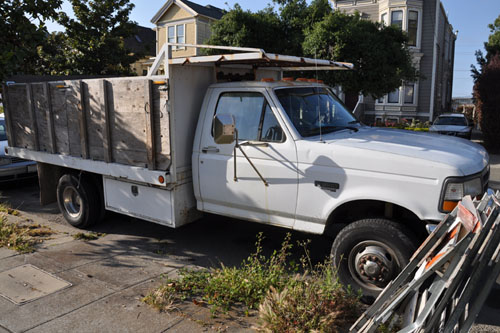 Not just any truck, but the truck we have borrowed multiple times from our neighbors, the Neumanskys, the truck formerly known as Big Bertha. They no longer need a big truck on a regular basis, and we've been pretty much borrowing it all spring, so trading ownership made sense.
Noel spent a few hours with acetone and a rag, and made a good start on removing the sprayed-on Death Guild logos from the doors. (You can see that he got the entire passenger-side door cleaned off in the above photo.)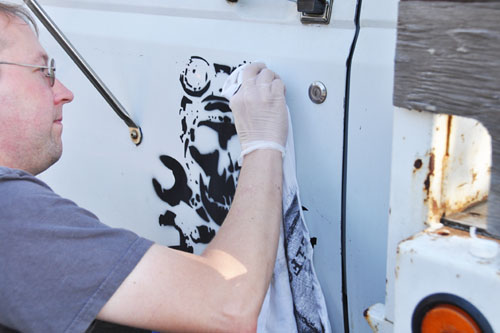 The logos are very cool, but we have no affiliation with the group and it feels weird to have them on a vehicle we now own. Maybe we will put Casa Decrepit logos on the side or something.
The truck is a 1995 Ford F-Super Duty diesel, capable of hauling a load of a few tons. The mileage is spectacularly awful, but this is not going to be anybody's daily driver (though I've been using it for the last two weeks for a job I've been doing and marveling as the fuel gauge moves visibly when I drive it on the freeway). And now we can just pop over to the lumber yard and pick up some wood without having to arrange a key trade and all that.
In other friend news, earlier this week our friend Jon came over and helped us put together most of the big side formwork on the retaining wall.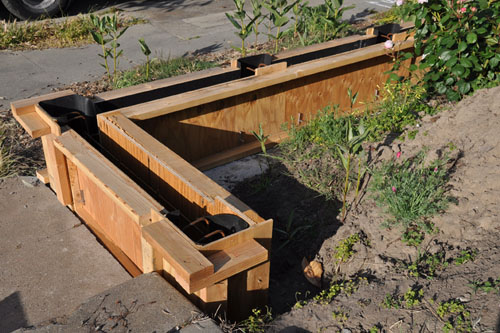 With three people working, we really had more hands than we needed to work at our usual pace, but that meant we got a lot more done than I expected.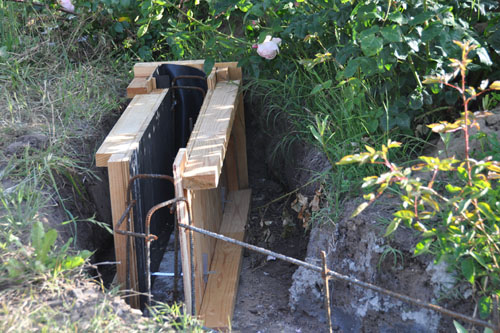 We still have to figure out sizes and assemble the formwork for the 45-degree corner, but it is definitely coming together, and I think we can get the big part of that done in one more day. Then we have to level it, nail it to the footing, and seal off the bottom to keep concrete from blowing out as we vibrate it.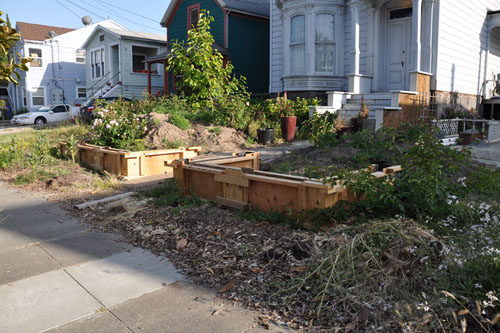 It's definitely starting to look a lot like a wall. I really cannot wait to have it done.
posted by ayse on 05/21/11