Garden Report: October 3
When I first started designing the irrigation system, I had this great idea for using some kind of decorative trench drain to run the pipes, so I didn't have to dig things up, but pipes were not running across pathways where they were a tripping hazard.
Then I looked at the price per linear foot for that sort of thing and decided digging in a bit was not so much bother. Even if that digging is done in hard, dry sand packed with construction rubble. Maybe someday when I am rolling in cash I will spend $25 per foot on fancy trench drains, but probably not.
The irrigation for the front is going to come down along the side of the sidewalk, then split into two directions and run along the retaining wall. I had the old rose irrigation tubing lying around, so I took that and laid it out in the space. Amazingly, it fit almost perfectly. I would have gotten more work done on this but it started raining pretty hard and I decided to be sensible.
I'd also decided to lift and re-set the brick walkway out front, and then replant with more thyme (Noel's parents removed it in a fit of helpfulness a couple years ago). That would not be fun in the rain, nor particularly effective.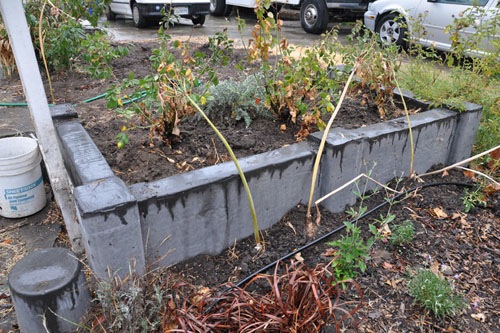 I invoked the rain today by watering in the roses I transplanted yesterday. (In front there you can see the drying stems of Amaryllis belladonna that I also transplanted.) Nothing makes it pour cats and dogs like turning on a sprinkler. The roses are looking a little ragged, but they've had a rough year. I knew it was going to rain a little this week, but it was not going to be enough to settle the soil around the rose roots.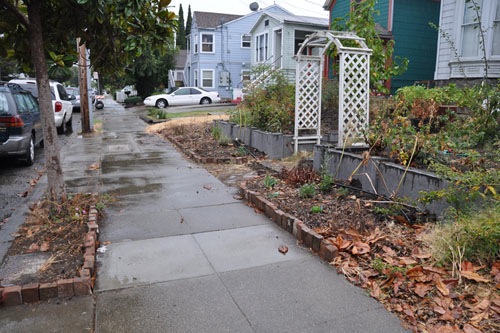 It rained quite a bit today -- about a quarter inch according to reports. Just enough to be a nuisance and not enough to actually water anything.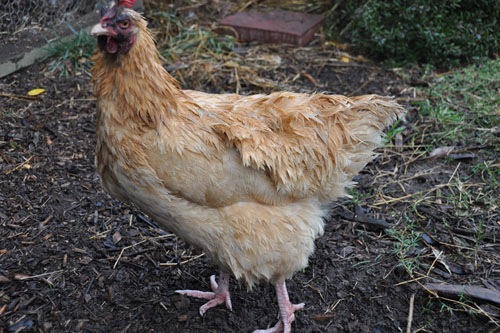 Just enough to get Carole good and wet, but not enough to wash the dirt off her face.
posted by ayse on 10/03/11