Scaffolding Comes Down, Scaffolding Goes Up
It's been an action-packed weekend over here. Across the street, the paint job is almost finished, and today they took down the drapes on the scaffolding. You can't see it really well in this photo, but the new paint job looks phenomenal. They're due to take the scaffolding down on Monday, so we're almost there.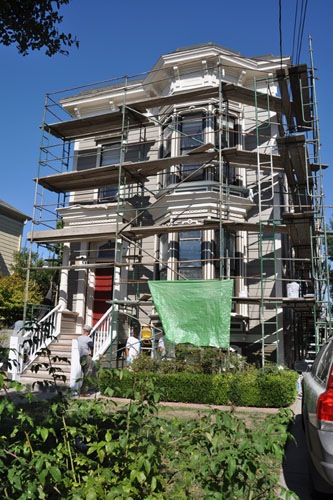 On our side of the street, Noel decided to deal with the back soffits at long last. Not that he's been procrastinating, but he decided it would be good to get them dealt with. They have been open to the weather, and water has been getting in along the edges. This whole little back bumpout on the house -- formerly a back porch and constructed about as well as a porch would be -- is a frightening collection of underbuilt structure (the walls are 2x4's, 4 ft on center, which is about 1/4 the weakest strength wall that the code allows these days) and frightening utility work (the electrical in the ceiling included a bit of wiring done with an old wire hanger).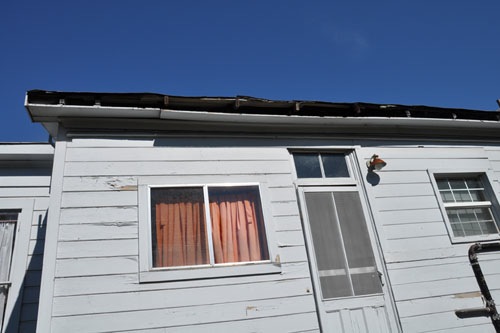 We have two units of scaffolding that we got from a friend, which we figured would make the whole process easier. We set them up against the back of the house with only a small amount of fuss.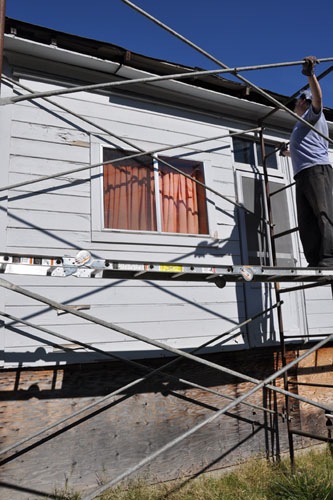 Then Noel began figuring out what he needed to do up there to get the soffits back in place. This is something I am kind of over-excited about because as soon as we close up the roof I can get a couple of beehives for the back yard. It means no more free-ranging for the chickens (they would devour the bees), but that is a small price to pay.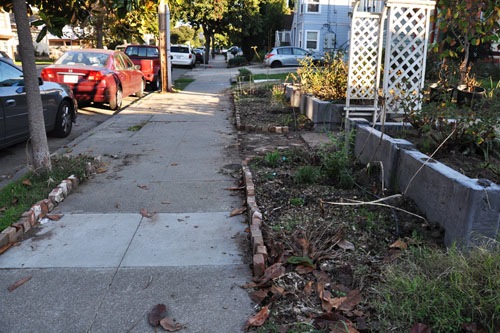 While Noel spent some quality time on the scaffolding, I went out and worked on the front walk beds. I got the irrigation system hooked up and cleaned out, then I attached more outlets to water the plants already in place.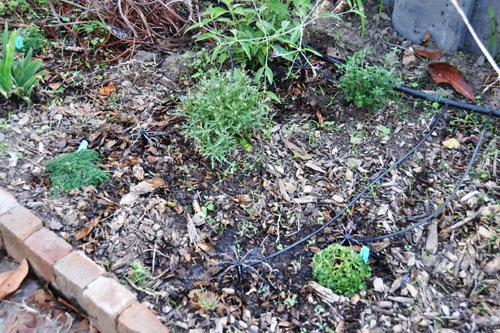 I gave everything a nice deep watering, even though the ground is still quite moist from our last rain. The sand here drains so well that it can be hard to establish a new plant if you don't water a lot.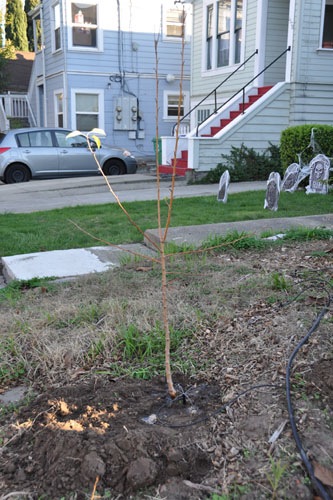 I also planted the Whitney crabapple (on MM11 rootstock for a dwarf tree). You can sort of see it in that overall picture, at the end where the wall turns back. Crabapples are lovely in the spring, all covered in white flowers, but I also like crabapples for eating and for making pectin.
posted by ayse on 10/22/11