Blocking
Between bouts of rain this week, Noel spent some time nailing the blocking in place.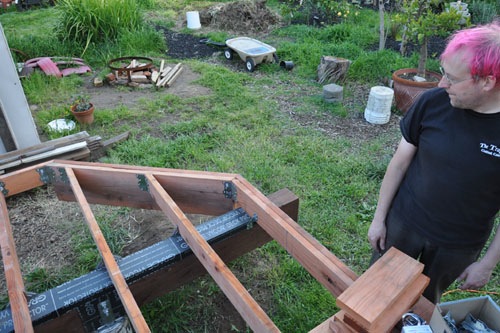 The blocking also has Strong-Tie fasteners, but they serve no purpose other than holding it up against gravity, so we only used a couple of the fastener holes. That meant the blocking nailing went faster and smoother than the initial framing did.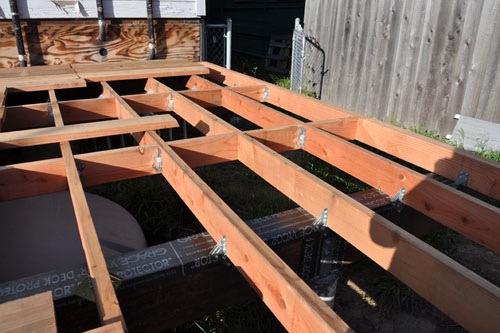 With the exception of a couple of pieces, it's all there and ready. The surface of the deck is now incredibly solid, just like I like it.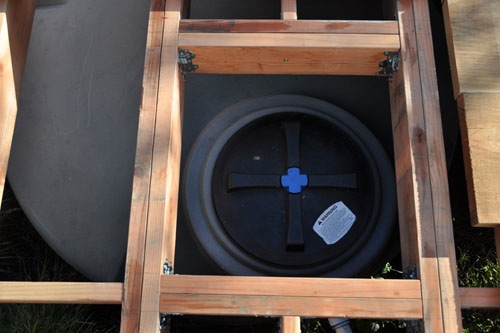 He also framed in the hole for the tank lid. We'll have a lift-out panel here to get into the tank should that be necessary (I hope it isn't because I know who will end up being the one in the tank).
This next week he's hoping to go pick up some of the decking material and fasteners so we can get started on laying down the deck surface. When we have the main deck surface done, we'll start building the stairs and the landing by the back door.
The plan for the lower stairs is to choose the height of the ground based on the height of the deck. We get to choose where the ground level will be there, so we can make it work out to a nice even number. Stair math can be a bit hairy under the best of circumstances, so we might as well make it as easy as possible.
posted by ayse on 04/14/12