Step One
OK, technically this is not a step, but it is the first step to framing the steps, and that's a step itself.
This evening we decided to knock out the stair footing so it would be set up and ready for us this weekend. Before getting started we checked and adjusted the squareness and relationship to the deck. We can always fudge a little on the stair framing, but we wanted to start from a good place.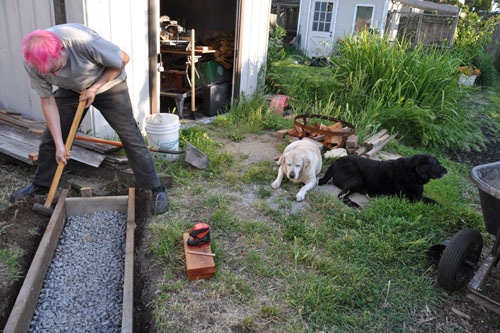 The rains over the last day had caused some shifting, so we knocked the formwork back into place with careful supervision from our QC team.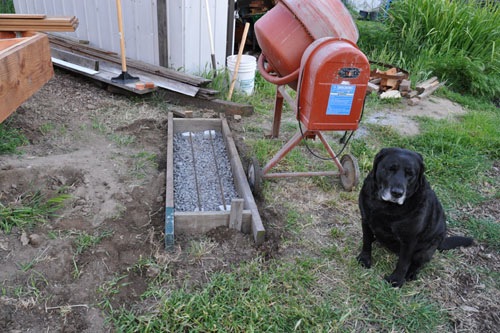 We put a couple pieces of rebar in the footing propped up on scrap concrete.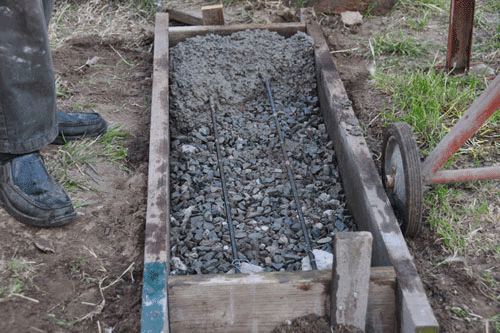 Then we filled the form with all the concrete in the world. Well, in our basement.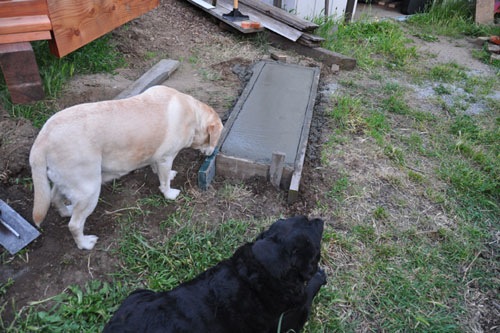 I did some quick preliminary finishing on the concrete then set a timer to go out later and clean it up.This is literally going to be out of sight under the stairs, so it wasn't a big deal, but I like things to be as clean as they can from the start.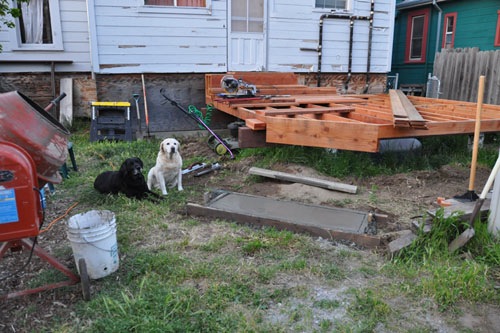 We should be able to knock the formwork off tomorrow, and then we can start building the lower stairs. Noel hopes to be able to start installing the decking this weekend.
Now if only our server can stay up and functioning. The place where we keep it has had a series of extreme HVAC issues that have knocked the server offline and killed a couple expensive pieces of equipment over the last week. Naturally all this happened in a week where we did something post-worthy every day. Sorry for the discontinuity of service.
posted by ayse on 04/26/12