Garden Report: August 3
The garden is in summer maintenance mode. We had a very dry year, so the irrigation system started running out of water in June, and a couple weeks ago I spent some time working on a lower water summer pattern. Noel is going to reprogram it to have config files with my watering schedules, so we can just swap them as needed. I have come up with an elaborate automated way of handling that, but it's probably easier to just change the schedule manually.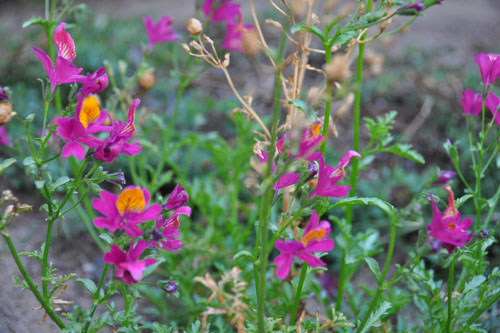 In the meantime, flowers! We've also had a weirdly floriferous season. Usually in July we're looking at a dearth of blooms, but with every plant's bloom schedule going crazy this year -- the grape crops are coming in a month early -- we've got a lot going on. This is good for bees, and pretty, too.
This pink flower is Schizanthus grahamii, which I've killed before but it seems to be doing OK now. It's supposed to self-sow, which can be kind of hit or miss for me, not sure why. I have it planted in the bed by the deck right now.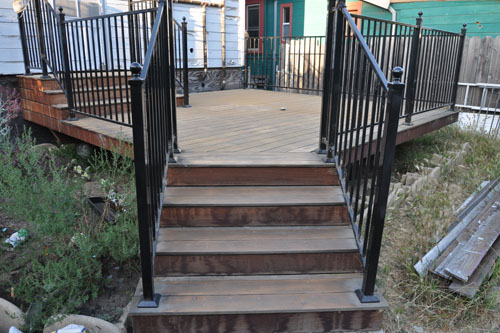 The deck plantings are rough right now. I need to move a bunch of compost over there and get the blocks in place to make the bed edges, but all of that is not permitted right now. I'm thinking I may be able to plumb up the irrigation system, though, because none of that requires lifting more than 10 lbs.
In the meantime, I've been considering rearranging how the greenhouse fits into the garden, which would mean completely redoing the foundation we spent so much time building. I think we would hire some day workers to help with that.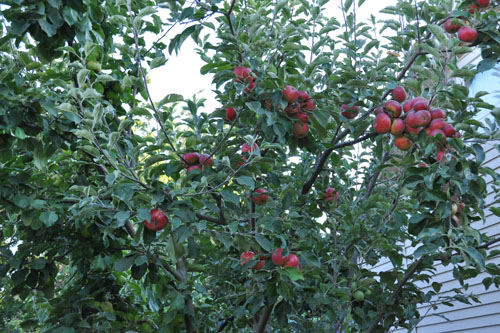 Anyway, back to our weird summer. The apples are coming in now, which is super early. This is Akane, and they are amazing. A sweet, tart, complex flavour. What is not amazing is keeping the dogs out of the trees. I swear to god I had no idea that the worst garden predator we would encounter would be a labrador on a diet. They actually broke a few branches off the asian pears with their antics.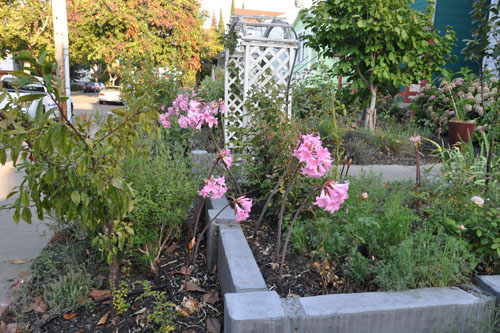 The gardeners have been concentrating their energies on the front garden, which is great since the back is kind of in chaos right now. I also decided to redesign the lawn, which will mean digging up and relocating the lawn sprinklers. I'm working on some sketches of my plans, but let's just say that right now the back is in some turmoil.
What is working out better than I expected are the Amaryllis belladonna at the wall. Just as the roses are looking a little grim, they add a big pop of colour. This year I need to divide the ones out back, and fortunately a couple friends are willing to take the extra bulbs. I often end up composting them because I really don't need any more, and these guys reproduce like mad.
I do need to work on reducing the height of things in the front. I wanted to have a lower overall plant height along the walk, under the trees, but then I stupidly planted a bunch of tall things. I'm not sure how I thought that would work. So many many plants need to be transplanted. Where? Who knows.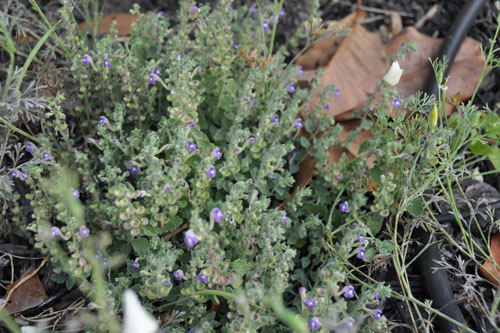 This is not one of the plants that need to be transplanted. It is Scutellaria diffusa, which I bought because hey, we are studying Turkish. And it is "Turkish Skullcap." Har har har. Anyway, it is a pretty, low ground cover and it is doing precisely what I want the plants out front to do, which is effortlessly cover the soil and provide a little bit of colour.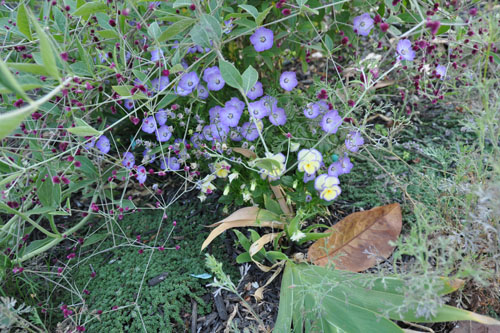 This is right nearby, and you can see how out of control it is. The "Etain" violet is fine, and the low blue cupped flower I can't name (while looking through Annie's web site trying to find it I discovered an amazing purple tomatillo) is probably OK, but the gigantic sidewalk-attacking Gomphrena decumbens needs to move elsewhere.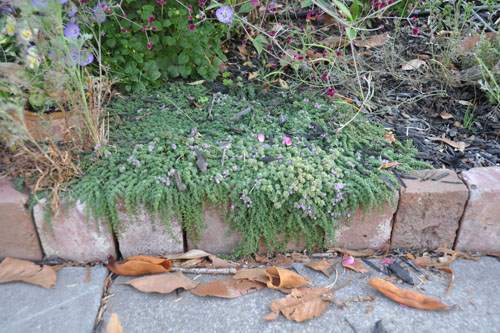 The elfin thyme is perfect for this spot.
Funny thing: early on I planted elfin thyme in the garden and a commenter noted something along the lines of "good luck, it keeps dying for me here in Alameda." So I worried and worried that it was going to die off. But in fact it seems to like this garden, and has always grown well for me. It's a perfect front-of-bed plant because it is about as low as it gets, but has textural interest and pretty little purple flowers. And this thing it does where it drapes over edges is exactly how I like the edge of beds to be defined.
Also, I just want to note that I am SO much happier with the edge of this bed since I defined it with the bricks. They aren't perfect, but the nice clean line they provide is exactly what I wanted.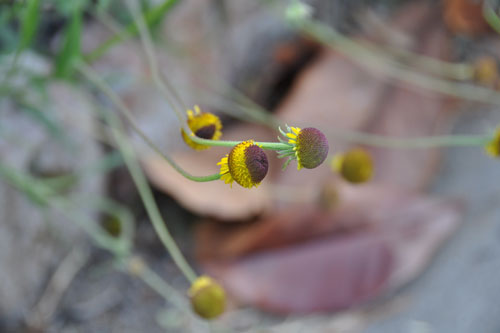 On the other side in the front, I planted this Helenium puberulum. I've always loved the pictures of this flower, and I had some high hopes. It's not yet a year old so I'm going to hold out, but from further away it is a little disappointing: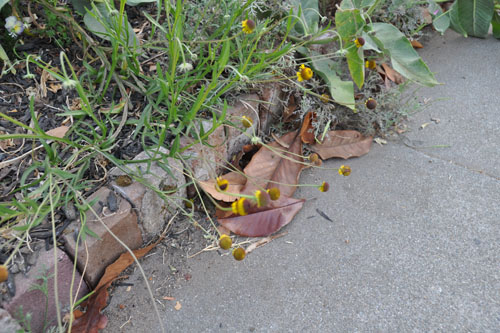 A little too airy, if you see what I mean. And as it is a tall plant, this is another one that will need to move. Maybe not so far, because it is at the end right by the swath.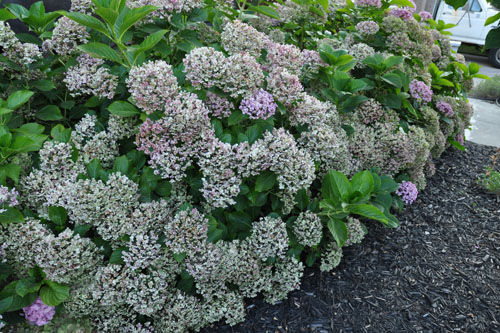 We had a weird summer, including a heavy summer rain that was completely bizarre for our coastal desert climate. That knocked the hydrangeas down and they haven't really come back. They're now at the end of their bloom, anyway, so it's time to go in and deadhead. I love deadheading them and hate it, because the blooms are so big and floofy that they are fun to handle, but also hello tedious deadheading, where you start having fantasies about landscaping with grasses.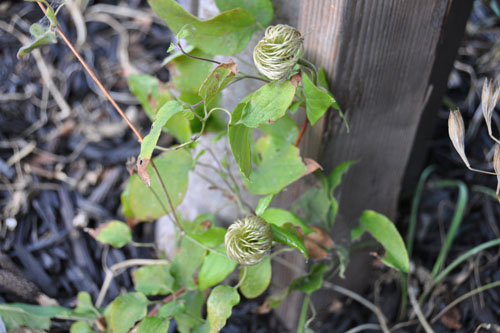 My three year-old clematis are not looking bad. I'm very happy with this one, which has the dramatic seedheads I love. Not all clematis have them, and they never mention that in garden catalogs.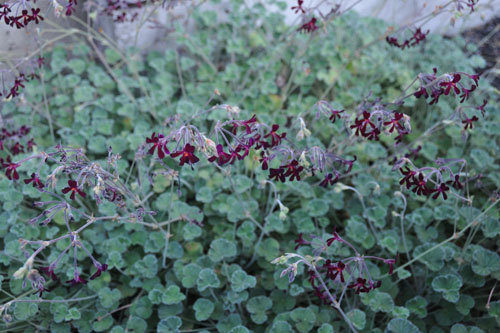 And lastly, a happy picture of my geranium whose name I cannot remember. I love the silvery leaves and wine-coloured blooms, and it seems to just thrive in this spot. This is the rough little strip between the foundation and the driveway on the west side of the house, and not much does well there, so that's a feat.
posted by ayse on 08/03/13