A Little More Framing
Framing seems to go very slowly when we are working around the existing house. Not just because everything is weird dimensions and odd angles, but just figuring out how to reconcile modern building codes and our desired end results with a house that is firmly in the "transitional" stage of construction (between timber framed and modern stick construction) gets complicated.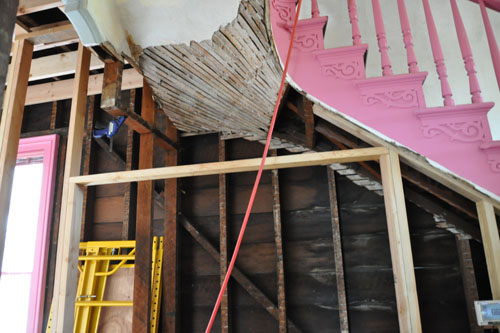 Today's puzzle was the framing over the downstairs pocket door. The wall needs to intersect with that doubly curved ceiling somehow.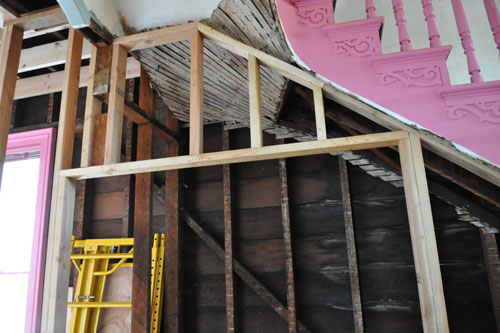 The answer we finally settled on is not to try to match the curve of the underside of the stair. The wall is there just to hold up the drywall panels, so make the wall nice and sturdy. The drywall can hang off the end and be mudded in place, the seams hidden. I'd be more concerned if it were at a height or in a location where it would get hit more often, but you'd really have to be trying to give this a whack. It's a tiny cantilever, and nobody will ever notice that it's not supported from behind at the top.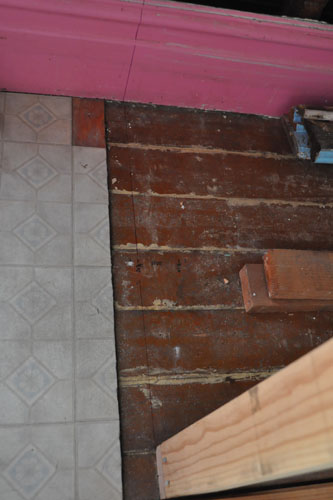 Sometime in the next week, hopefully, our new return air duct will arrive. I've gotten a shipping notice for it and it says it will be delivered tomorrow. Since this has already happened and the duct is obviously not here, I am not holding my breath.
At any rate, once it does arrive we will be rushing to move the return air vent over to the bottom of the new closet, so Noel got a start on framing that.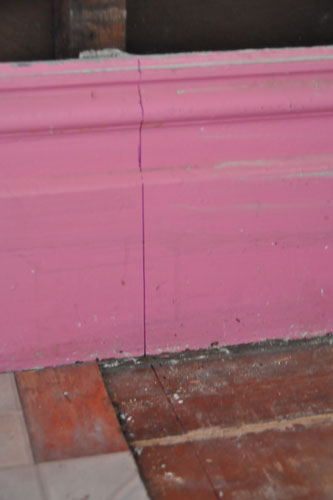 First he trimmed off the extra length on this piece of trim, so we don't have to work the framing around it (I did consider that but it is so much extra work).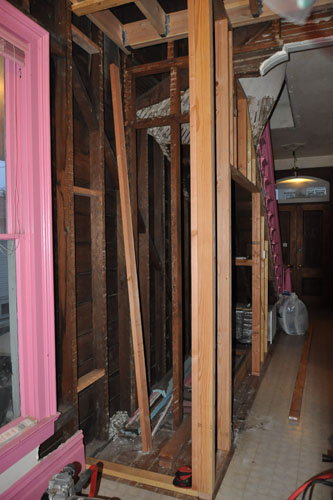 He installed a header and a base. The return air vent will need framing to hold it in place, which will be built off that base. He also installed blocking in the wall to nail the new stud to. This will also serve as fire blocking.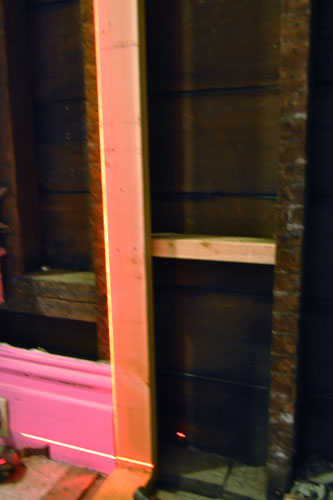 This horrible photo shows the first stud in place, lined up nicely with the laser level.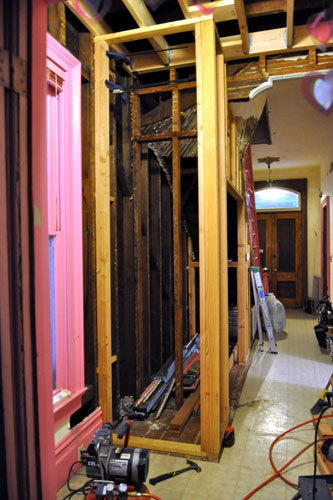 Ultimately, we are going for the built-in look here, even though this is made of framed walls and will be lined with drywall. So while Noel stuck this second 2x4 stud in place, we're going to need some way to match the thickness of the structure on the wall side so the door is nicely centered on the wall. Some of that will be resolved when we actually get to work framing the air return into place.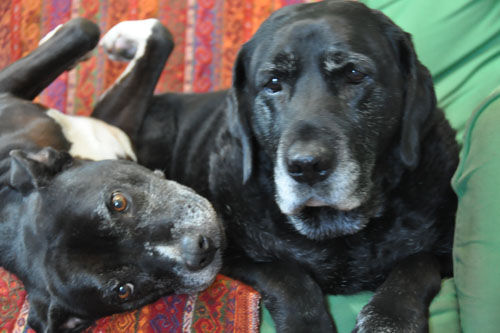 Rosie has been very lonely since we put Goldie down. In part because the cats have kind of ganged up on her, stealing prime spots on the couch and blocking her from getting on the bed at night (if ever you needed proof that cats are jerks), and in part, I think, because she was used to same-species company. So we've had her friend Beanie over a lot this week. We've also taken her out for more dog park visits and even to see a haunted house. Makes it a little less sad here.
posted by ayse on 11/03/13