Hallway Panels
This has been a week of things not going exactly right.
First, the tank for the upstairs toilet was due to arrive Wednesday, which it did not. It arrived Thursday, which would not have been a problem if it had not obviously encountered some difficulties on the road to our house, resulting in it being severely bent and missing some parts. So back it must go; a replacement is already on the way, but so much for installing that this weekend.
Then Noel encountered some issues with the planned sizing of wires around the new electrical subpanel. Do I understand this, really? Sort of. I like to flatter myself that I have a basic grip on most house things, but the wiring is one area where I really am on slippery footing, since I both do not do that at work and do not really do that at home, and certainly you don't learn about wiring in architecture school. (You don't learn about plumbing, either, but I got some books and read the plumbing code and taught myself what I needed to know.) Basically it comes down to needing to exchange some parts for other parts, which must be done during working hours. Again, not going to happen this weekend.
On the other hand, the new shower arrived and it is gorgeous. I mean, the valves turn like butter, it feels rich and well made, and I cannot wait to install it. Which I can't until after we finish the supply plumbing, which is held up until our packages get here on Monday. Do you sense a theme?
In the meantime, let's get a little something done, eh?
Noel installed some of the hallway beadboard on the new wall today. Yet another win for the laser level. Installing things level and straight is just so much easier when a little box shows you where the edges need to be.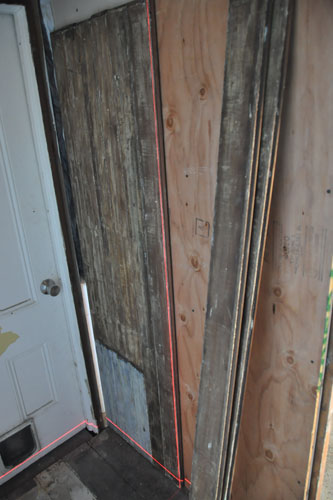 In between panels of beadboard, he stripped boards to clean them up. That strange square there is where a tub was once installed in the upstairs bathroom, and it's a bizarre kind of rubbery substance all over the board. That is what happens when you have a water leak combined with people who don't know much about how to find out where the water is coming from.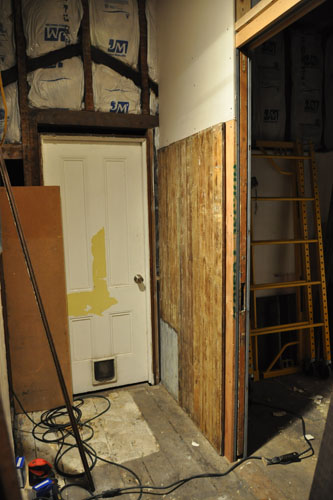 The last piece of beadboard is just held in place by friction here, because we need to work out how the trim around the door is going to work, but nice progress for a day of work.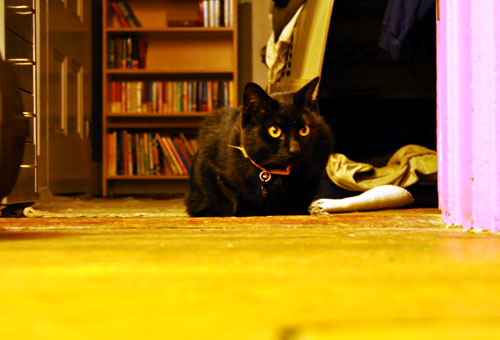 The cats have been really weirded out by all this work on their hallway. It's funny how disconcerted they get by construction work. Dash was crouched in the bedroom doorway staring at Noel much of the day. (I took this photo in a very dim hallway so the colours are pushed all over the place.)
We have a bunch of extra beadboard, and I've been thinking about how to use it. There's always the approach of saving it for a future project, but I have also toyed around with the idea of using it in the downstairs bathroom in lieu of tile wainscoating. I'm not sure that works with the clean modern look we are going for down there, though. So for now the save it for later approach is winning.
posted by ayse on 03/22/14