To Have a Side Porch
You must first lose a side porch.
We were due to replace the side porch stairs as part of the big permit project, and a contractor was hired. In the meantime, the floor of the side porch began, how shall we put it? Falling apart? Something like that. Repairs are permitted at any time without a permit, so we tacked that fix onto this job.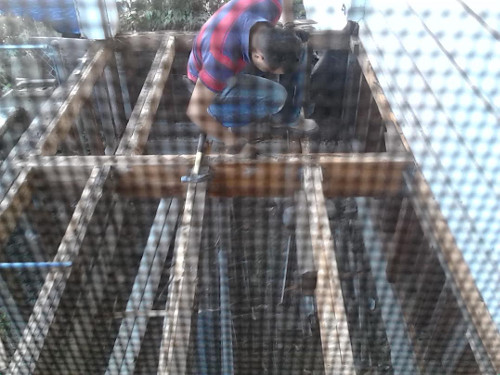 The contractor called me midweek and said he was putting off coming this week, then Noel woke up Saturday morning to see the two workmen out on the side porch tearing stuff apart -- he hadn't even taken all the junk off the porch in preparation because we were not expecting that.
Not that I have a huge problem with it, but contractors are crazy, man.
They laid down the new subfloor on the porch (which will have tile flooring), and began laying out the stairs, too.
posted by ayse on 10/18/14