A Little Adventure
Our posts lately have all been about planning because over the New Year holiday, we went on a little adventure, somewhat spontaneously.
See, this guy in Puerto Rico was selling a plane, and because it was in Puerto Rico, the price was amazing. The catch was that it was in Puerto Rico.
So we bought it and flew it back to Oakland.
Now, this was a last-minute kind of trip, but not unplanned. We rented an automatic life raft, an EPIRB, and life vests for our time flying over the water, and prepared for the unlikely but still possible chance of having to ditch the plane in the ocean. Fortunately we are both strong swimmers, and also fortunately we did not need to use those preparations at all.
Better to be prepared and not use it than vice versa.
So we got a commercial flight down to San Juan on New Year's Eve.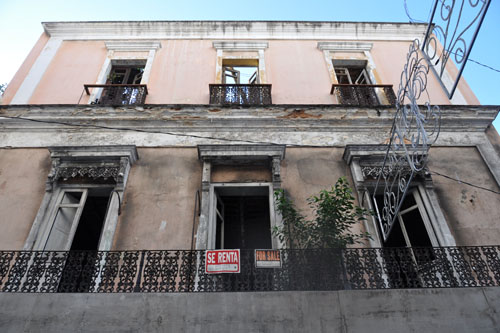 We had about 24 hours between arriving and being able to finish the purchase of the plane, so we walked around. We pondered the idea of taking on a second renovation project (just kidding). (Check out the tree growing on the balcony.)
The streets of the old city are paved with blue glazed brick, which is an interesting choice on rainy days. But there was not much that we could get to, because just about everything in San Juan is closed on New Year's Day. But in the evening there was a big festival by the water where we got some street food.
We stocked up on supplies, and the next day we got a taxi out to the airport.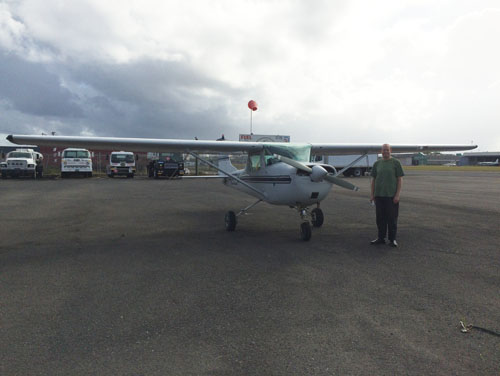 This is our new plane, a Cessna 150. It was made in 1968. A nice, reliable plane. As part of the sale we had it thoroughly inspected and some repairs were made, so we knew it was OK to fly over the water. We set up our things, and got ready to go.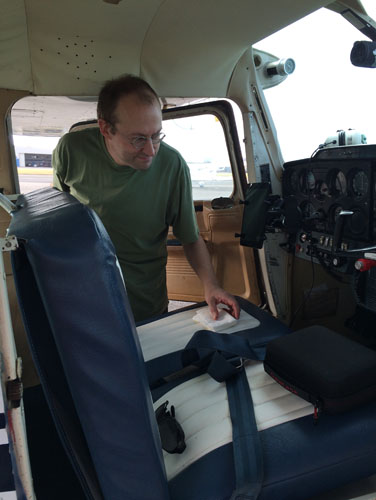 The plane is a 2-seater, with an incredibly uncomfortable bench seat. We have some ideas for instrument upgrades and so forth, but it was just fine.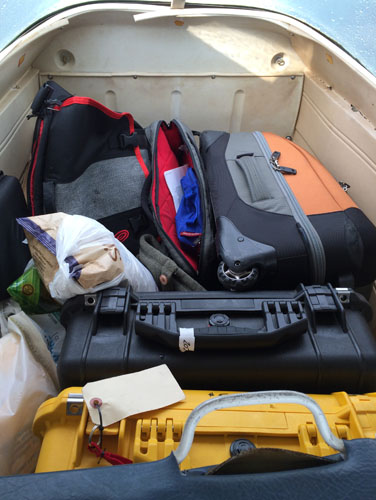 The loaded cargo area was a bit of a bear: the extra weight on the tail made takeoff and landing a little uncomfortable. We put the lightest luggage at the back; right up against our seats was the raft in its yellow case, then our waterproof case for electronics in case of ditching the plane, then our suitcase and personal items. Plus the sack of groceries we picked up in San Juan so we'd have something to eat for lunch while flying over the water. (Plantain chips!)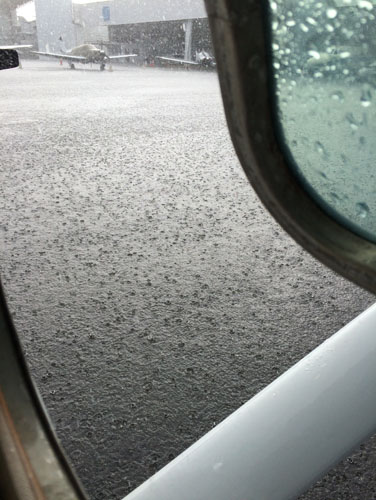 We got that all packed in and set up, and immediately had to sit out a tropical downpour.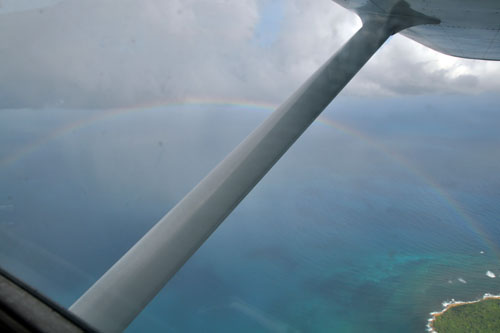 When we were able to take off, we flew to the other end of Puerto Rico as a test flight over land to make sure the plane handled OK. Which it did just fine, modulo the heavy tail from the baggage. We even got a nifty rainbow over the water from the low clouds.
Then we flew to Puerto Plata in the Dominican Republic, and then on to the Bahamas.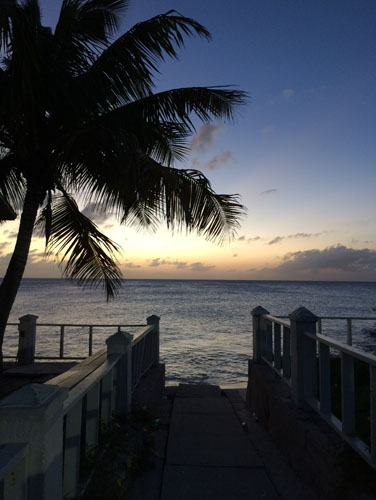 The best place in the Bahamas is Matthewtown, Inagua. It's a company town for Cargill, but the people there are terrific, it's a real place rather than a resort, and you can't beat conch fritters in a tropical paradise. I could do without the cloud of mosquitos, but I hear the birdwatching is amazing. Of all the places we landed, that is the one where I thought I would be happy to return. With a lot of DEET.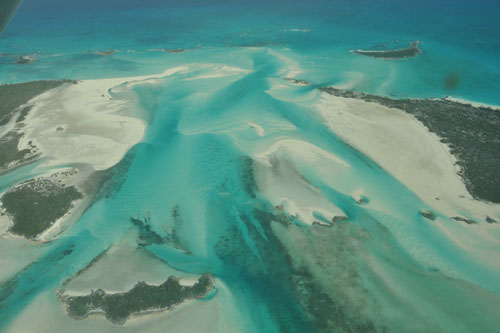 The Bahamas are ridiculous. After our first night in Matthewtown, we spent the next day flying up the islands. I filmed literally hours of video of endless tropical paradise. After a while I started getting annoyed because there was no pause in the nonstop beauty.
People I asked about the Bahamas told me to take an aerial tour (no problem!) and I agree. It's beautiful on the ground and almost unbearably so from the sky.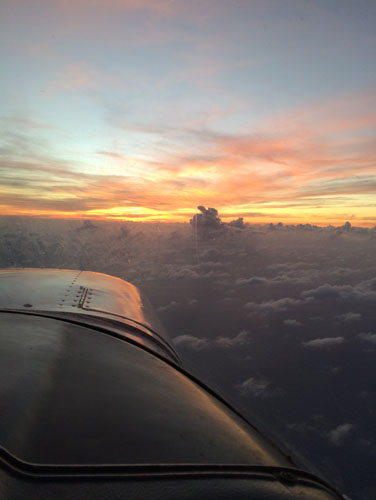 The Bahamas are actually not all that big, so by the end of the day we were flying over the last island and heading across our last bit of water before Florida. This bank of clouds caused us some grief, but Noel's policy was to keep the fuel tank full, so we had enough fuel to fly around it if necessary.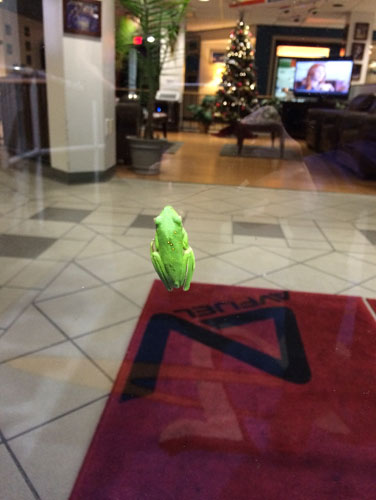 In Florida we sat out a massive storm system, hopping from airport to airport to work our way around it. This was Gainesville, where apparently these frogs are all over the place.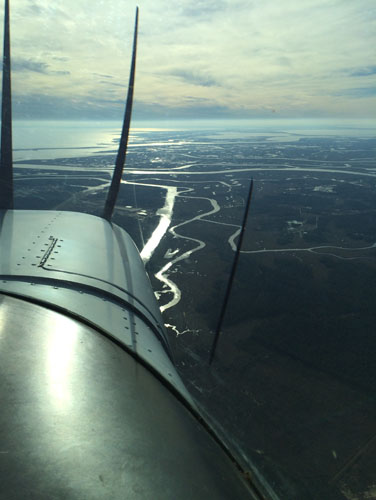 We flew over New Orleans -- air traffic gave us clearance to fly over the city which was very cool.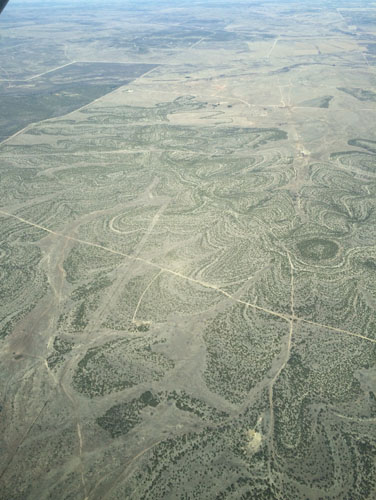 Then through Texas, where I doubt this is even visible from the ground.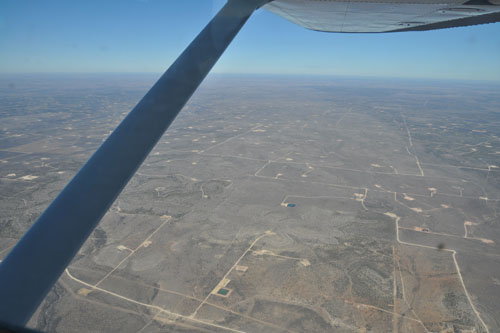 And where for much of the state, this had replaced the natural landscape.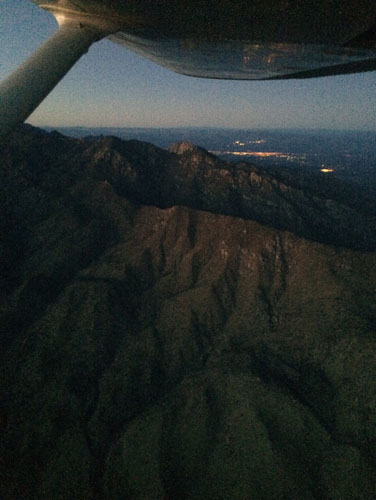 At El Paso we flew through a mountain pass, aptly enough.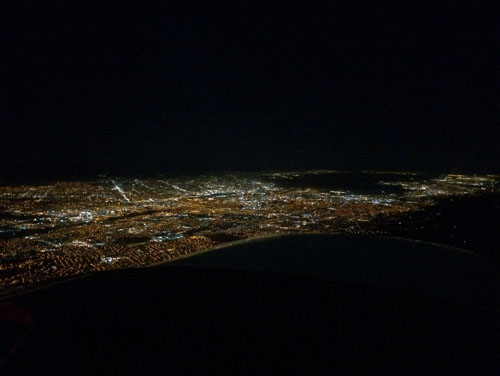 And eventually we made our way back to Oakland.
And now we are catching up on our sleep, processing video, and getting ready to finish those bathrooms up.
posted by ayse on 01/08/15