Slow Blog Weeks
Last weekend, we lost a dear friend.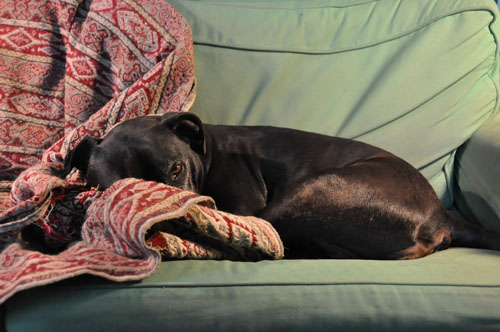 Rosie's best friend, Dash's girlfriend, and our frequent visitor and houseguest Beanie died. We are very sad and we already miss her a lot. Beanie was an important part of our helping Rosie through Goldie's death, coming over to play and keep her company for months. And they were best friends, which is a big thing for dogs. Her relationship with Dash was a little weird, and she loved our couch unreasonably, but that's kind of what you get with dogs.
That kind of cut last weekend short. I had a bunch of plants to put in the ground that I ended up having to plant on Wednesday because of everything. We just were not in the mood.
In the meantime, things have been happening. Our planning application was returned to us with a request for more information, so I'm responding to that. The city has published multiple contradictory pieces of information and they don't seem to realize that that is all out there. Also, they asked me to do something that they don't actually call for in their code. And they seem to want to treat this house as if it were actually a historic landmark, which it is not.
Anyway.
Work on the bathrooms is moving along slowly -- we've actually been giving a little more attention to our project of getting rid of 1/3 of everything we own, lately -- and a recent arrival was the vanity for the downstairs powder room.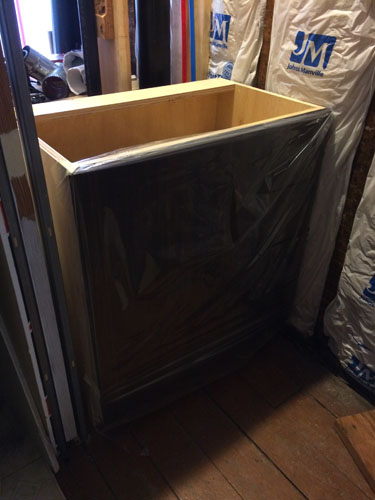 It's got three drawers on the right, and a big door on the left, and the doors are a dark bamboo material. I'll show it to you in more detail when we can actually install it; this was just us taking it out of the box to fit it in the space and make sure it's the right size.
We sell a couple lines of cabinets at my office, which has been a learning experience, so I got a professional discount on this one that was pretty nice. Well-made cabinets are super expensive.
This week, the tile for the upstairs bathroom should arrive, though we are nowhere near being ready for it. On the other hand, you never know with tile whether you can get it this week or possibly you will hit some strange stocking cycle and end up waiting eight weeks for it to come from Spain. So it will come this week and we will carefully store it away for when we have things ready for it.
posted by ayse on 04/05/15