Even More Floors
The wood flooring installation is almost complete.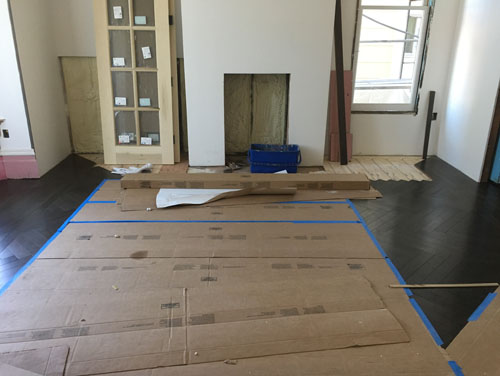 This week we discussed the marble fireplace hearths, and I made a special weekday trip down to the marble fabricator's yard to choose where on each stone the hearths would come from.
The issue was basically that in order to have the wood flooring run up to the hearth without a funky trim detail, we need the hearths cut out and installed so the wood flooring could be installed right up to them (with a little gap for the natural movement of wood). Which meant a last-minute hassle getting stones from Palo Alto to Oakland, and my little trip. At the same time we laid out the kitchen and dining room countertops, because I was there and I think the fabricator wanted to take advantage of how reasonable I was being about where seams need to be.
Next week the contractor will be picking up the dining room and kitchen cabinets from the warehouse, and the library cabinets will also start to go in. Things are getting real, kids.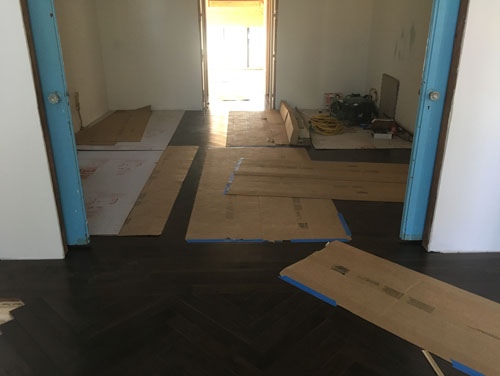 With the dining room floor going in, they removed the lower part of the plywood over the glass doors in there. Which means the light is coming in. Having this light in the house was a big part of reorganizing the downstairs rooms, and it is even better with the flooring in place.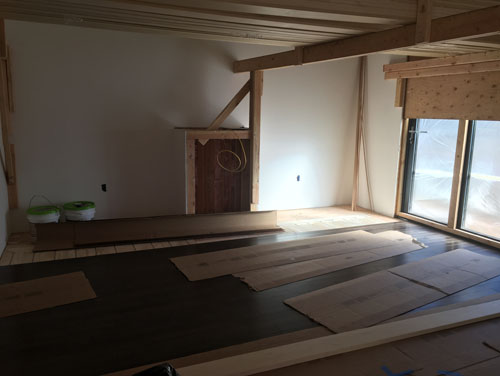 See?
The flooring installation will be finished as soon as they can get the hearths cut out. The dining room will be done on Monday, assuming the fabricator can get to that stone by then. The living room will have to wait a bit because that hearth is cut from the same marble as the counters on the library shelves, and the lower part of those shelves need to be installed first because the fabricator is going to work some kind of geometrical magic to make everything cut out of one stone, but it's one of those things where you need to have everything lined up and ready to do at once.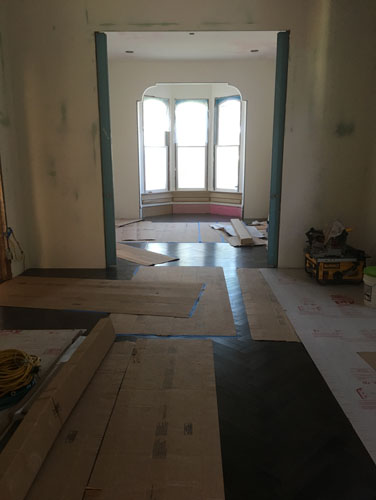 If it weren't for the slight drama over the hearths, I think the flooring would be done. Well.
And there is more news, but I didn't take the right photos when I was at the house this evening, so that will have to wait.
posted by ayse on 03/31/17