Catch-Up
I went to a conference for a week just to see what it is like to do something other than answer detailed questions about trim. It was pretty good! So let's see what has happened lately.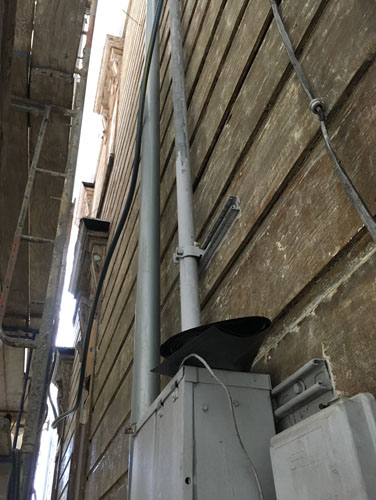 Woody has been working like a madman stripping the house. He's up to the roof and almost entirely done with the east side of the house and has moved to the front. The wood appears to be in great shape which is a real relief. Of course, he hasn't hit the weather side of the house yet.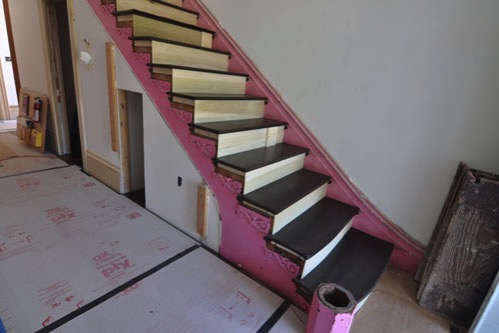 Inside, the reconstruction of the front stairs has begun. This is incredibly detailed work and involves carefully deconstructing, repairing, and rebuilding where necessary. The carpenter has added a center stringer because there wasn't enough support in the middle, which should help with durability.
Those are new walnut treads made to copy the old pine treads.There's a bunch of detail work to do around the sides with the trim, too.
Here's the view from the top. You can see the added stringer here, and how they are carefully working their way to the top.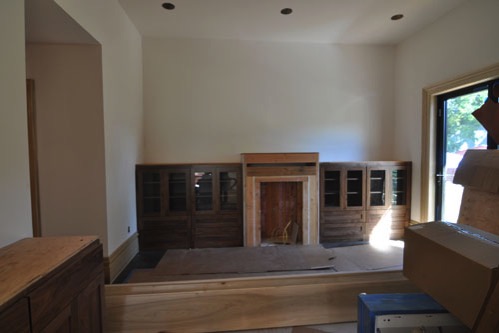 The dining room cabinets are also installed in their final position. We've roughed out the fireplace box, but for now we are just closing this up. Eventually I want to put a gas fireplace appliance here, but this was one of those parts of the job that we value-engineered out because it's easy to do later.
I think the cabinets look great. I am one of those rare birds who both uses a formal dining room and has and uses nice china, so this will see a lot of use. I'm already planning my first dinner party.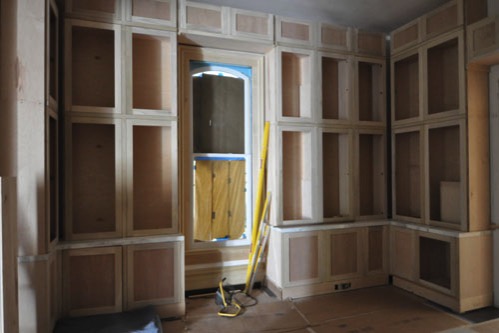 The library cabinets are going in. This is what they look like if you maybe need glasses (seriously, appointment is Saturday; I guess I am officially old now). (Also I think I might get the autofocus version of my wide-angle lens because I can admit defeat.)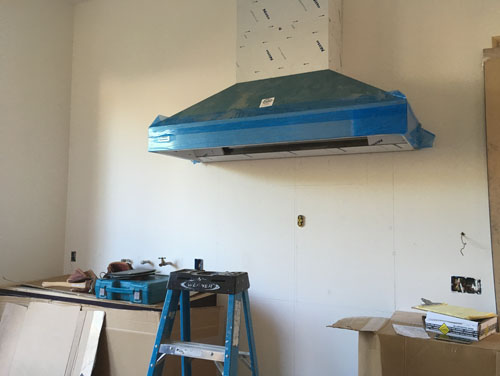 And today I popped around while on my way back to the office from visiting another job site and got to see the hood in place. Dang, that is big. This is going to be a great kitchen.
Also lots of trim is finished up, the tile guys are acting like they're roofers all of a sudden and taking their sweet time showing up, and we had more conversations about the back stairs in the last 24 hours than I ever expect to have again in my lifetime.
posted by ayse on 05/04/17