Front Facade Painting
The slow process of adding back the detail continues. Don't ask me when we will be able to move back in. It may be never. Maybe we will forever just visit our house.
Over the last couple of weeks, Woody has been rebuilding the trim at the front bay. The bases of the pilasters all needed to be replaced, and again, there are some crazy angles on those suckers.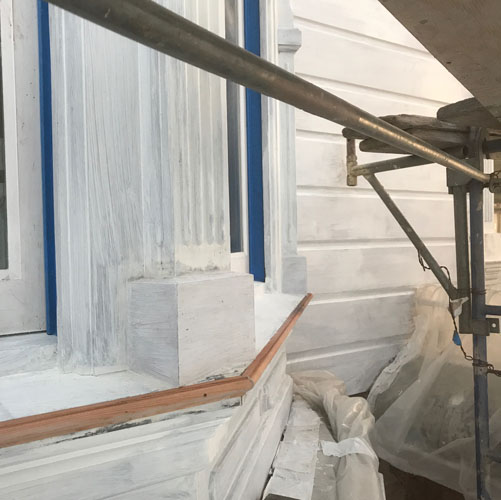 He also replaced the sill lip, which had seriously rotted away.
One of the most striking details on the front of the house are the curved lead roofs at the bay window and front porch roof. Woody stripped those down to bare metal, and made new replacement wooden "straps" for them (the straps give the appearance of a standing seam metal roof, which is not the kind of roof this is).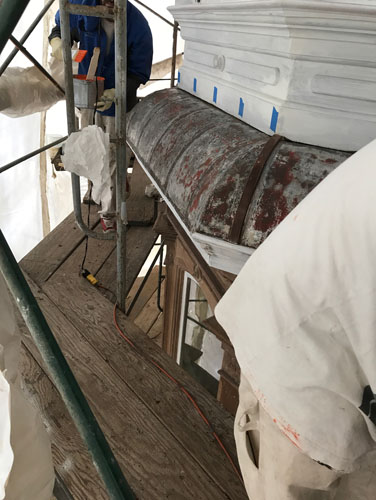 In the photo above you can see the bare metal, with marks showing where the straps were for reinstallation. Some repairs had to be made, and then when the straps were reinstalled they were not nailed in place this time, for what should be obvious reasons (don't nail through the waterproofing of your roof).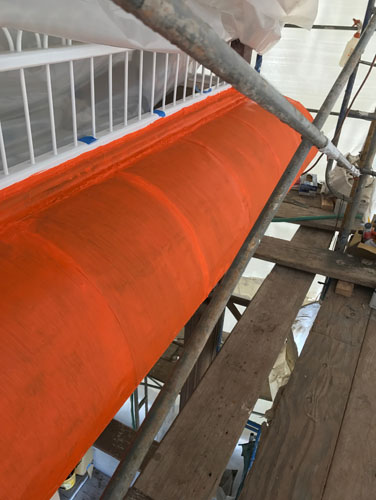 Once the metal was ready, they primed it with "red lead" which is the only primer that will bond properly to the lead roof, if you listen to Woody. Despite the name, this is neither red, nor lead. Obviously, the metal is not going to stay this colour. I think I want to do it dark gray to tie in to the main roof.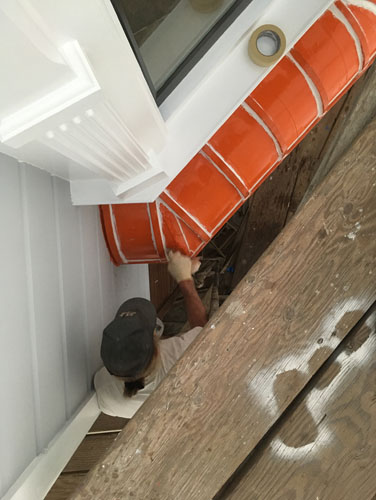 With the roofs primed, he then glued the straps back in place with epoxy, and sealed them well with Sikaflex. That's a flexible construction sealant. They look pretty good all fixed up, even bright orange.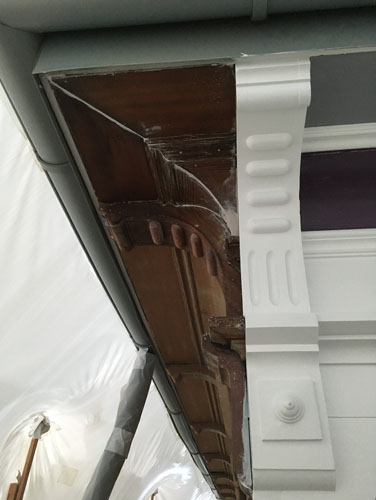 Some other detail that's been happening is that he's made a bunch of tiny but important repairs to the trim at the corners of the house, where the tiny corner of cove molding had fallen off the house and been lost to the mists of time. In the pile of trim in the garden, he found a piece of the original molding and made a new little corner. Win! Any time we don't have to pay to get molding custom cut it's a win.
And the guys put the first coat of finish paint on the front of the house: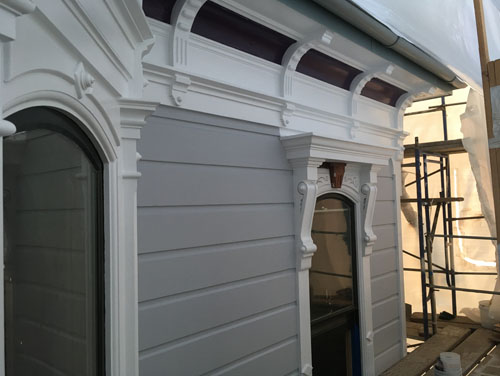 I'm still torn about the stupid buttons. Half of me likes them plain white, and half of me wants to pick them out in colour. We've done some sample painting but nothing has stood out.
posted by ayse on 12/09/17