Ahoy, Matey
NOTE: As of September 23, 2009, this post has been edited in
accordance with a court-mediated settlement. The names of the
contractor and his excavation subcontractor have been replaced with
pseudonyms.
There's been a lot of rain lately, and it has not been helping the foundation process. Today we had thunderstorms and hail, but fortunately the tornadoes were confined to the Central Valley. We have enough issues.
Saturday morning, Contractor A (who was still trying to force us to turn our utility room basement into living space in order to plump up his fee) came by to talk to me about the architectural drawings for the basement, which need to be submitted to the city ASAP, because apparently he has not yet gotten a permit for the work on the basement. There. HE HAD NOT YET GOTTEN A PERMIT. The man had been working on our house, had dug an enormous hole and endangered the house, our lives, our neighbors, all without having gotten a permit. In fact, he had not even put in a permit application. What kind of competent, professional contractor does that kind of work without permission? He didn't even know how far down to dig, and he's started digging. And having failed to get a permit, he now wanted to light a fire under our asses about needing architectural drawings. I need to do them this week. Noel, being Noel, snapped a photo of the moment for posterity: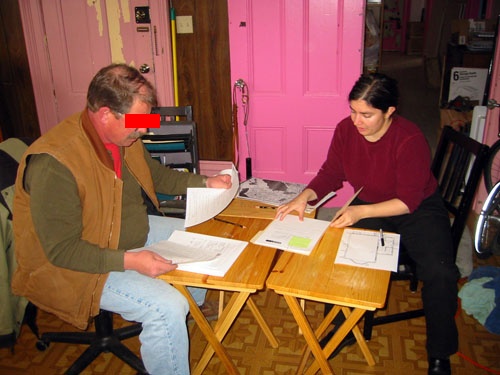 (Gosh, doesn't he look kind of flushed? I wonder what causes that kind of ruddy complexion.)
We ended up getting some useful work done, and I'm all set now, with some good solid ideas and only a couple of questions for the city and our engineer.
Our big excitement of the (long) weekend was when the guys removed the support posts under the bay window in the dining room, and the shoring turned out to be inadequate and the house slumped and broke the door lock. It also jammed us inside temporarily. With the help of the guys and their crowbar, we busted out the lock, then Noel handily repaired it.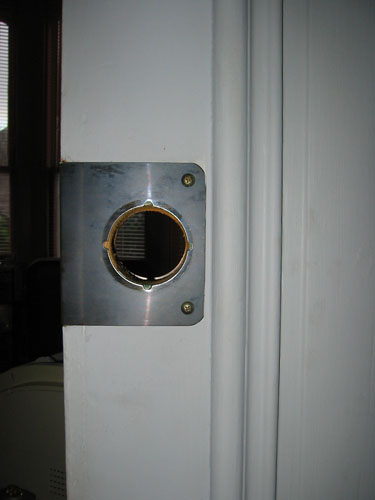 Mostly what the guys were working on today was installing this silt filter, which will keep our sumps from dumping tons of silt into the storm drain system (a huge environmental no-no). Water goes in, and is filtered with geotextile fabric before it can leave. At the current rate, it will be a couple days before this fills completely with silt. Ah! Sandbars!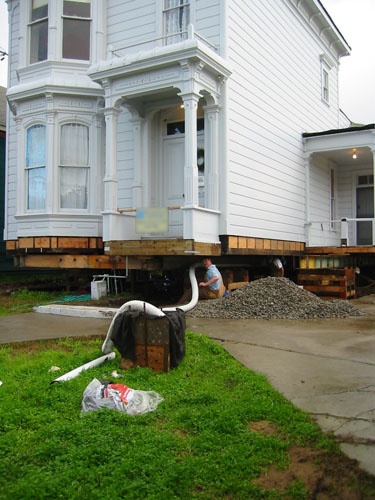 posted by ayse on 02/21/05