Temporary Plumbing
NOTE: As of September 23, 2009, this post has been edited in
accordance with a court-mediated settlement. The names of the
contractor and his excavation subcontractor have been replaced with
pseudonyms.
There's not much room between us and our neighbors in the green house. To make sure we don't undermine their foundation, the digging machines need to dig as close to our house as possible. Unfortunately, Contractor A (that's the guy who told us that Public Works was holding up a permit, so we said we'd put in a call; when we called Public Works they expressed surprise and told us there was no problem; ten minutes later he called us back and claimed they'd miraculously finally approved the permit after diplomacy on his part and there was no need for us to call) the old sewer lateral was in the way -- a foot over from our foundation and a foot down -- and needed to move or it would be crushed.
On the back of the house: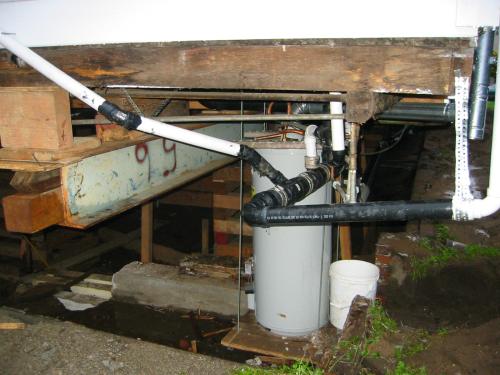 A closer view, near the water heater, showing the connections from the sink, washer, bathtub, and toilet: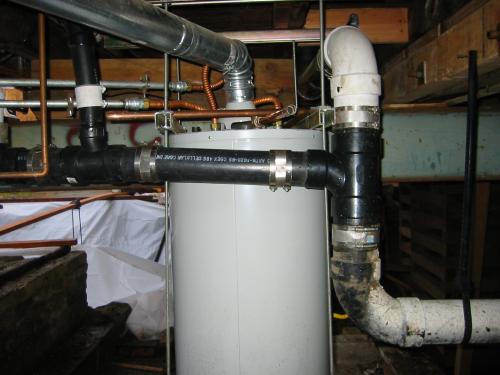 Looking along the length of the pipe towards the front of the house: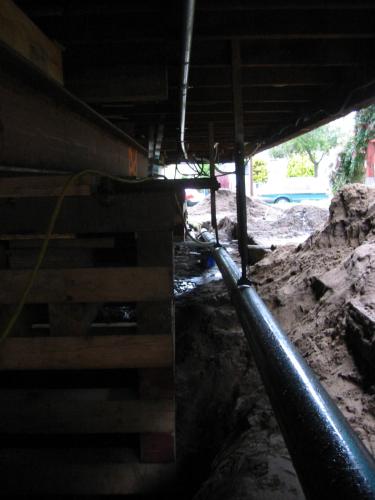 Another junction along the way where we meet up with the kitchen sink and another vent: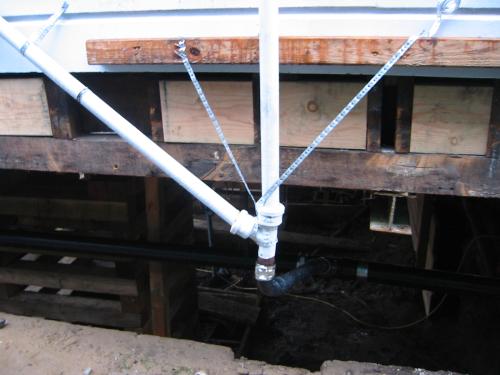 Looking at the whole thing from the front of the house. The new line takes a jog and meets up with the old line near the bottom of the photo: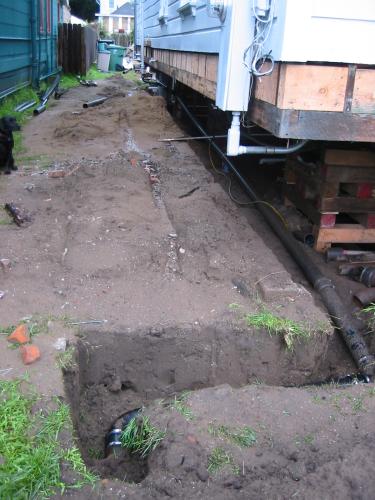 That jog from a better angle: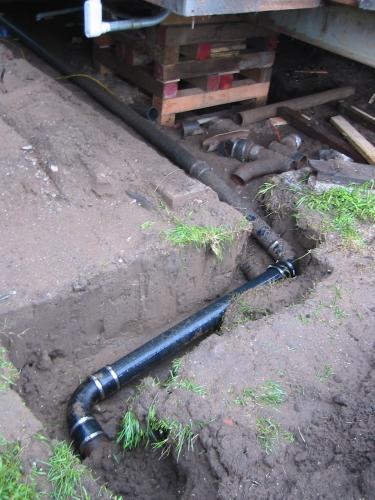 I wrote "temporary" because this plumbing will need further rework. All of the vents are not to code (either not above the roof line or not of cast iron), so they need to be replaced. It's also not clear whether the line should exit above or below the new foundation -- it all depends on the depth of the lateral as it hits the street. We haven't investigated that yet, but will need to soon...
posted by noel on 02/18/05