Form-ula Front
NOTE: As of September 23, 2009, this post has been edited in
accordance with a court-mediated settlement. The names of the
contractor and his excavation subcontractor have been replaced with
pseudonyms.
I kind of let the container drama drop, but here's the solution to the whole thing. Hertz Rentals doesn't want anybody to USE the container, even though they are unable to come and get it and it is, after all, sitting on my flower bed. So we moved Counterforce's stuff out and into their own shiny nice container. Gosh, it was not fun taking apart that workbench that Contractor A (the guy who had left our siding in a pile in the yard that was subsequently covered in dirt by his excavation contractor) built in the container (on our dime, no less). And there was an incredible amount of dirt (not surprising, given how filthy the guy was; I wonder if he was just exuding the stuff?) and more cigarette butts in there. But now it's cleaned out and Hertz can put their lock on it and feel good that at least nobody is making any use of it.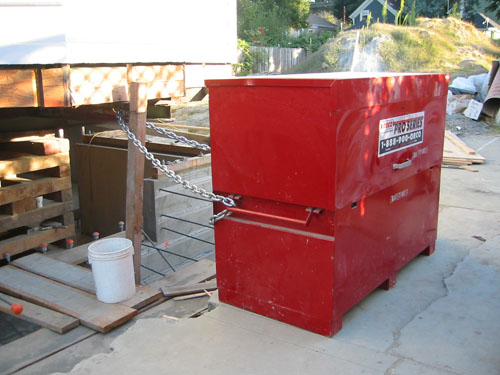 We had a double crew today, working on finishing up smoothing the walls (which are still giving off heat of hydration, so it feels nice if a little damp to lean on them), and working on the preparations for the front part of the foundation.
(Noel tells me I should point out for those who weren't aware that concrete doesn't dry; it cures, undergoing a chemical process called hydration in which the molecules of cement bond with water to make a strong crystal linked around sand and gravel. This is beaten into your head from the moment you say you want to go to architecture school so it's hard to imagine anybody not knowing that at this juncture in my life. Also, you get hit with a bat if you call it "cement" instead of "concrete": cement is an ingredient in concrete. End of lecture.)
Look at that nice, smooth edge. Smooth, curved edges don't chip when they're knocked with something heavy because curves are very strong, structurally speaking, compared to sharp angles. That's why children's toys and basement wall edges are made nice and rounded.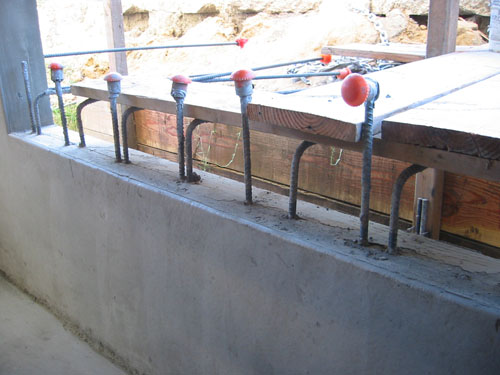 Here's the transition rebar for where the foundation steps down to the basement.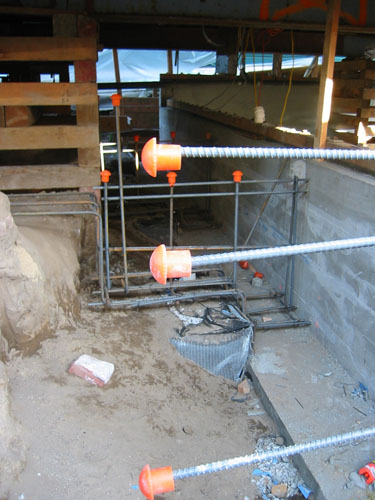 Because of the stairs in the front and the bay window, the formwork up there is kind of complex. Yes, that's our gas meter and water main dangling in the air. We're going to need to replace the water main eventually, but NOT NOW.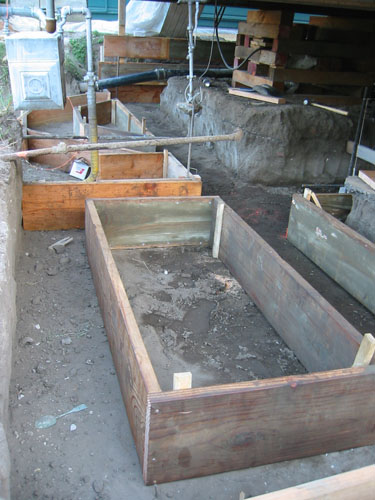 Around the bay there's a bit of footing where the bay walls will rest, but the actual shear wall is the horizontal wall along the face of the house. We'll probably have some sort of access hatch into the bay, as with all other sealed-off spaces, but that's about it.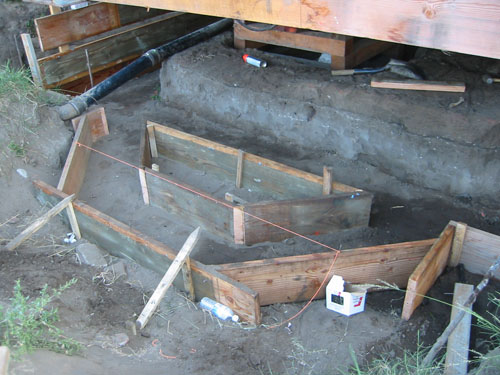 We were talking to the neighbors in the green house next door about the flapping tarps, and it was agreed that we're all looking forward to those coming down. Which they are, as the guys build up the wall formwork and need the headroom.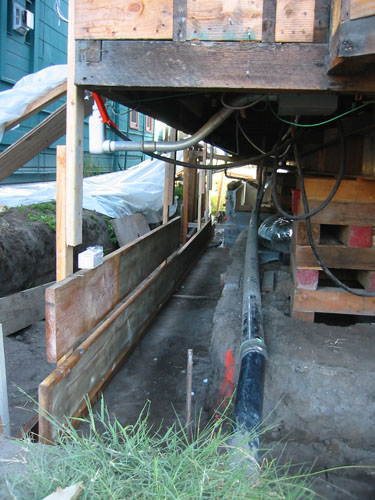 The other thing that is closer to coming down is the retaining wall system Contractor A (who told us that if he lost his contractor's license he would become a professional engineer, because people who are too stupid to dewater a construction site that's under 6 inches of water get into engineering programs all the time) put up to deal with what happens to sand when it gets wet. This board is along the back side of the house, so if anything falls as a result of removing it it will be the pile.
Early next week is the soonest the structural backfill can begin, given the cure rate of the walls. The concrete needs to be at a certain percentage of its design strength to take the pressures.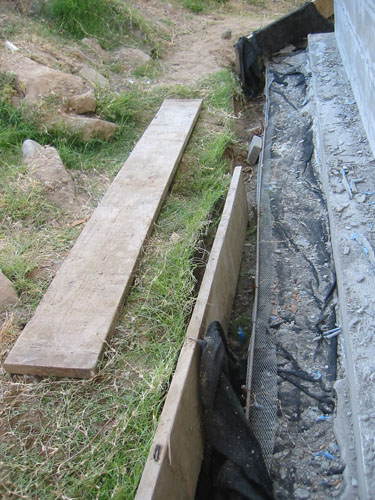 Hey, look! Our plumbing is leaking!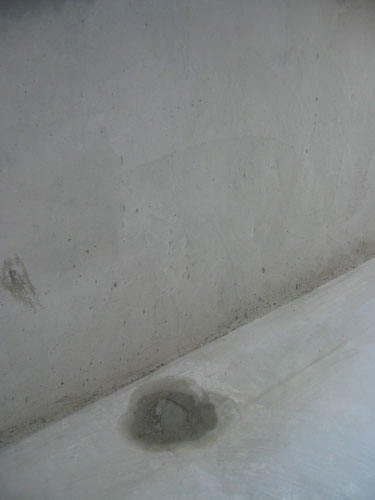 posted by ayse on 08/24/05