A Step Closer to a Yard
NOTE: As of September 23, 2009, this post has been edited in
accordance with a court-mediated settlement. The names of the
contractor and his excavation subcontractor have been replaced with
pseudonyms.
I came home today to see that the process of backfilling has begun.
The guys hacked away at the dirt bank along the side here to bring some soil down to the base of the wall. Tomorrow we have the drainage inspection and a rebar inspection, and immediately afterward, backfilling begins. It's terribly tempting to take the day off work to watch, because it's such a big step.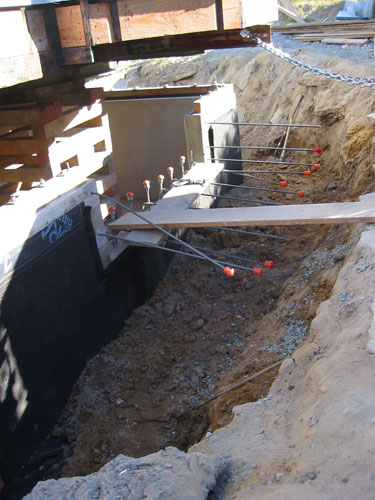 It's so delightful to see dirt going down over the foundation at long last.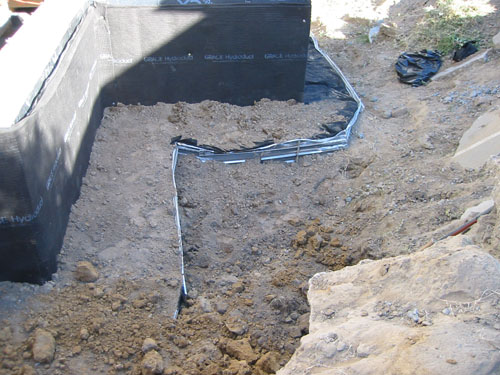 Backfilling is not going to be easy. During the rains, Contractor A (who did one of the most inept shoring jobs I've ever seen) piled chunks of concrete (pieces of the much-hated concrete patios) in the slope leading down to the basement wall, in a misguided and fundamentally flawed attempt to hold back the sand. So Counterforce is going to bring in a little excavator to pull those out and move soil around. Excavation with picks and shovels is fine for small sections, but those chunks of concrete are damned heavy.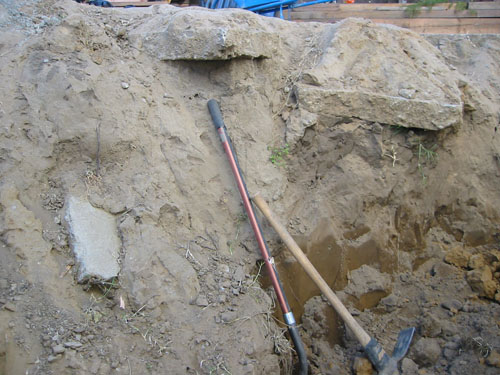 A clarification from yesterday: this is what the inside of the Hydroduct looks like. It's a heavy-duty plastic mat with dimples in it, covered with geotextile fabric. The fabric keeps silt from clogging the drain and holding water against the wall.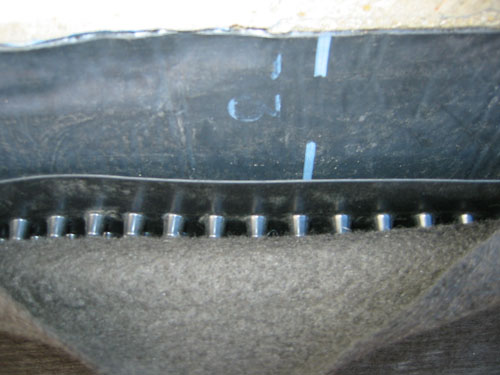 Addendum: We have a brief movie of the Bituthene system being installed , courtesy of a possibly mis-directed Foundation Cam.
The other big work item today was finishing off much of the front formwork. The forms are now braced and have those little straps in them.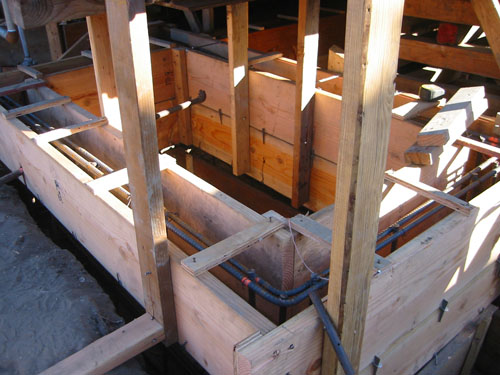 The rebar inspection with our structural engineer is tomorrow. The plan is to pour on Thursday.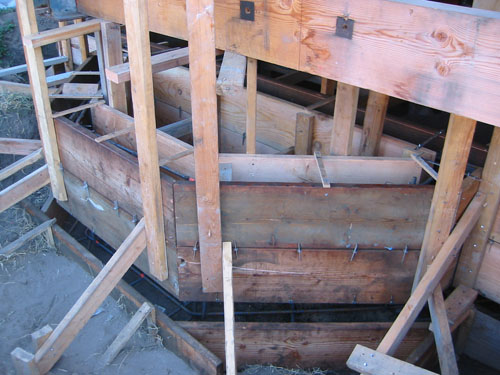 Anybody who has done any sort of molding knows the importance of form release for getting the finished object out of the mold when it's cured. That's where form oil comes in: you coat the inside of the forms with it and your formwork springs right off, smooth as buttah. That'd be some time next week, kids.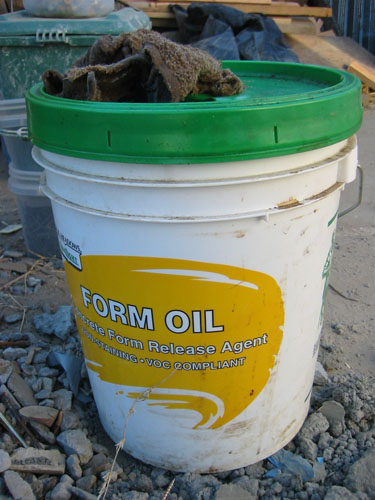 posted by ayse on 08/30/05