This and That
We're waiting for Counterforce to come and finish up their work (some cleanup and punchlist items from the inspections). In the mean time, there are some areas of the basement with no plywood over them because they are not officially shear walls, so Noel spent today cutting plywood and nailing it in place.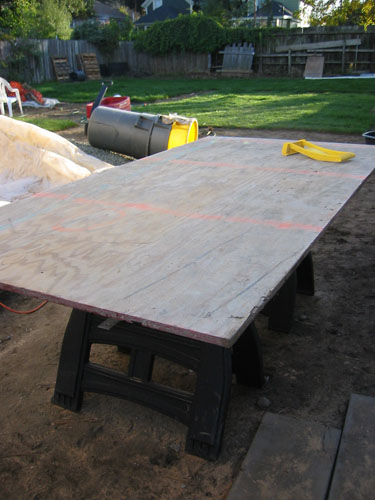 It's kind of slow work, not because it's hard but because it's kind of slow. But in a couple of hours, working by himself (I was inside working on a model), Noel put up four boards (one is not yet up in this photo). Because this is not a shear wall, the plywood basically only has to hang on there and provide thickness so the siding goes on evenly. Kind of lowers the bar.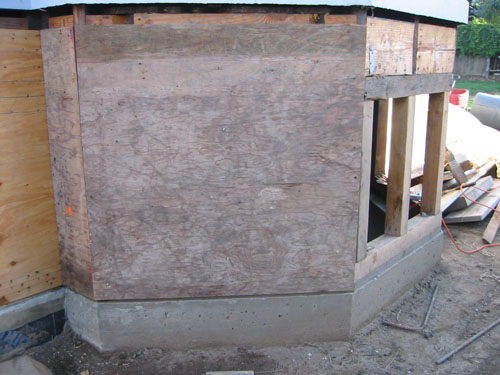 Before I went off to do school work, I went around the house and marked where I wanted hose bibbs installed with little orange dots. We're having a plumber in to redo the water main and also a bunch of the old plumbing that is leaking, so we figured that at the same time we could do the hoses.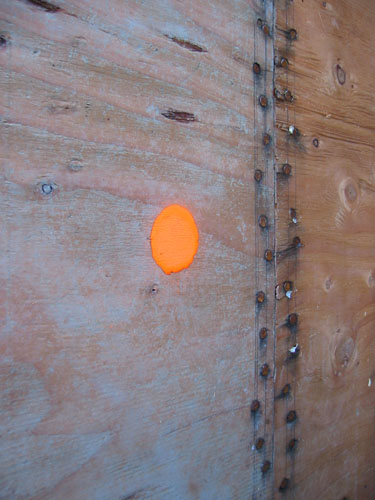 This was also a momentous weekend because it was time to cut the grass for the first time in nearly a year. We set the mower to its highest setting and off it went.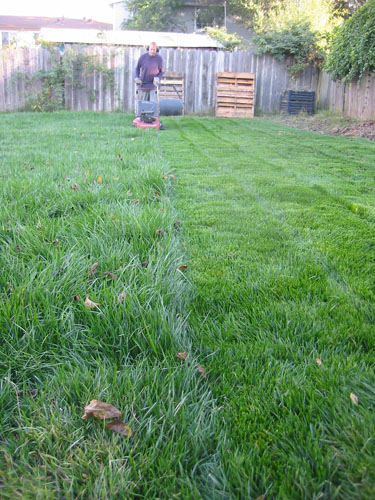 The grass was pretty tall in some spots -- we noted that that was where we'd been sloppy with the compost and put too much down. Definitely a good argument for adding more compost than you think you need.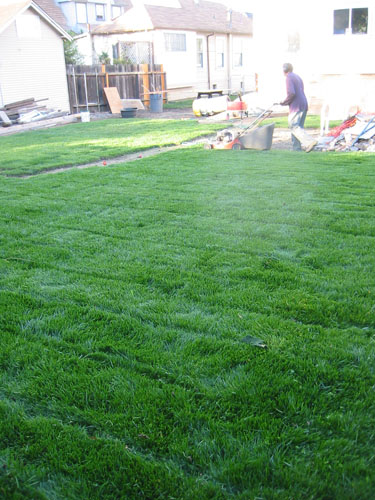 All said, the lawn is looking pretty good. Much of that is going to get dug up and moved this winter, but it is surviving OK where it is right now. The rain helps.
A couple of weekends ago I pruned the lavender in the front, generating four wagonloads of prunings.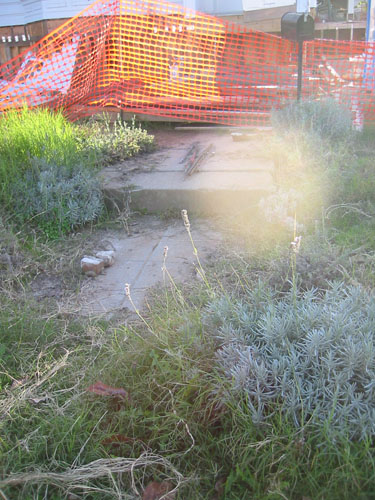 They've kind of been taking up the entire compost bin since then, so it was good to displace some and add mowings.
The stuff really fluffs up when you take it out of the bin. I only took about half of it out; I stopped when I got to a layer that had started to rot.
Some day soon we're planning to buy a chipper/shredder thing. When that happens my compost empire will be ready to take over the world.
I also moved the brugmansia from the side porch to roughly where it will be planted. Mainly to see how well it would cope with that level of sun/light/wind while it's still easy to move it. I was told to plant it on a South wall, but a lot of people think Alameda is a lot more maritime a climate than it really is; it gets really warm here in the summer, unlike San Francisco.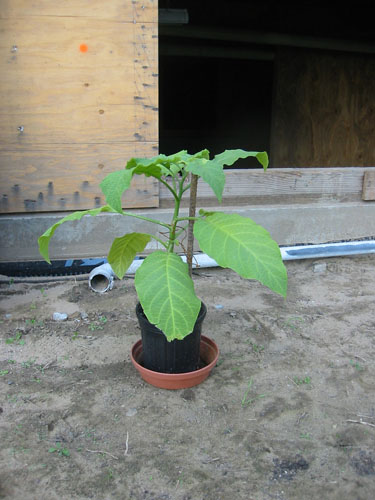 Saving the best news for last, this afternoon as we were puttering around in the yard, we noted that the neighbor's amaryllis belladonna bulbs had come into leaf. If you don't know, amaryllis belladonna produces a spectacular display of pink flowers in August, then dies back, then leafs out in the winter.
So we looked in the pile of refuse, and lo and behold, our own amaryllis bed is alive under all that: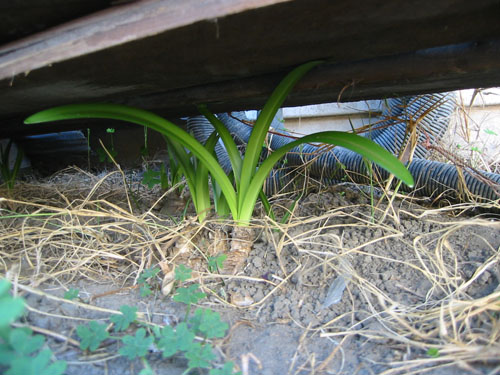 It's getting close to the holidays, and at Casa Decrepit that usually means the delivery of the Annual Holiday Dumpster is nigh. There may just be enough chunks of concrete and trash in the yard to justify it. If not, I could be convinced to take a wall or two down in the house.
posted by ayse on 11/13/05