Water Tanks
Today Noel and I made a brief but very informative trip to Loomis Tank Co, in Paso Robles. Loomis is a low-key kind of place: a big yard with lots of different kinds and sizes of water tanks to look at. We already kind of knew what we wanted, but going to see the different kinds of tanks in person was pretty informative. You don't get a good sense of scale from the photos on web sites. I know, intellectually, how big 98 inches is, but seeing it propped up against a fence is a different matter altogether. (The 550-gallon tank is the small round one on the far left.)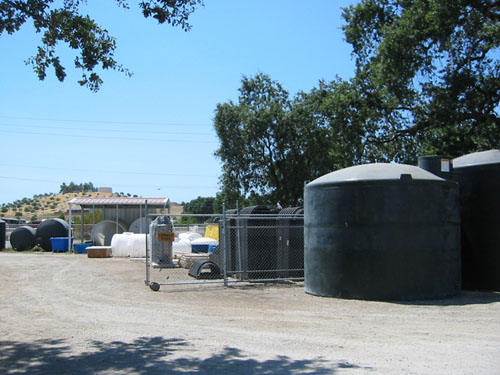 We found the water tank of our dreams* in stock, and, more remarkably, cheaper than we could find it online. How about that? Even if we had to pay to have it freighted up to the Bay Area, it would be cheaper than the online tanks before shipping.
Now we just need to borrow or rent a transportation vehicle (a 550-gallon tank is in no way fitting into either of our cars) and get that puppy 200 miles North to Alameda. We think we would be able to fit it into John's truck, with the top off, or possibly another neighbor will trade cars with us for a week.
* We have very boring dreams
Technorati Tags: irrigation
posted by ayse on 07/21/06
Note: We're getting pummeled with spam comments, so I've turned off the ability to use any HTML or include any links for the time being. Email with any issues.