Another Layer of Primer, and The Perils of Celebrity
Last night I put on a second coat of primer, and this morning, a third. This photo is, I believe, the second coat. You know: white stairs. Kind of all looks the same after a while. Next up is the colour coat, this afternoon.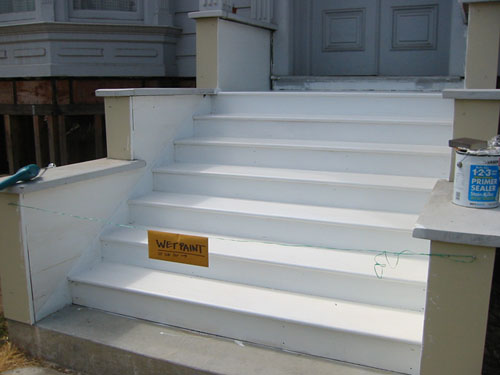 And a weird note: I know plenty of people who read this blog have never met us before, and that's fine: we have around 1,000 visitors a day and I'm pretty sure we don't have that many close friends. If you happen to have an idea where the house is anyway, and want to come by see it in person, that's fine; we are on a public street and all.
But if you do come by the house, and I'm out front painting the stairs, could you PLEASE not just sort of slowly troll by in your car and then park down the block staring at me? It kind of freaks me out. We're very welcoming to strangers. If you come up and say, "Hey, I read your web site and I decided to stroll by and see how it was in person," I'm likely to invite you in to experience the pink hall, or give you the executive tour of the basement, or something like that. If you sit on the street staring at me from your car, I am more likely to call the police, if my neighbors don't get to it first.
Thanks.
(Edited to add: Noel thinks it was just somebody waiting for a drug deal. Now I am not sure which one is creepier.)
Technorati Tags: painting
posted by ayse on 08/15/06
1 Comments
Note: We're getting pummeled with spam comments, so I've turned off the ability to use any HTML or include any links for the time being. Email with any issues.