A Foundation for the Shed
Today it became apparent that if I am going to pour the shed foundation this weekend, I better, you know, dig the spot out a bit.
I had to go slowly, because my back is overstrained from digging my big hole. At one point I wondered if I could shovel while lying down, and chose instead to go inside and lie down on the couch for a while.
Still, I got this much done: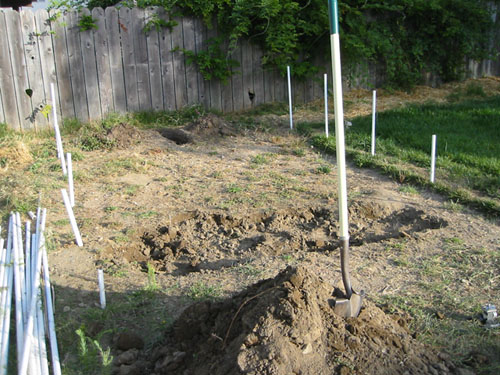 The ground over there is particularly rocky, and much harder to dig than in the orchard where I am digging my big hole. So I spent a lot of time stopping to pull out ridiculously large chunks of concrete.
The other thing I am doing is running the two irrigation lines that will someday service the greenhouse (one for misters, one for a drip system) to go through the slab. That's what that funny trench at the top of the photo is all about. And another hole through the slab will be for electrical service when we get around to it; actually, having a light and an outlet in the shed might not be so bad, either.
I only hope I can last long enough to get this in reasonable shape tomorrow.

Technorati Tags: digging, foundation
posted by ayse on 09/14/06