The Theme for This Summer is: Digging
I spent more time digging, or rather hacking away, today. This time I was back to the shed foundation, where I am having an easy time of the basic foundation (excavate about 4" of sand for the slab) and an excruciatingly hard time with the part where we're going to have a sort-of sump (actually a drainage/moisture pit for when the foundation is under a greenhouse). About six inches down I hit a hard layer. I tried soaking it this morning, filling the little pit with water around 9am. At 10am it was still full, so I went and did some stuff inside. At 2pm I came out and it was still full. That's some serious stuff, for an island made of sand. So I hacked away at it for an hour or so, got through some really tough stuff, and refilled it.
Here's where I am as far as the digging. (Comfy plastic chair for watching the sump hole fill up.)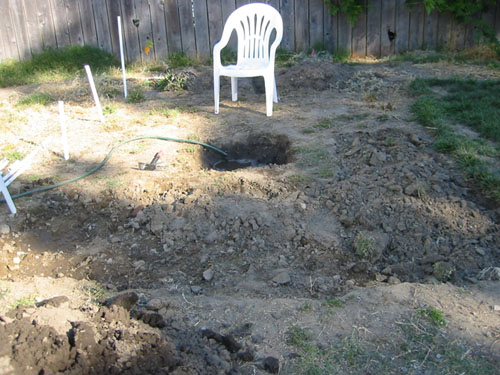 And the great hole project: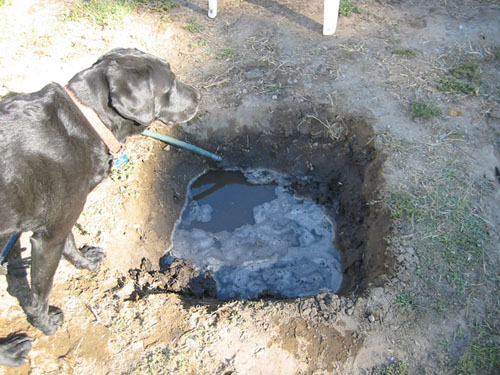 Also in the news today, my order of daylilies arrived from Tennessee. Four varieties: Chorus Line, Little Grapette, Dallas Star, and a freebie: Princess Ellen.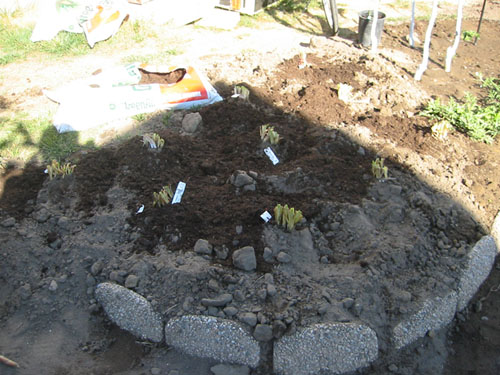 I think I need to add more soil to the bed, but I'm going to wait until the sand has settled overnight. I don't know if I'll ever be as mad about daylilies as some people are, but they should make a nice patch of greenery on the corner (all are evergreen).

Technorati Tags: digging, foundation, daylilies, shed
posted by ayse on 09/21/06