More Fall Planting
The last few days, apart from lying in bed with a cold brought home as a souvenir from China and passed through the household like a hot potato, I've been forcing myself to get up and plant bulbs or at least figure out where they're going to go. Yesterday, in a fit of productivity, I planted 25 grape hyacinth bulbs in the Fern Walk, a bunch of Calochortus among the dahlias (let's just see how they get along; dahlias are notorious for not sharing ground nicely), a bunch of Allium roseum among the daylilies, and Hair Allium next to the cottage. The only bulbs left to go are the ones that require pre-chilling, and they are, well, pre-chilling right now.
Here's the Crown Imperials (Fritillaria) in their home along the side fence. They like to be planted and just sort of stay put, undisturbed, and that is what they are going to get. They have a nice musty smell -- some say skunky but don't believe that -- and are supposed to be resistant to rodents. Given that they are planted nine inches down, I'm guessing half their resistance is rodent laziness.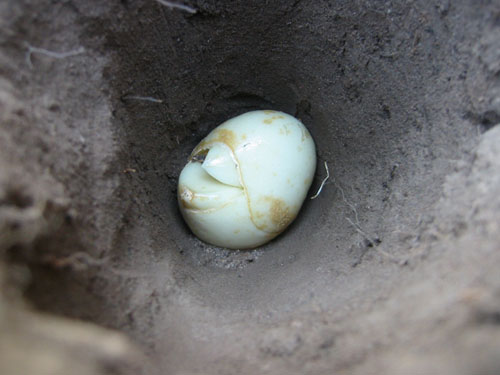 In addition to the bulb fun, I've also been rearranging the hydrangeas out front. It's very subtle, but I think I may be close to the ideal setup, with just enough continuity and punctuation. There are five 'Ayesha' and three others ('Merritt's Blue,' 'Harlequin,' and 'Rosea'), so I'm trying to come up with an arrangement that doesn't look too much like Morse code. I'm not in any big rush: they're going to stay in pots until next fall, developing bigger root systems.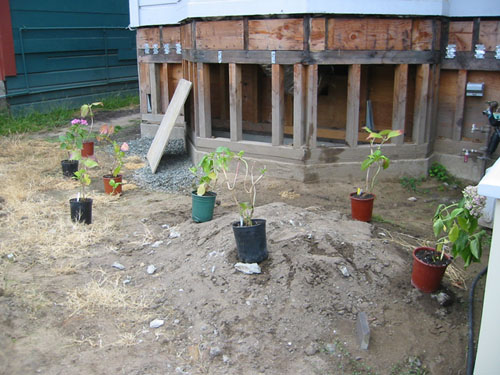 Today: more work on the shed foundation, connecting the last unconnected heat duct (it has to go through the shear wall, so the detailing is complicated), storing a bunch of stuff in the basement for a friend (including a refrigerator that I can use for my seeds and bulbs), and maybe some leaf-stealing for my compost heap. This is what I get for being sick for half the week.

Technorati Tags: bulbs, hydrangea
posted by ayse on 10/21/06