Work of a Weekend
We had a lot of shoveling tasks sitting around needing to be done this weekend.
Out front, I dug out the big pile of rocky sand and sifted it, then planted the hydrangeas in the ground with a hefty application of compost. As you can see, one of the other things we did was extend the gravel in the dripline of the roof around to the rest of the front of the house.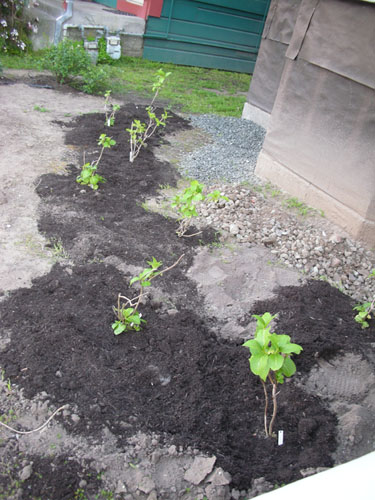 One of the things I was doing with the extra soil as I sifted was raising the side path up to the level of the little brick landing. Basically, I wanted to make it shed water better in the rain (now that it's not going to rain until October, naturally).
In the middle of this fun, we took a quick walk down the block to see our new neighbors, Chez Neumansky. They were doing plaster removal the smart way: with lots and lots of friends to help out. They gave us the grand tour, and we had one of those exciting conversations about foundations and shear walls that are so typical of the Californian renovator.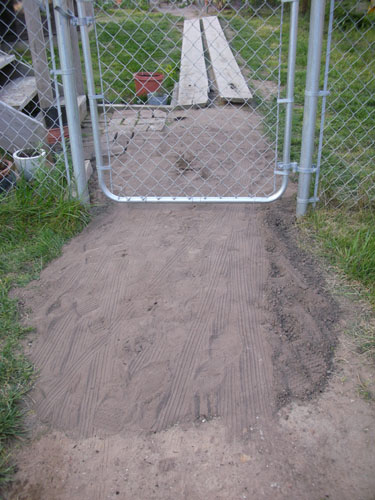 Yesterday we stripped the rest of the sod off the cold frame area, then today we dug out all the soil, sifted the rocks out, and replaced it, mixing in compost as we went. Now I just need to make the actual cold frame, and sow some lettuce.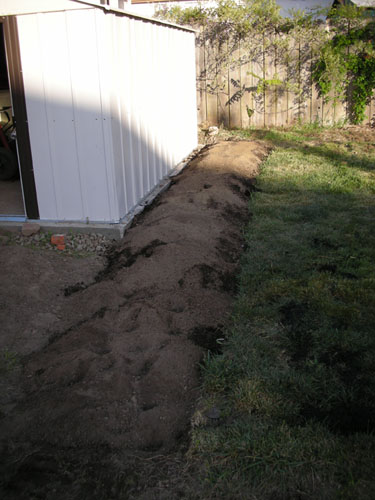 In the yard, Noel took the sod we removed from the cold frame area and filled in the empty bits of the lawn, then we filled gaps with sand and compost. We also composted over the sunken trench from the irrigation piping.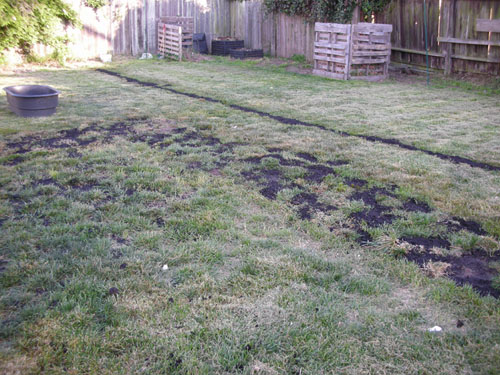 In other news, we inherited three goldfish from our neighbors, and today they moved to fancy new digs: a 55 gallon tank borrowed from some other neighbors (we get around over here).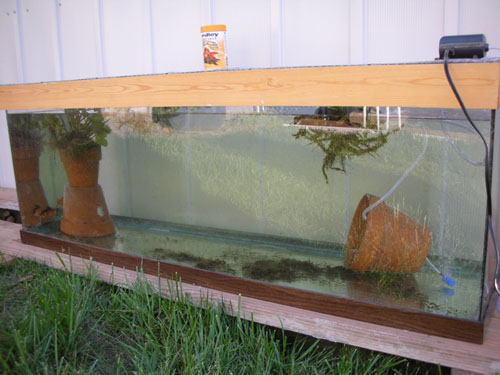 The fishies were very happy with their new home, and once they calmed down from the trauma of the move, they had a nice time swimming laps and getting some good exercise. Their former home, a large pot, is going to be used as a planter.
Here they are hanging out behind their plant. Goldfish are kind of pigs in a planted tank and will uproot things, but they seem to have been living well with this plant so far.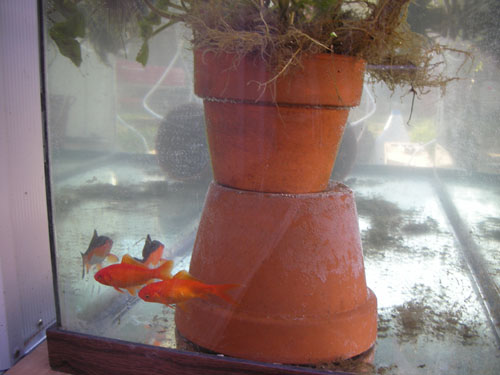 Technorati Tags: alameda, digging, goldfish, urban farming
posted by ayse on 04/01/07