Lots of Planting in Store
Apparently it's supposed to be rainy all weekend, just to thwart me. See, Saturday morning, there's the Tilden Park botanical garden sale, then I have lots and lots of planting to do, because my little container garden at my apartment in San Luis Obispo has gotten too large and needs to be moved to permanent homes.
These two flats full of 4" pots of tomatoes, basil, and peppers are all ready to go in the ground. Well, some of the tomatoes are not quite there yet, but they'll do fine; they're hardened off even if they are a little undersize, and the evening temperatures are right for planting out. The key to planting undersized tomato seedlings is to dig a hole out that's inches deeper than you need, so the plant is in a depression. Leave the soil off to the side, so that when the plant gets larger you can push the soil up around it to improve bushiness, just as if you waited to plant it until it was larger and then planted it low. (Tomatoes will root off the main stem when planted low.)
The peppers are staying in SLO to take advantage of the slightly hotter summers, so they don't have to be ready to plant. But of course they are, the little darlings. Which means digging a hole in the clay.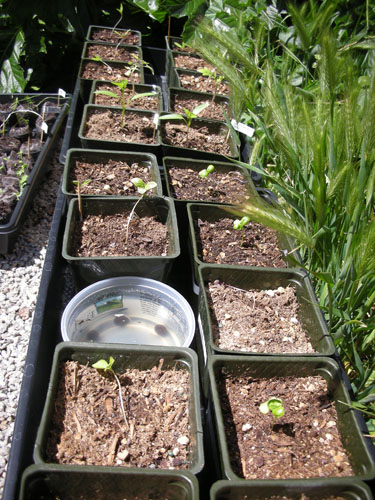 Then there are my indiscretions from the SLO botanic garden sale. I did replace my Aesculus californica that died in the heat wave (the deciduous shrub in the middle), but to that I added a couple of Ribes (native currents, to the right) to add some height in the native plants bed, some Watsonia and Ixia(African bulbs, in the gallon pots on the left), and a couple of Californian bulbs (in the 4" pots to the far right). I'm not sure where all of this will go.
I have been considering putting in an arid bed along the East fence (shared with the Cecile Brunner rose and the neighbor's wisteria), which would accommodate the African and Californian bulbs well. I'd really like to move my Babiana bulbs out of right next to the pathway, which seemed like such a great place for them until I realized that not only do I always see them, but I often step on them. Arg.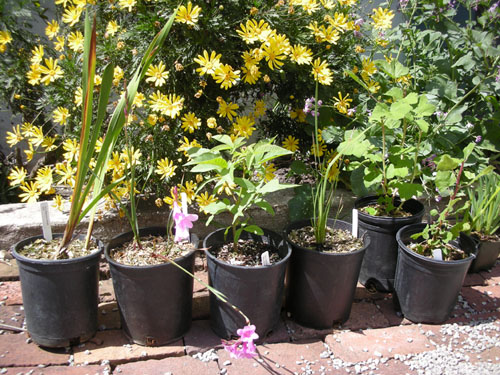 And let's not even mention the flat of asparagus ferns and assorted bedding plants, or the small ferns from a root cutting. Or the fact that I still have to get some irrigation going out there in the garden to keep all these plants (well, OK, the non-Mediterranean ones) alive. Yeah, I'll be out there in the rain this weekend.

Technorati Tags: bulbs, native plants, plants
posted by ayse on 04/19/07