Irrigation Work and Some Plants
This weekend is pretty busy, but I've managed to squeeze in a few hours here and there for digging my last trench for the irrigation system. I do want to get this done, if only because my last bit of work at Cal Poly is only going to get more intense, and it would be nice if the garden were watered in my absence.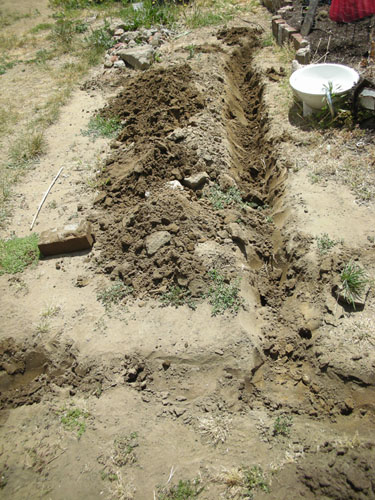 The ground has gotten pretty dry already this year (we had a really light winter; in fact we just got a note from the water district suggesting voluntary cutbacks in water use) so I've been wetting it down to make the digging go better. For example, at 6am yesterday I went out and filled my original trench with water so that after noon I could dig out this much. Then when I hit hard sand again I set up this concoction: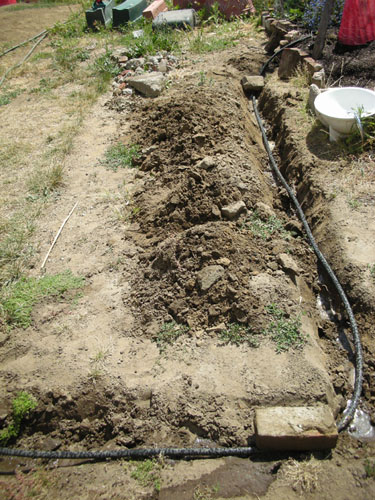 The soaker hose was useful less in the places where I'd already dug out the trench, but more in place where I hadn't begun to dig yet. The line is going to go through the strawberry patch and salvia bed back to the side of the garden near the apple trees. Using the soaker not only helped lay that out but made it so I was moistening only the sand where I planned to dig. I'll dig that out this morning and then wet it again.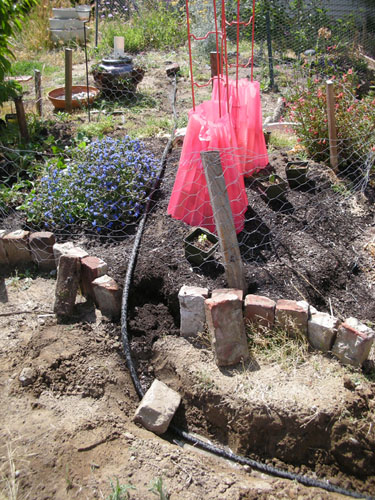 Oh, and check out what's been going on in the red water walls: a cute little Black Krim blossom.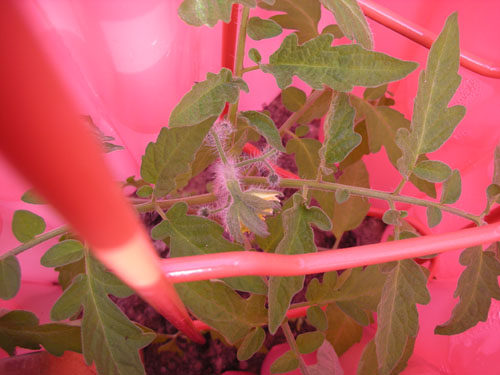 Today I filled the water walls all the way up so they'd stand upright. There were a shocking number of drowned beetles in there.
In other backyard farming news, we have some nice looking nectarines. (Why are they wet? Let's just say that there was a hose incident and leave it at that. Nothing makes you feel stupider than getting in a wrestling match with a hose, a peach tree, and a fence.)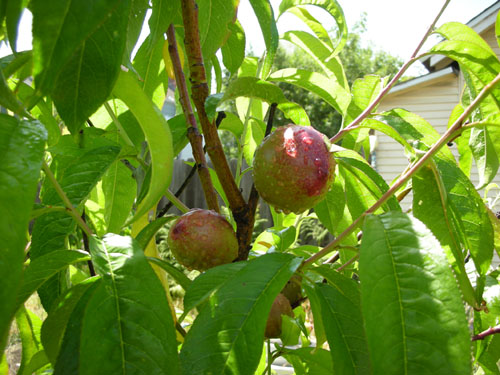 And while we only have about six sweet cherries, they are starting to darken (we have lots and lots of sour cherries, so don't feel too sorry for us). It's very exciting; I'm going to have to net the tree soon to keep the birds out.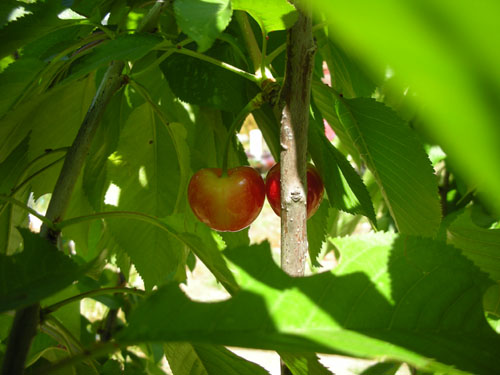 And for those of you who wanted an update on the Dyson vacuum, I give you this: Noel, madly vacuuming the pantry. He seems quite happy with it, and now that we have bought the soft dusting tool maybe some of the book dust problem can go away, too.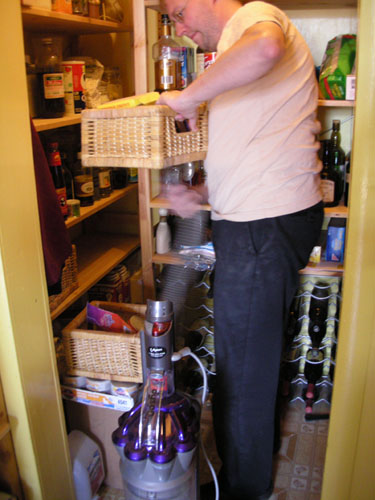 Technorati Tags: digging, fruit, irrigation, tomatoes, urban farming
posted by ayse on 05/27/07