Deck in the Cards
So we've been working on some design stuff. The idea is, we want to build our deck off the back of the house soon. This is primarily so we can use the back door again, protecting our neighbors from the sight of us coming out the side door in our pajamas to let the dogs out in the morning. It would also be nice to be able to sit a bit up and look out over the garden. And have dinner in the garden that doesn't involve sort of crouching in the shrubbery with a plate of food.
Anyway, the deck. We went back and forth last weekend over some design ideas, but keep coming back to this basic simple shape. Not only is it easy to build, structurally, but it doesn't get too complicated to stand up to years and years of changing uses.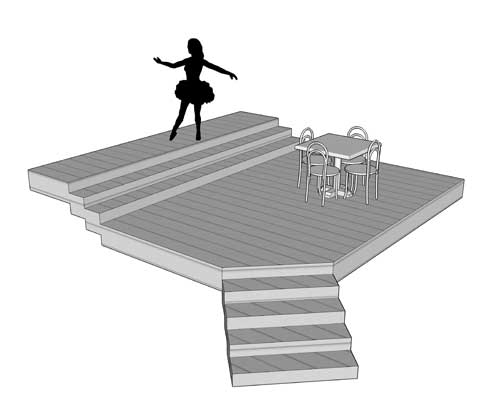 (Yes, we do plan to hold ballets on our upper step.)
The idea is to put in one long upper step, three feet wide. This will run from under the current back door along the back of the house, which enables us to peek in the bathroom window (not a required feature) but also means that when we do finally move all the rooms around inside the dining room doors will open up onto the deck without any reconfiguration outside. Bonus.
(We do plan to have railings, but I didn't feel like drawing them in this rendering. Also I am still working out how I want to deal with the planned grape arbor overhead.)
The deck is sunk down because our back door is more than four feet above the ground level. We don't want to be that high up; when we had the old stair there it was kind of like surveying the dominion from that far up. So we have a couple of steps (which also serve as informal seating) to a lower platform. As you can see we still have plenty of space out there for a table and chairs.
For materials we'd like to use a wood/plastic composite made of recycled materials. I know this stuff tends to get really hot in the sun, but we figure that will be a plus on cool nights, and if we choose a light colour as we plan, it shouldn't be too much of a problem, because it generally doesn't get THAT hot here. I'm going to do material research in a couple of weeks, to see what's available locally and how it fits with the look of the house.
Under the deck we'll have an access panel to get to the irrigation manifold and for the water tank. Which we need to buy and hook up. So the work order goes like this: 1) finish rear irrigation trenching, 2) buy and install water tank, 3) dig foundation piers for deck (we can't get enough of the foundations), 4) build deck.

Technorati Tags: design
posted by ayse on 06/01/07