Spring in Deed if not in Fact
It's that time of year, when every day brings a new plant coming into bloom. Here's the big picture that shows some of the work I still have ahead of me. I've weeded out almost all the beds around the basin garden, but as you can see by the bushy overgrowth on the top step back there, the pathway still needs to be denuded of the encroaching grass.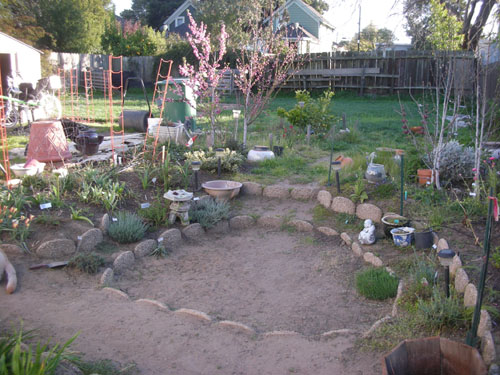 What you can't really see is that all the dianthus are covered in buds.
Anyway, flowering in the last day or so we have the sweet cherries, who better put on a better performance this year.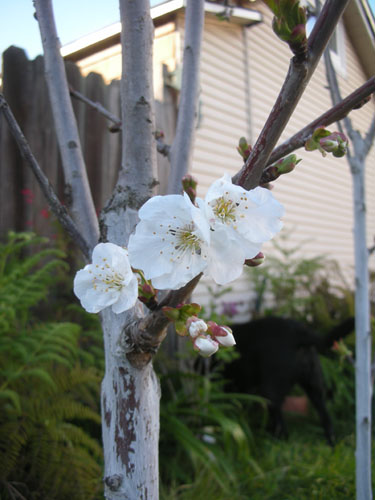 We also have the quince, who can stop showing off, because nobody can figure out what to do with more than a bushel of quince anyway.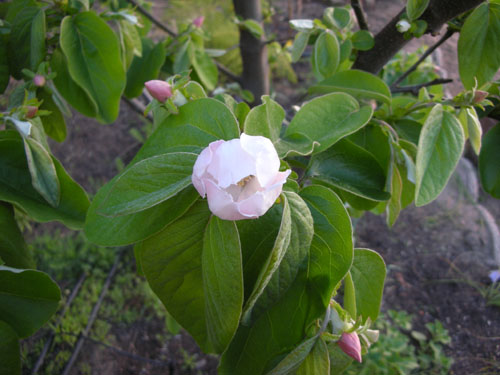 (The Asian pears are also blooming, but the photo came out all fuzzy and then the sun started going down, so you will have to close your eyes and imagine some small white flowers on a branch.)
I got e-mail this weekend asking about the apple grafts, and here's what they look like, which is not very much. The apples are just starting to put out leaves right now (you can see the buds swelling up on the branches), and the grafts will likely be well behind them. So I don't expect to know for a month or more whether they've survived.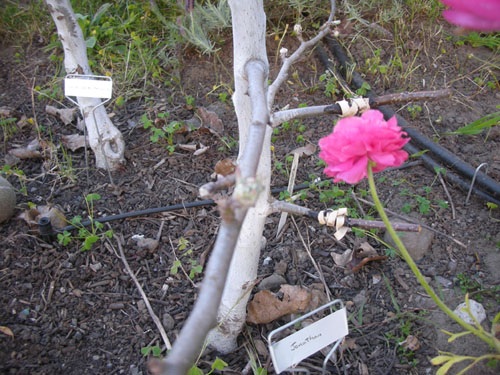 Other stuff going kind of crazy are the Babianas (a South African bulb) that have really hit their stride this year. In fact, it might be time to divide them.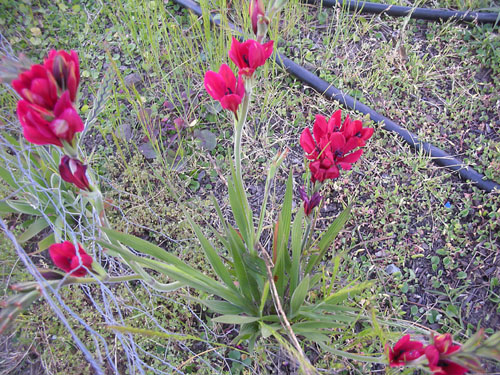 The Clusiana tulips are looking pretty nice right now. I'm not sure I care for the orangey-ness, but just having flowers there is pretty nice.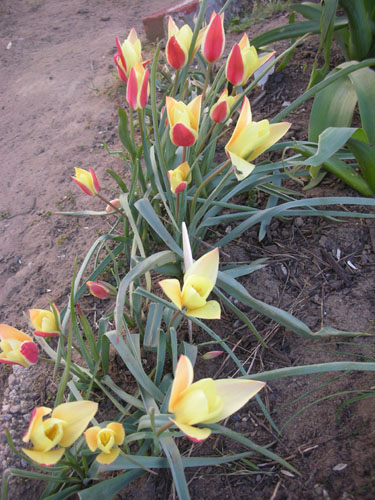 And my baby, the lilac, is opening up.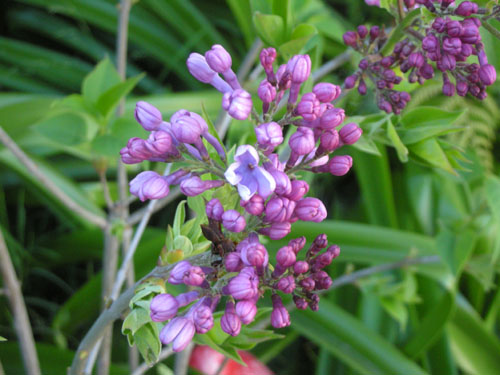 We missed out on blooms on the cobweb thistle last year (I suspect one of our neighbors thought it was a weed and "helped" me by chopping the top off), so it's nice to get them again this year. I will be a nice neighbor, though, and cut them off before they go to seed. There were some complaint about weeds in the front garden.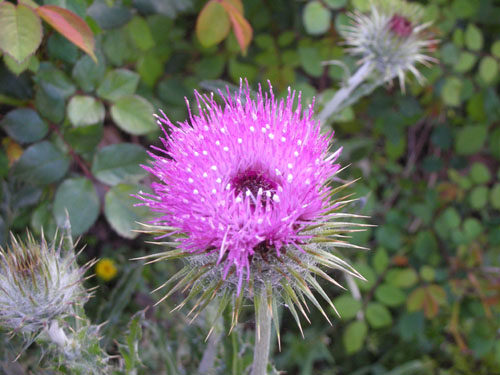 And finally, here's my big work project: the weeds in between the two halves of the rose hedge. I've been avoiding it because a) I just weeded in there, dammit, and b) every time I go in there I come out looking like I've been wrestling with a porcupine. I'm going to have to find a pigskin jumpsuit or something.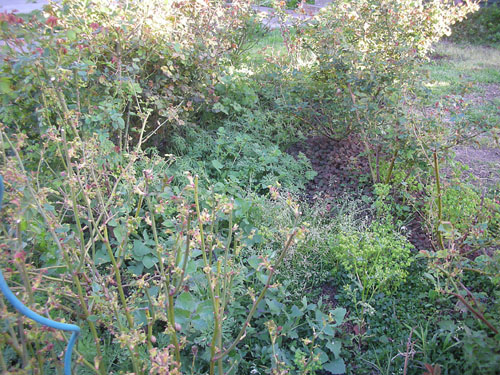 I've mostly finished the picky hand weeding parts of the garden, and now it's time to just get out the hoe and whack the heck out of plants growing on pathways or in open areas of the beds. Between that and re-weeding the roses this looks to be a fun week or two.
Technorati Tags: bulbs, flowers, fruit, gardening, lilac, plants, quince, roses, springtime
posted by ayse on 03/17/08