A Post About Posts
The first half of the post installation went very smoothly. We got off to a late-ish start, but it wasn't as if there was any rush. Of course, it does happen to be the hottest day of the year so far today (about 80F), but we never let a little warm weather get in the way of backbreaking heavy labour.
In the morning, Noel went to Home Depot to get concrete. I had gone there last night, but it was a case of shopping while female, because the floor staff refused to bring a pallet of concrete down to the floor level for me, complaining that I would need them to load it on my cart and then into my car and they'd rather not. I'd be outraged, but that sort of thing happens about half the time when I try to buy building materials at Home Depot, which is why I am not a huge fan of the chain. So this morning I sent Noel over to get concrete because presumably they would be willing to sell it to a man. (He had no difficulty.)
Once we had all our stuff assembled, we set up lines to show us the top height of each post, and the front face. We did each post completely, so rather than dig all the holes at once, we went through the entire process for each post, which worked well. It did mean taking down the lines every time we dug a hole, but that was not all that difficult.
The concrete mixer has been totally worth the pain and suffering we underwent trying to figure out how to assemble it. Concrete work is always hard work, so mixing by hand is just adding more hard work to a difficult day. Rent or buy a concrete mixer, folks, and save your backs.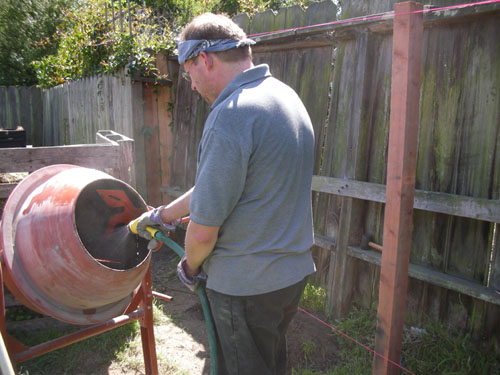 We tried to fig the holes as tightly as possible, but there are limits. In the end, it required more than a single 60-lb sack of concrete for each hole.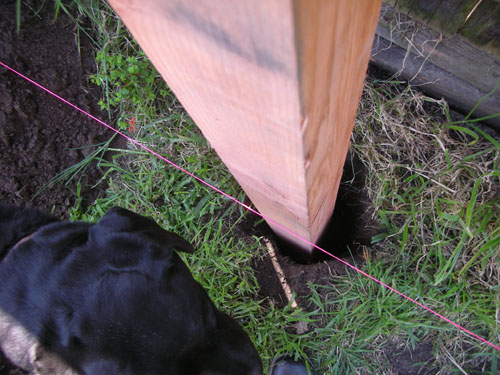 In one of the holes, we encountered a mystery chunk of wood, and had to get out the Sawzall. It turned out to be a felled tree lying on its side.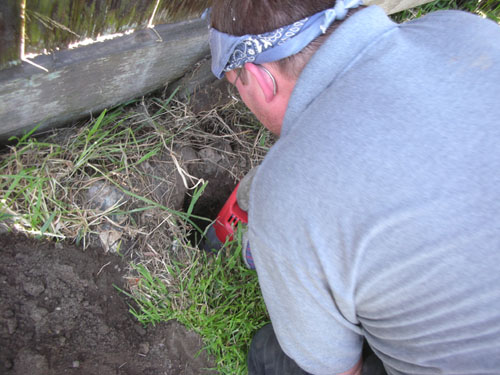 I don't think the post-hole digger would have gone through that, even with a lot of muscle throwing it.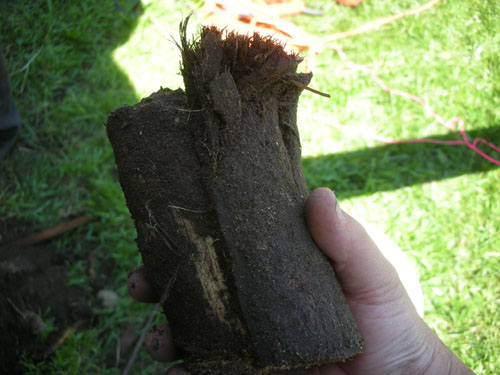 And here they are: six of the seven posts for the back fence. The boards you see there are propping up the fence to keep it out of our way. And the posts are five feet on center so this will be a very sturdy fence. It's going to have to hold itself and the other fence up, after all.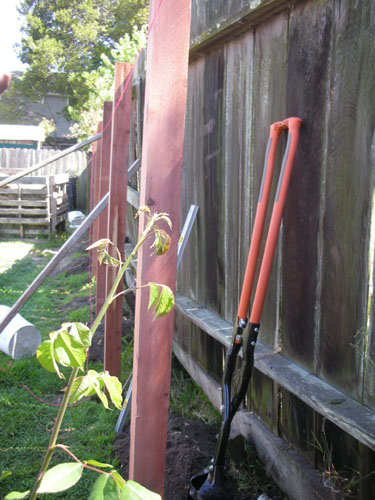 We have five more posts to install, to make the fence around the chicken yard.

Technorati Tags: concrete, digging, fence
posted by ayse on 04/12/08