Garden Report: July 20
NOTE: As of September 23, 2009, this post has been edited in
accordance with a court-mediated settlement. The names of the
contractor and his excavation subcontractor have been replaced with
pseudonyms.
We've had a quiet-ish weekend here, because we're waiting for an opportunity to borrow a truck to get more sheet goods (drywall, more cementitious siding, and so on), and also because events conspired to send Noel off to be a musician for a dance workshop, leaving me unsupervised with a weedy garden and three hungry chickens.
It's midsummer, which means the Amaryllis belladonna are sending up their buds. Every year they come up in more places I didn't expect, including a massive patch out front. These ones, planted in the back alongside our neighbor's cottage, were a gift from a friend who was thinning her own patch. Every time I see them I remember when the foundation project was finally over and I saw their leaves coming up under the piles of trash that Contractor A (who liked to throw trash from his lunch into a pile in the yard, rather than into the trash can) left all over the yard. And since they thrive on neglect, they are a perfect plant for filling in weird spots like right next to a house at the back of a deep bed.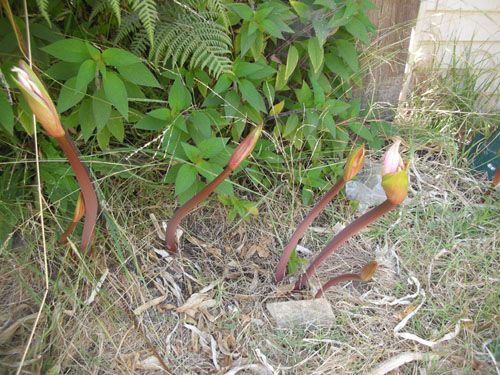 I like how weird they are. I've tried, over the last couple of years, to plant other things around them, but nothing has really stuck. The dogs spend a lot of time messing around over there, and the Bermuda grass is pretty well-established, so it's sort of a losing battle. Not that I care that much, given my much larger weed problems.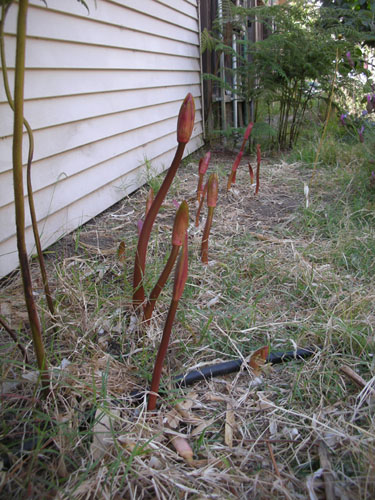 Earlier this week, I finished the new berry bed alongside the chicken yard. (See Carole there, coming to see if I have any treats?) We have two raspberries planted here: Heritage and Fall Gold (red and yellow). I'm going to get some edging to make a root barrier on the yard side, and the chickens will be in charge of being on raspberry runner patrol on their side. Given the scorched-earth of the chicken yard, this should not be too much work for them.
Also in the bed is a cabernet grape, which I'm hoping to train up and over the West side of the chicken yard for a little dappled shade.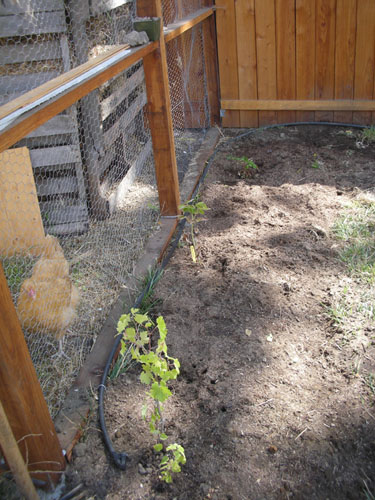 Anyway, this is what I worked on today. The weeds in the Fern Walk were waist-high, so I got out my little wagon and spent a few hours clearing things out. I'd done an hour of work earlier in the week, but today's work got me all the way to the end. Now I need to find my pruners and work my way around front, pruning back the roses as I go. I can't figure what could have happened to my secateurs and loppers, but they were hiding earlier today.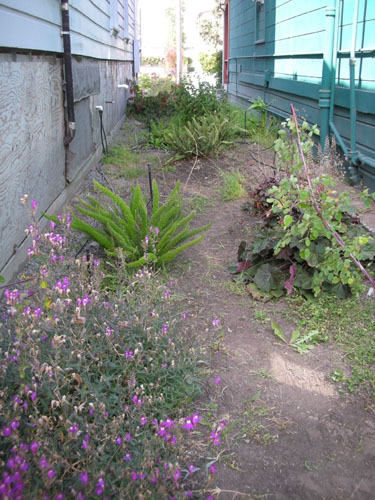 Technorati Tags: gardening, landscaping, berries, summer
posted by ayse on 07/20/08